It's been over a year since we caught our first glimpse of Warframe's Railjack expansion. Now called Empyrean, fans got another look at Digital Extremes' space pirate themed expansion at TennoCon.
One of the new features we see is a Squad Link system that lets you put out a distress beacon that asks other Tenno squads for help. You'll be able to make use of the new system in multi-objective missions from space, and units who answer the call will complete menial tasks to help the first team out. These include lowering enemy ship shields or stealing valuable data. In the demonstration we saw, it was the former as a squad of Tenno took a break from spear fishing to help out the first team.
We also get a look at more of Empyrean's core gameplay, and it's finer details. The main thrust remains mostly the same as you take to the starry seas in a ship and ransack enemy vessels. To access the Railjack you'll need to go to your clan's Dojo. If you don't have a group, however, you can create one and access your Railjack all the same – even if you are a one-person band.
While everyone gets a Railjack, you'll be using the ship of whoever initiates the mission. Privileges of this include customising the colour and appearance of your Railjack, to setting rights as to what your other teammates can do. During a press briefing before the show, Digital Extremes creative director Steve Sinclair quips that they added the feature as someone turned off the engine of a Railjack in a playtest. Sinclair also jokes about how it feels to pilot a Railjack, saying it's like Halo's Warthogs as they can toss you about and leave you feeling dizzy.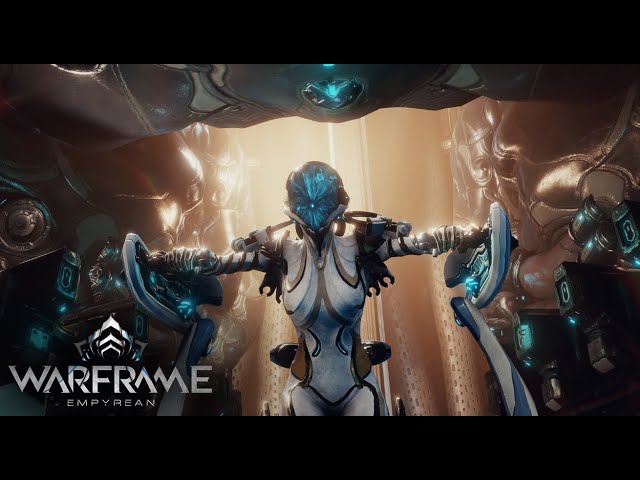 It's not all Empyrean at TennoCon this year, though, and we caught a glimpse of the upcoming Warframe Grendel and Gauss suits at the "From Concept to Creation: The Art of Warframe" panel.
Related: The best PC RPGs you can right now
During our jaunting about, we also got the opportunity to chat to Digital Extremes live operations and community director Rebecca Ford and COO Sheldon Carter. You can catch those interviews on PCGamesN soon.