At Warhammer Skulls 2023, developer Fatshark continues to show strong support for Warhammer Vermintide 2, even after five years of consistent content and updates that have managed to keep players coming back every time. And with the latest free Vermintide 2 DLC, Karak Azgaraz, we're finally returning to an old favorite in one of the best Warhammer games.
Karak Azgaraz will feature three maps that will have players return to non-other than the northmost stronghold of the gray mountains, Karak Azgaraz. The Ubersreik Five will be tasked with helping a struggling dwarf party sabotage a Skaven army that has taken up residence – again. The last we saw Karak Azgaraz was the original Warhammer End Times Vermintide DLC of the same, back in 2016.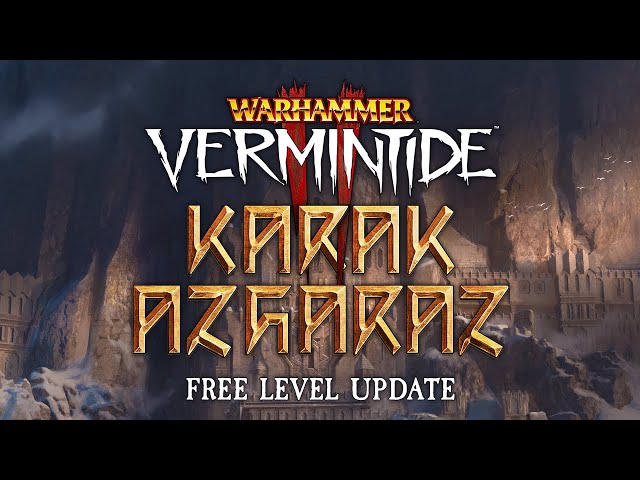 Along with the three new maps, the Warhammer Skulls in-game event Skulls for the Skull Throne will take place from May 25 until June 4.
Players can expect to see a skull-themed keep, in-game events where players can pick up skulls for gameplay-changing effects, new red-colored weapon variants that will be unlocked via the community kill counter, and new portrait frames that can be unlocked by picking up 100 daemon skulls. Needless to say, blood for the blood god and skulls for the skull throne. It has been confirmed that Sienna's fourth career is planned for release in the fall of 2023, and PCGamesN will bring you all there is to know in the run up to launch.
What is the Vermintide 2 DLC release date?
Karak Azgaraz will be released on June 13 for PC and later in the summer of 2023 for console players.
Developers Fatshark have taken this year's Warhammer Skulls event to assure their fans that they have not forgotten about Vermintide 2. "We're also proud of the fact that even after five years, we're still able to support Vermintide 2, thanks to our great community." Vermintide 2 producer Sacha Karsenty says.
While you wait for Karak Azgaraz to be released, why not check out some of the best Warhammer 40k games instead? Or, if you like the gameplay of Vermintide 2 and want something similar, take a look at some of the best sword games, or maybe stick to the rodenty experience with the best rat games on PC.