When it comes to WoW Classic servers, picking the right one to play on is important. Your choice on where to start will restrict you to a particular group of players, since cross-realm play, including cross-realm zoning and looking for group options, are not part of Classic gameplay.
Demand for servers has been large enough that Blizzard has added a boatload of new ones, and increasing the capacity on existing ones, in both North America and European Union regions. You may create up to ten characters on a realm. Log into Warcraft Classic now by using the drop-down above the Play button in your Battle.net client to select Classic, instead of the current game.
But before you create that character, you must first decide what realm to put them on. There are several types of realm to choose from, ranging from PvP and PvE to roleplaying WoW Classic servers where you have to remain in character at all times. Here's the list of servers, what you should consider and which you should avoid.
HOW MUCH POPULATION
The WoW Classic server list, on login, will display the current population of created characters on that realm. High and Full realms tend to have login queues; Medium and Low population realms are less likely to be affected. Blizzard recently upped the population cap on each server, so those that were reading Full before are reading Medium or High now – with no change in population. That means in-game questing can get crowded, but at least you'll be waiting for your kills, not for a queue.
Queues can become truly a nuisance at wildly popular times, such as the first week of Classic's launch. As a reminder, this was the video that went viral when vanilla Warcraft first launched (reposted recently by Shofixti):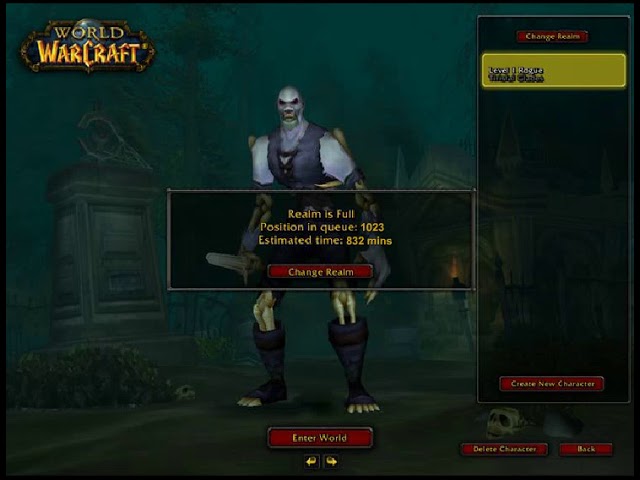 KILLING OTHER PLAYERS: PVE VS. PVP
Unlike modern WoW, where players can turn world PvP on and off at will on any server, Classic servers are divided as the original game laid out. Some allow PvP; some don't. On PvP servers, you are always attackable by fellow players except in a very few areas designated as Sanctuaries. On PvE servers, the only time you may attack other players is as part of duels (which they must accept), specific PvP battlegrounds or arenas, or very limited areas in the world that specifically allow for PvP or player-versus-anyone combat, such as the Gurubashi Arena in Stranglethorn Vale.
PICK YOUR LANGUAGE
For the EU region, servers are divided by language, with the majority (21) being English. At the time of this writing, there are eight servers for German play, four for French, and four for Russian, though it appears more may be added. In the United States and Oceanic realms, all servers are in English, but players typically choose a server based on its time zone, since that helps to determine when others will also be online and available to play.
DECIDE WHETHER TO ROLEPLAY
Most servers in World of Warcraft Classic are not RP, meaning that if you want to roleplay with other players, you may, but it's not a common activity. On roleplaying servers, players are committed to living through their characters, who typically have back stories and particular styles of speaking. Roleplaying activities, including ongoing mutual story creation and large-scale events, are common. Your name must be in character, meaning that other players can successfully report you if you name yourself something that breaks the immersion of the game. They can do the same if you post out of character in chat in certain channels.
For each faction on roleplaying servers, there is a low-level inn typically taken over by those looking to erotic roleplay. For Alliance, that's almost always the Lion's Pride Inn in Goldshire. For Horde, it's typically one of the inns in the Blood Elf starting area or Silvermoon City. Outside of those areas, ERP is rare, meaning that while Moon Guard's version of the Lion's Pride is near-legendary on current WoW servers, there is still a ton of normal non-ERP roleplaying going on pretty much everywhere else.
AVOIDING STREAMERS
Streamers who play on a particular realm have an outsized impact in Classic, given the lack of cross-server play. Not only do they draw more players to that realm, increasing crowds and potentially login queues, but they also are likely to participate with those crowds in some competitive open-world content.
That means open-world bosses, races for resources for events later on such as the opening of the Ahn'Qiraj gates, and large-scale open-world PvP conflicts are likely to fall to the streamers while they're online.
Starting out:
Best Classic WoW classes
Best Classic WoW Professions
WoW Classic leveling guide
In addition, chat in the zones where they happen to be may be affected. The concentration of players and the activities in which they take part also have an impact on the WoW Classic Auction House economy (and whether a given city is available to you, should the streamer and his/her followers choose to occupy it on PvP-enabled servers). Amusingly, there is already a website to track the streamer impact: avoidstreamers.com, which helpfully identifies by streamer, realm, geographic area (including EU), their faction, and their likely impact.
WoW Classic EU servers
FIREMAW, GEHENNAS, GOLEMAGG, MOGRAINE, RAZORGORE, SHAZZRAH
These six English-language PvP servers, including new ones created after launch, are currently reading as Full. We recommend you avoid them. Hydramist and moO_UK are streaming on Golemagg; and Preach, Musclebrah, and Nobbel are streaming on Shazzrah, so both servers see extreme streamer crowds.
ASHBRINGER, DREADMIST, FLAMELASH, GANDLING, NOGGENFOGGER, STONESPINE
These six English-language PvP servers are reading as High population, meaning there are queues, but ones that will set you back minutes or hours, not all day. They are blessedly streamer-free.
SKULLFLAME AND TEN STORMS
These two English-language PvP servers were created after Blizzard saw the incredible initial demand. They are currently at Medium population, which feels very playable right now, but might empty out a bit later.
BLOODFANG AND JUDGEMENT
These two English-language PvP servers are brand-new, so their populations read as Low. While this is a risk – if server populations here don't grow substantially, they could be lonely later – you're almost guaranteed to never have a queue to get in.
MIRAGE RACEWAY, PYREWOOD VILLAGE, NETHERGARDE KEEP
These three normal English-language PvE servers are currently showing High population. If you want a PvE server that feels full, but not over-full, this is your best bet.
HYDRAXIAN WATERLORDS
One of two roleplaying (RP) servers in the EU, both of which use English as a primary language. If you're not interested in player-versus-player combat, this is the RP server for you. It's showing Medium population.
ZANDALAR TRIBE
The other roleplaying server, also using English, but allowing for PvP combat. This is your only option if you want an RP-PvP server in the EU, but you'll also have to deal with some streaming, including Nixxiom. The population is showing as High.
EVERLOOK
This original German PvE server is Full to overflowing. The other PvE servers are better options.
LAKESHIRE AND RAZORFEN
These two German-language PvE servers were created later to address the demand, and they're still pretty overwhelmed; both show High population and have queues, but they're your best options right now for non-world PvP German play.
LUCIFRON AND VENOXIS
Lucifron was the original German-language PvP server, and Venoxis was created later after German servers were slammed with new characters. Both are Full, full, full.
DRAGON'S CALL AND PATCHWERK
These German PvP servers were added in yet another wave to help feed the overwhelming demand by German-language players. They are both reading as High, which means playable, but you'll likely see queues.
TRANSCENDANCE
This last German PvP server is reading only Medium, which is great news if you don't want to deal with queues. It's possible that this could empty out some later, but given how overcrowded German servers have been, we think it's a pretty safe bet.
AUBERDINE
This French PvE server is showing Medium population, which makes it pleasantly playable.
SULFURON
This original French PvP server is Full. The two below are better choices.
AMNENNAR AND FINKLE
These two servers were created later to address the demand for French-language PvP. Amnennar has high population; Finkle has Medium. Both are playable, though Amnennar has queues.
ХРОМИ (CHROMIE)
The only Russian PvE server, with a Medium population. Draw what conclusions you will about the ferocity of Russian players.
ЗМЕЙТАЛАК (WYRMTHALAK) AND ПЛАМЕГОР (FLAMEGOR)
Both of these Russian PvP servers are reading as completely Full.
РОК-ДЕЛАР (RHOK'DELAR)
Your best bet for no waiting in Russian PvP: Rhok'delar was created just a few days ago and it's already reading High.
WoW Classic NA servers
ASHKANDI, ATIESH, MANKRIK, MYZRAEL, OLD BLANCHY, PAGLE, WESTFALL
Some of these were original PvE servers, allowing early character creation; others were opened up on launch day after the initial wave of demand. All are currently reading Medium population, and while some still have queues, they're manageable. Smoothmcgroove and Towellie are streaming on Pagle, according to avoidstreamers.com, so skip that realm if you don't want to deal with streamer issues.
AZURESONG AND WINDSEEKER
These two NA PvE servers are reading Low population. While this pretty much guarantees you no queues, they do run a higher risk of emptying out in the long run.
FAERLINA AND HEROD
These two PvP servers have extreme streamer populations, so they're both reading as High. If you don't want to be caught up in the streamer scene, you probably want to skip these two.
BENEDICTION, BIGGLESWORTH, BLAUMEUX, FAIRBANKS, INCENDIUS, KIRTONOS, KROMCRUSH, KURINNAXX, RATTLEGORE, SKERAM, STALAGG, SULFURAS, THALNOS, WHITEMANE
Every one of these NA PvP realms is reading Medium, meaning a high population in game and medium to no queues. These are all good bets.
ANATHEMA, NETHERWIND, SMOLDERWEB, THUNDERFURY
These PvP servers, most of which are brand-new, are still reading Low population. At this point, we consider Low-pop servers to be a long-term risk in NA PvP, and we'd recommend against them. If you're just planning on popping in for the short term to check things out, however, these pretty much guarantee no queues.
BLOODSAIL BUCCANEERS
This is your only option for a PvE roleplaying (RP) server in the region, but fortunately, it's reading Medium. A great choice.
DEVIATE DELIGHT AND GROBBULUS
You have two options for roleplaying PvP (RP-PVP) servers in the North America region. Deviate Delight is Low population; Grobbulus is Medium. We recommend Grobbulus.
REMULOS
This is your only option for a PvE servers for players in Oceanic areas, though it's still part of the NA region. Remulos is Medium population, fortunately.
ARUGAL, YOJAMBA, FELSTRIKER
These are the Oceanic PvP servers. Arugal is Full; Yojamba is High; Felstriker is Medium population. We recommend Felstriker.
And there you have it, our picks for the best WoW Classic servers. From roleplayers to PvP combatants, we've tried to include something for everyone. This list is by no means exhaustive, but we hope it gets you off to a good start.