Simply looking at Alan Wake 2 is enough to fill any performance-conscious gamer with dread, with the horror game set to test the nerve of players and PCs alike. With this in mind, Nvidia hopes to partly allay concerns by highlighting that its DLSS 3.5 suite can provide a near 500% boost to frame rates.
Supporting the entire Nvidia DLSS 3.5 suite of technologies, owners of RTX 40 series graphics cards will be able to toggle Frame Generation, Super Resolution, and Ray Reconstruction in Alan Wake 2, to boost fidelity and frames. However, owners of older RTX GPUs aren't entirely left wanting, as they'll still be able to use the latter two features.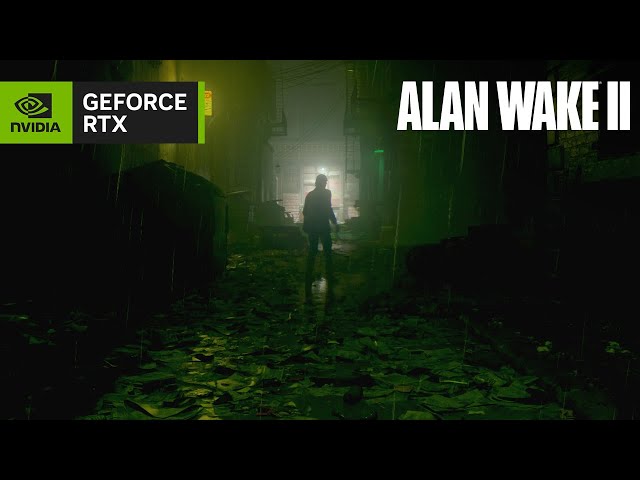 Peeking from behind our gaming desk, Alan Wake 2 doesn't look as scary with these Nvidia charts to dispel our frame rate frights. Team green claims that, at worst, the GeForce RTX 4060 gains just over a 300% boost to frame rate with DLSS 3.5 enabled.
Better still, the GeForce RTX 4070 Ti and its beefier sibling, the GeForce RTX 4080, each enjoy a 470% uplift, all while using the game's 'Full Ray Tracing' preset at 4K. It's worth noting, however, that this is with DLSS Super Resolution set to 'Performance', so Alan Wake 2 is effectively being rendered at 1080p and upscaled by a factor of four.
It's unclear how much of this uplift is coming from each of the DLSS 3.5 features, with Frame Generation likely contributing the most of the three. We'll know for certain as we put together our best Alan Wake 2 settings list, so stay tuned for that. In the meantime, you can read more about both the game and its technologies on this blog.
The Alan Wake 2 system requirements suggest the horror game will be as demanding on your PC's specs as it will be on your senses, with Alan Wake 2 Steam Deck compatibility looking tenuous. Thankfully, there is something of a solution available to those of you wanting to take your scares on the go, so check out our guide.