The AMD Ryzen 5 3600X will likely be a popular addition to the Ryzen family, but how does it stack against the cheaper Ryzen 5 3600? With six cores capable of clocking up to 4.4GHz, this chip has been built to offer gamers a hefty heap of silicon that won't let you down on single-threaded performance – but is this our new gaming champion?
That is a highly contested title. Not only are Intel's Coffee Lake chips vying for the acclaim but AMD's Ryzen 5 3600, too. There's a lot to be said for the X-less version, the little chip that could. But before all that, let's take a deeper dive into what makes the Ryzen 5 3600X tick – because, if you haven't heard already, AMD has torn up the rulebook with Zen 2.
The architecture at the heart of the Ryzen 5 3600X is unlike any before it, topologically speaking. This chip is divided into two discrete chiplets, one 14nm cIOD for I/O and one 7nm CCD stuffed with six cores across two CCX clusters, all coming together in a tapestry weaved from the Infinity Fabric interconnect.
The design is exceptionally scalable, hence the sweeping Ryzen 3000 lineup from six cores all the way up to 16 with the Ryzen 9 3950X. These also mark the first 7nm processors in the client market; the shrunken node, produced by TSMC, aiding in clock speeds and efficiency.
But it's not all cores and clocks. Zen 2 owes much of its performance to the IPC gains and improvements behind the scenes uplifting the efficiency with which this architecture computes. Instructions per clock (IPC) has seen a hefty 15% increase, and that improvement ripples across both gaming and synthetic benchmarks.
AMD Ryzen 5 3600X specs
The Ryzen 5 3600X's lone CCD incorporates six cores of Zen 2 power, each with access to double the L3 cache per CCX than previous generations. With access to the full CCD's worth of L3, the Ryzen 5 3600X is equipped with a total of 32MB alongside 3MB of L2 cache.
Adjacent to the CCD there lies the cIOD, which takes care of non-core and I/O functionality. With the memory controller inside, independently adjustable to the fabric clock on either a 1:1 or 2:1 ratio, AMD has managed to increase memory support on Ryzen 3000 to a grand ol' 3,200MHz across the board, reserving the ability to overclock upwards of 4,800MHz to capable DIMMs in congenial motherboards.
We've kept our memory to a steady 3,200MHz in the benchmarks below for comparison's sake with older chips.
And while we're on the topic of motherboards, it's worth noting that the entire Ryzen 3000 lineup is backwards compatible with most 400- and 300-series chipsets with a simple BIOS update. That means any one of the best AMD gaming motherboards could make for a fine companion for the Ryzen 5 3600X – in fact, often even more so than the pricier X570 chipset.
| | | | | | | |
| --- | --- | --- | --- | --- | --- | --- |
| | Ryzen 9 3950X | Ryzen 9 3900X | Ryzen 7 3800X | Ryzen 7 3700X | Ryzen 5 3600X | Ryzen 5 3600 |
| Cores/threads | 16/32 | 12/24 | 8/16 | 8/16 | 6/12 | 6/12 |
| Turbo clock | 4.7GHz | 4.6GHz | 4.5GHz | 4.4GHz | 4.4GHz | 4.2GHz |
| Base clock | 3.5GHz | 3.8GHz | 3.9GHz | 3.6GHz | 3.8GHz | 3.6GHz |
| TDP | 105W | 105W | 105W | 65W | 95W | 65W |
| Total cache | 72MB | 70MB | 36MB | 36MB | 35MB | 35MB |
| Price | $749 | $499 | $399 | $329 | $249 | $199 |
The top-end chipset will net you PCIe 4.0 compatibility – a major marketing tick for AMD with Ryzen 3000. That comes at a cost, however, one that might be hard to swallow for gamers. That's the added expense of not only the X570 chipset but also a PCIe 4.0 SSD to make the most of it. But we all know us PC gamers are susceptible to a little loose spending every now and then… looking at you Nanoleaf panels.
With such a broad selection of far cheaper and closely capable motherboards in the market, a cheaper chipset (such as B450) may make for a smarter pairing with the Ryzen 5 3600X.
As for differences between this chip and the slightly cheaper Ryzen 5 3600, the 'X' suffix nets you a 200MHz boost clock upgrade over the cheaper Ryzen 5 SKU. It also requires a little more juice at 95W TDP.
The X also nets you a Wraith Spire cooler: a slightly higher-capability cooler than the Wraith Stealth bundled with the Ryzen 5 3600. While both are very capable coolers, and quite dashing, the larger Spire offers just that little more added value. Save your pennies, people.
And when it comes to pennies, between the Ryzen 5 3600X and the Ryzen 5 3600, we're talking around $50 – the former priced at $249 (£240) and the latter at $200 (£200).
But not only is there pressure within the stack. Former shining star, the Ryzen 5 2600, is now just $133 (£119), and the Ryzen 5 2600X only $150 (£150). We're not sure how long these chips will stick around at that price, or in stock, but damn, either chip would make for one helluva bargain even to this day.
AMD Ryzen 5 3600X benchmarks
PCGN test bench: MSI MEG ACE X570/MSI Gaming M7 AC X470, 16GB Trident Z Royal/Corsair Dominator @ 3,200MHz, Samsung 970 Evo 2TB, Nvidia RTX 2080 Ti, Corsair HX1200i, Corsair H100i V2, Philips BDM3275
AMD RYZEN 5 3600X performance
Has the Ryzen 5 3600X got what it takes to take home the gaming crown? Uh, no. Not because it's lacking what it takes to be a fantastic improvement on what came before, it delivers the goods. Nor does it lack enough power to stick it to the competition, it doesn't. Rather it's because the 3600X is just not that much better than the Ryzen 5 3600.
Across our game benchmark suite the Ryzen 5 3600 tails by just a hair, if that. In Civilisation VI, there's only a fraction of a second between the two chips, and in Total War: Three Kingdoms we see that gap close entirely. The same can be said for DX12 title Metro: Exodus and the GPU-intensive Far Cry New Dawn benchmark at 4K.
F1 2019 saw the X-series chip take a slight lead, yet still well within the boundaries of testing variance. This just goes to show that if you're a gamer searching for their next gaming chip, you will be more than comfortable opting for the cheaper Ryzen 5 3600, pocketing the 50 bucks and putting it to better use elsewhere in your build. That $50 could be the difference between the Nvidia GTX 1660 and the Nvidia GTX 1660 Ti – a tangible upgrade.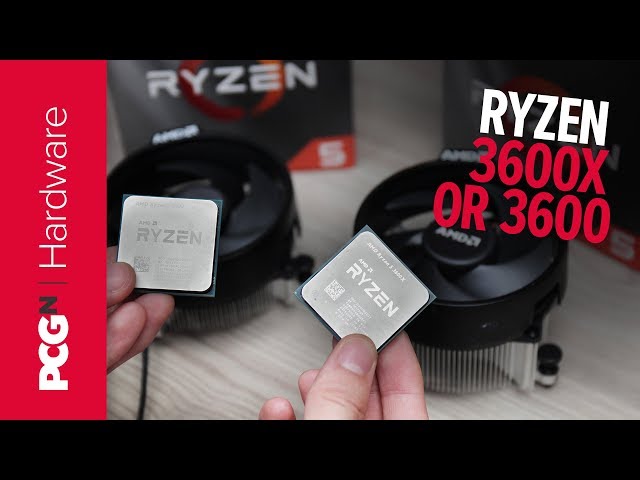 AMD Ryzen 5 3600X verdict
The Ryzen 5 3600X poses a solid one-size-fits-all solution for gamers. It's undoubtedly a convincing upgrade over previous generation chips and the competition's fare, capable of both multithreaded every day workloads, a modicum of content creation, and, crucially, fantastic gaming performance. AMD can hold its head high safe in the knowledge that its days of lagging noticeably behind Intel in games are largely over.
But when considering the Ryzen 3000 stack as a whole, the Ryzen 5 3600X loses its vigour. If you have exactly $249 to spend on your gaming PC's brain, then there's a good chance this chip appeals to your sensibilities – the fantastic stock cooler the icing on the cake. However, there's an overwhelming case to be made instead for the Ryzen 5 3600 with the Wraith Stealth. Sure, both perform marginally worse overall, yet with smarter investment (in a more powerful GPU), an identically priced Ryzen 5 3600 build could actually outperform one built around the X-series chip in games.
And if you're opting for third-party cooling then the cheaper chip becomes even more of a done deal.
There's also something to be said for Zen+, too. While the outmoded architecture cannot keep up with Zen 2's IPC increases, when we consider the Ryzen 5 2600 at just $130, the value on offer is exceptional. That stock will eventually dwindle, but until that time these cheap chips pressure the Ryzen 5 3600X's relatively tall price. This also further reinforces the Ryzen 5 3600's performance per dollar advantage, which is a SKU far better situated in today's discounted market.
The Ryzen 5 3600X strikes once again at the heart of Intel's mainstream, but it fails to delineate itself within the Zen 2 stack