It was, quite frankly, inevitable. With an Apex Legends player count numbering in the tens of millions, it wasn't going to take long before someone, somewhere, got smutty. As such, it is my unique burden this morning to write about the Apex Legends porn parody. If it weren't already clear, this article might be a little NSFW, although the trailer itself is technically SFW.
Frankly, the whole thing is mad from start to finish, not just in terms of what's on offer, but in the frankly sarcastic way the trailer talks about its source material. "Ass Sex Legends," as the film is so wittily named is described as a parody of "a totally unique and original game that is not almost exactly the same as Fortnite and PUBG, or a myriad of other games that is is the same as."
If all that seems a lot to deal with, then you're probably not ready for what's in the rest of the trailer. The squad featuring in the parody is made up of Wraith, Mirage, and Pathfinder, and while all of them have been repurposed for this particular video, our wholesome robot pal has been hit hardest, having had his eye replaced with a sex toy, and his name changed to Penisfinder.
As if that weren't enough, the rest of Wraith and Mirage's adventure sees them search for "Skullfuck Town" (although the former does point out that Wetlands and The Pit offer names that are just as suggestive). Looting involves gathering various sex toys, but what's particularly difficult to unpack is how much of a stretch some of the wordplay on offer is.
At one point, Wraith suggests that EA stands not for Electronic Arts, but for "Electronic Asshole, and elsewhere, asks Mirage to "Bangalore my Outlands," and offers Pathfinder "one quick robo-handjob."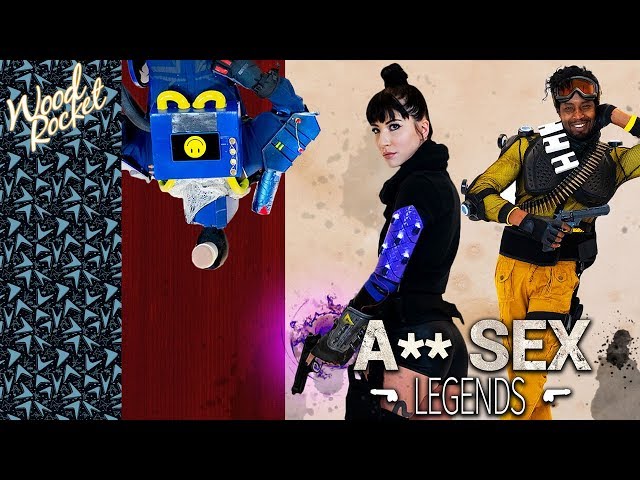 The trailer does at least have the good grace to end on a decent joke, in which Mirage tells Wraith to stop dancing because "we don't want Carlton to sue us." That, of course, relates to actor Alfonso Ribeiro's lawsuit against Fortnite developer Epic over the company's use of his iconic Fresh Prince dance.
Related: Fortnite porn is now bigger than Overwatch porn
Ass Sex Legends has been put together by Woodrocket, who you may remember as the team behind Fortnite's own porn parody, in partnership with Pornhub. If you want to see the full video for yourself, you can go to either of those sites, but you can be damn sure I won't be linking to them here.