What are the Atomic Heart system requirements? You won't need weird dystopian tech to run the sci-fi FPS game, and its PC specs are fairly lightweight. While the shooter seemingly blends elements of Fallout and Bioshock into a new package, even slightly older gaming PC builds should be able to play Atomic Heart without much issue.
According to Atomic Heart minimum requirements, you'll need a GPU with 4GB of VRAM like the Nvidia GeForce GTX 960 or AMD Radeon R9 380. Whether you bat for the green or red team, you won't need the best graphics card around to boot the frantic FPS game, and most options from the past few years should do the trick.
Here are the Atomic Heart system requirements:
Minimum
Recommended
OS
Windows 10 64-bit
Windows 10 64-bit
CPU
Intel Core i5 4460
AMD Ryzen 5 1600
Intel Core i7 7700
AMD Ryzen 7 2700X
RAM
8GB
16GB
GPU
Nvidia GeForce GTX 960
AMD Radeon R9 380
Nvidia GeForce GTX 1080
AMD Radeon RX Vega 64
Storage
90GB
90GB
Graphics aside, you'll need a CPU on par with the Intel Core i5 4460 and at least 8GB RAM to run it. Again, we're talking about minimum specs, but the bar is still pleasantly low for a game hoping to rank among the best PC games in 2023. However, if you're looking to boost fps and play with fancy visuals enabled, you're going to need a slightly beefier rig.
Matching Atomic Heart recommended specs shouldn't break the bank, but developer Mundfish suggests using either an Nvidia GTX 1080 or AMD RX Vega 64 GPU, a 3.8GHz processor like the AMD Ryzen 7 2700X, and 16GB RAM. Not exactly what we'd describe as the best gaming PC by today's standards, but it should let you fight robots while enjoying higher frame rates.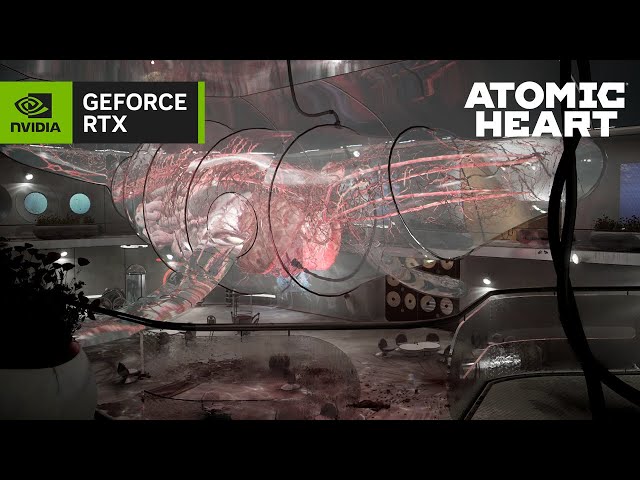 Lastly, you'll need to free up 90GB of storage to meet Atomic Heart size requirements, but there's no word on whether you should upgrade to a solid-state drive. Picking up the best SSD for gaming is going to benefit your entire Steam library, so we'd recommend making the investment anyway if you're rocking a mechanical hard disc.
If you're the proud owner of a new GeForce graphics card like the RTX 4080, then you'll be able to increase fps tenfold, thanks to Atomic Heart DLSS 3 support. RTX 4000 exclusive features like Frame Generation could transform the shooter's performance without much visual compromise. It may help even cheaper cards like the Nvidia RTX 4060 pull off neat frame rate tricks when they eventually arrive, but you'll need to make the leap to Lovelace to use the AI upscaler.
Take the Atomic Heart system requirements test over on PCGameBenchmark to answer the question… Can I run Atomic Heart?
Developer Mundfish has come under increasing scrutiny in recent weeks after it was alleged that the Russian government stands to gain financially from the release of Atomic Heart. This is due to the fact that investors involved in financing Mundfish include GEM Capital, an investment fund whose founder has ties to Gazprom and VTB Bank, both of which are majority-owned by the Russian state.
Further, Mundfish is partnering with VK (formerly Mail.RU) for the Russian release of Atomic Heart, evading sanctions on Steam. VK is also majority-owned by the Russian state through Gazprombank, and Mundfish's CEO is a former Creative Director at Mail.RU.
With Russia's ongoing invasion of Ukraine, many players are choosing to boycott the game in protest and donate money to organisations like The Ukraine Crisis Appeal, International Rescue Committee, and the British Red Cross.