Blaster Master Zero, a reboot of the classic NES game developed for the 3DS and Switch, is on its way to Steam. The hybrid top-down/side-scrolling hybrid shooter will launch for PC June 14.
Blaster Master Zero takes the 8-bit style of the original games and updates them for modern eyes, and so while it maintains a lot of the classic aesthetics, this Blaster Master enjoys a much richer color palette and includes visual effects borrowed from 16-bit consoles and beyond.
But it retains the core ideas of the first Blaster Master, putting you in the boots of robotics expert Jason Frudnick, who is transported to a strange subterranean world after an experiment goes awry. Fortunately, at your disposal is the advanced Sophia III battle vehicle, which gives you a ton of added mobility to explore the world and fight off enemies.
Blaster Master Zero starts the series' story over from the beginning, so it's a fine point to jump in if you missed the original games' run on NES. The Steam version will also include all the DLC characters that have been released for the 3DS and Switch editions, and those include Shantae, Shovel Knight, Gunvolt, and Ekoro (from Gal*Gun Double Peace – another title by Inti Creates, which is the studio behind Blaster Master Zero).
Here's the trailer: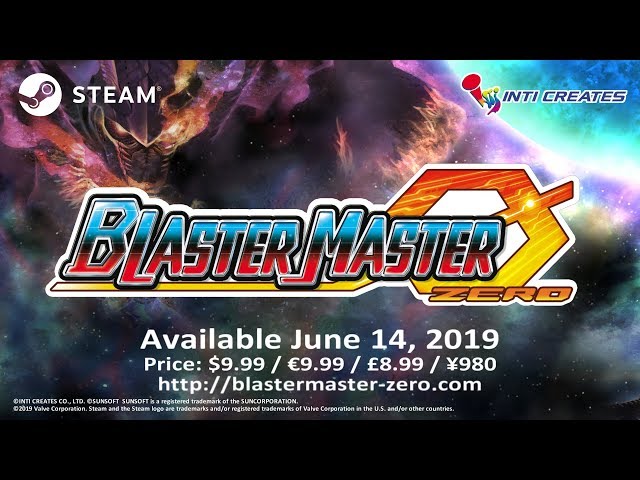 When Blaster Master originally launched in 1988, it was fairly revolutionary with its blend of two distinct games, the side-scrolling platformer and the top-down shooter. That's hardly anything to get worked up about today, but Blaster Master Zero is still a worthy homage to one of the NES best titles.
Read more: The best old games on PC
Again, Blaster Master Zero will be available on Steam June 14, so if you've been craving some old school action, this might be just what the doctor ordered.