The Call of Duty: Warzone Season 5 release date is much sooner than anyone anticipated. An official gameplay trailer confirms the release date along with other details coming to the next Warzone season.
After several teasers the new trailer for Warzone Season 5 along with a release date has officially landed, and it looks packed full of changes to the battle royale game, including a train that players can be seen dropping onto and using to traverse the map. We also see helicopters descend onto the stadium and literally blow the glass roof off with explosives, now allowing players to fight within the stadium.
It looks like Warzone Season 5 will shake up the gameplay as well as giving players new locations to compete for and new places to loot. So, when is the Warzone Season 5 release date? Here's everything we've seen so far, and although we're still waiting on the details of potential new Warzone weapons to drop, it looks like players will be plenty busy exploring Verdansk's newly opened stadium.
Warzone Season 5 release date
The Call of Duty: Warzone Season 5 release date is August 5, 2020. Here's a look at the train teaser.
BREAKING: Infinity Ward has sent the first teaser of Warzone Season 5 to @NICKMERCS —

August 5 start date, looks like a train is coming to Verdansk… https://t.co/47u4x7GuuD pic.twitter.com/6XfTSPldeF

— Call of Duty News (@charlieINTEL) July 20, 2020
In addition to the train teaser, we now have a full trailer for both Modern Warfare and Warzone, which you can view below.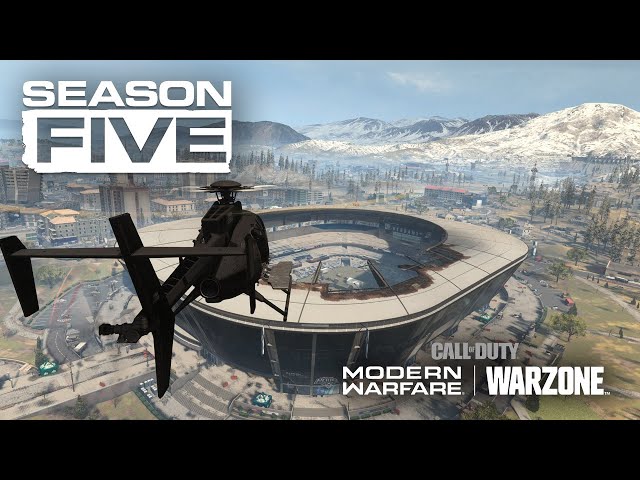 With only one day to wait, players will be able to delve into the multiplayer game's fifth season very soon.
In the meantime, take a look at our guides to the best Warzone guns, Warzone buy stations, and Warzone vehicles to get up to speed ahead of the Season's arrival. You might also want to take a peek at the recent 'Call of Duty: Black Ops CIA' leaks if you're curious to find out what clues dataminers have been digging up about that upcoming, mystery CoD title.