David Galindo's Cook, Serve, Delicious games are about short-order cooking – you take charge of a kitchen, construct a menu, then slap together orders as quickly as possible with rapid-fire key combinations unique to each item. Now he's taking that show on the road: Cook, Serve, Delicious! 3!? is about running a food truck – and it's also set in the post-apocalypse.
Cook, Serve, Delicious! 3!? heads into early access on Steam on January 29, and it features hundreds of menu items, more of the frantic action found in the first two games, and a new upgrade system that lets you tinker with and improve your food truck, which you're driving to the new U.S. capital in Nashville, Tennessee, following some kind of catastrophic global war that has left massive craters on the American coasts and reduced your old high-rise restaurant to rubble.
I've been playing the preview build this past week, and there's a new rhythm to get used to. Rather than a steady stream of guests with occasional spikes for the lunch and dinner rushes, each day in Cook, Serve, Delicious! 3!? is split between time spent at stops and time on the road. While you're traveling, you can prep popular foods like chicken fingers and fried fish, and you can put together orders customers have called in ahead of time.
Once you arrive at a stop, you're thronged, but thanks to the help of your new android assistants Whisk and Cleaver, you can delegate serving responsibilities while you whip together new batches of Tandoori chicken or blancmange. You'll also have to compete with other food trucks as you hone your skills for the Iron Cook National Foodtruck Championships.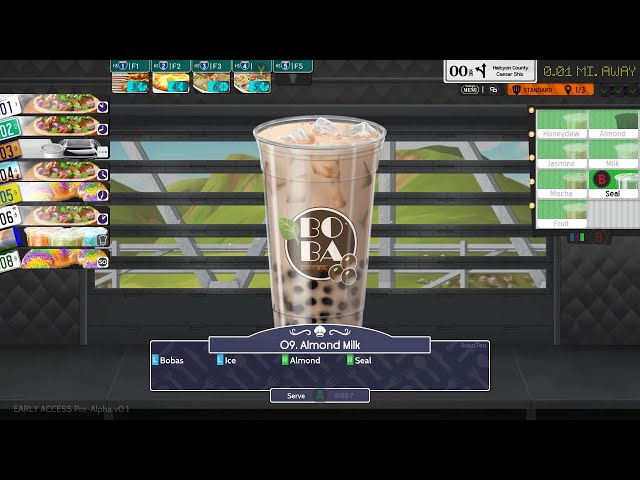 As ever, it's a game about memorizing input combinations and managing multiple timers at once, and the better you do, the more you'll earn toward upgrades to your truck. These let you install additional prep stations, stock new menu items, and eventually take on more profitable routes.
If that all sounds stressful, it is – but fortunately there's also a new 'chill mode' that you can turn on and off whenever you feel like changing the pace.
For more, check out our list of the best indie games on PC in 2020.