August 11, 2019 Valve has contacted us to confirm that the approvals only apply to certain games, and that not all submissions will require them.
Valve has rolled out a new feature to Steam's Workshop. Now, some new submissions for CSGO, Dota 2, and Team Fortress 2 will require approval of a moderator before going live on the Workshop. While the new process may slow down affected submissions to the Workshop, it's a move modders and mappers have been requesting for a while now to counter the flood of scam account submissions. Valve has confirmed that the new system has been put in place to deal with the "Free Skins" phishing scams.
The Global Offensive subreddit spotted the change this weekend. User TanookiSuit3 posted a screenshot showing a new banner over a pending Steam Workshop submission, which reads "Moderators need to approve the latest version of this item before it will be visible to other players in the Workshop." It contains a link to more information, which is found in Steam Support. That page explains that the submission process now has two steps: first, an email verification that the user associated with the Steam account is the same person who made the submission, and second, moderator approval of the new item, map, skin, or mod.
"Newly submitted and updated items will be placed into a moderation queue," the help page reads. "You'll be able to view and edit the content during this process, but other players will not be able to view changes until they're approved."
Valve says this moderation process should take "less than a day," so this new step shouldn't be too much of a bottleneck for Workshop content creators. The developer has also told us that it has some rules regarding which items require verification, and which do not. For example, submissions from creators who have a large number of voters of subscribers will not require approval. Valve tells us that it will probably add additional heuristics in the future, but is waiting to see what happens with the existing rules first.
Many creators have been clamoring for Valve to take such a step for more than a year. In the Counter-Strike: Global Offensive community particularly (but certainly not exclusively), scammers have reigned the Workshop, flooding the game's Workshop page with their own dubious submissions (usually called something like "Free Skins!" and leading to a phishing attempt) and auto-downvoting any map more popular. This video by map maker Zool Smith shows how it happens: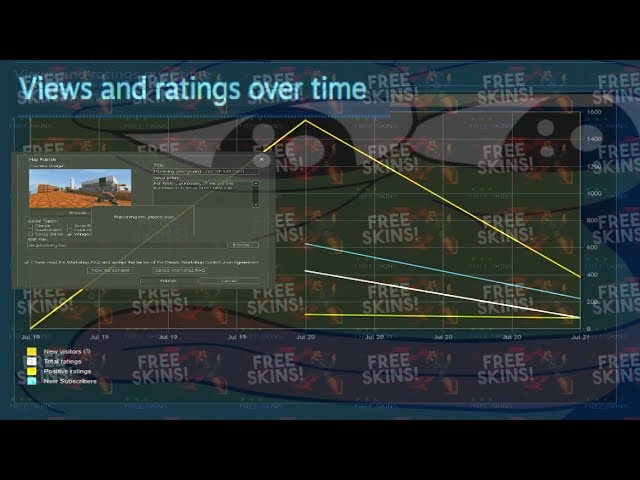 While this new moderation step does add a slight inconvenience for affected Workshop creators who want to get their content up as quickly as possible, it should make it easier for players to actually find and use those creations. In all, it's a positive change in our book.
When I checked the Counter-Strike Workshop this morning, it was pristine and completely free from "Free Skins" spam.