Amazon's new free-to-play hero shooter launches today (here's the Steam page), marking the giant company's first foray into competitive online gaming. Crucible, which fuses popular mechanics from first-person shooters and MOBAs, has three modes on launch and a whole host of gun-toting and weapon wielding hunters to sink your teeth into.
Outside of a few trailers here and there, publisher Amazon and developer Relentless Studios haven't said too much about the game. That's because Crucible has changed shape many times since development began in 2016. While it still features a small battle royale mode, it's far from the king of the hill-style experience once promoted at TwitchCon all those years ago.
So to get the lowdown on the drastic changes Crucible has undergone over the years, including why the team settled on making it more like a team-based shooter, we sat down with franchise lead Colin Johanson and combat design lead Jon Peters. Read on to find out more about how Relentless Studios and Amazon used enthusiastic content creators for feedback, why the company will never include any pay-to-win elements, and what the future holds for the game.
PCGamesN: What does it take to launch a competitive shooter in today's market?
Colin Johanson: We talk a lot on our team about no matter how hard development is leading up to launch, the hardest part of developing this type of game begins the day you go live. Players are deciding where to invest their most precious resource: their time, and they want to make that investment in a game that has a clear long term-future.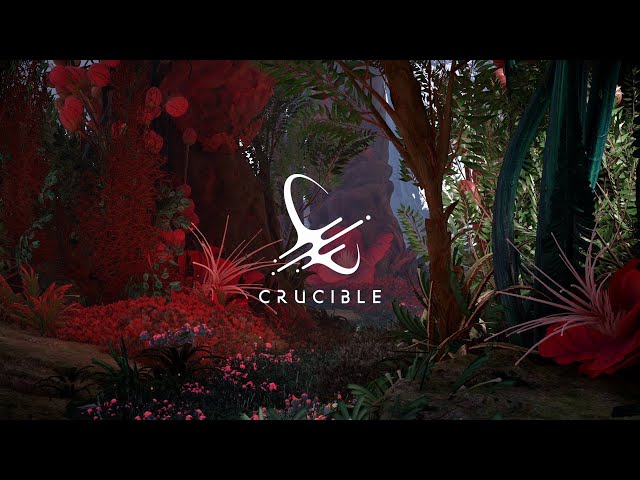 To be successful as a live game our players need to see the game is constantly improving. When we say we're going to do something, we need to deliver. We need to be able to add new features and content that get people excited while also improving the core gameplay experience – bugs and quality of life.
We want our players to feel like we understand and are addressing their key concerns, either through fixes or through well thought-out reasoning for why we may not be changing something. We believe players appreciate honest, transparent and open communication. When we screw up – and we will, everyone does – we're honest and forthright about what happened and what we learned. We need to truly care about our community above all else and show that in all the actions we take as a development team.
Launch is just a single moment in time. It's the willingness to show up every day and push for the game to get better after that; that's the long-term investment it truly takes to be a competitive shooter in today's market.
Why did you decide to blend MOBA and comp shooter elements?
Jon Peters: During the development of Crucible our main goal was to make a unique and fun competitive game. In that search we drew inspiration from many places, not just games, and tried to bring in familiar ideas that we felt worked towards that goal. This ranges from the strategic and levelling elements that might remind you of a MOBA to the skill-based tactical combat of a competitive shooter. We hope the result is a game that is unique, but full of familiar elements.
The team XP aspects have a real chance of reducing toxicity online – is this your hope? How else are you planning on tackling that problem?
JP: We want to encourage players to work together and reward them when they do, and teams levelling together is one example of that. It is something we consider with every decision we make; however, we know it isn't something we can just magically design around. We will be watching for it and continually finding ways to evolve our game systems and community interaction to support and build the best community that we can.
How's it looking so far? Check out our Crucible gameplay preview
How will microtransactions work in the game, and will you be sticking to cosmetic-only?
CJ: I'll start with the easy one! We will not sell pay-to-win items, period. Crucible is intended to be played as a competitive game, and we'll never sell anything that gives you a competitive advantage.
Crucible has two primary forms of purchases available for players. You can purchase a seasonal battle pass that has a ton of rewards you can unlock while playing during that season. You can also purchase items directly from the Crucible store, which has a rotating inventory of items that changes on at least a weekly basis.
Everything in the store as well as the battle pass is acquired through Crucible credits. Credits can be earned by playing the game, or purchased through Steam. In addition, we have Founder's Pack bundles you can purchase on Steam or Amazon that come with a Battle Pass, skins, and credits, all at a discounted bundle price.
Finally as an added bonus to celebrate launch and welcome in our new players, everyone who logs in by June 2 will receive 1,000 free Crucible credits. They can use those credits to purchase our Pre-Season Battle Pass, or any other items they see fit.
You mentioned that you brought pro players and content creators on board for feedback. Are you able to say who you invited and how they helped shape the game?
CJ: We brought a wide variety of people in to give us feedback on Crucible throughout its development. The list is long and too many people contributed for it to be fair to call out a few specific individuals, but we worked with pro gamers, streamers, content creators, cosplayers, figurine designers, tournament organisers, dancers, cultural consultants, and many more. We did our best to get feedback from as many gaming communities as we could.
We made some massive shifts in development based off of these conversations. We tossed out the entirety of our original monetisation plans, redesigned the visual direction of nearly all the hunters in the game, and removed entire game systems.
We feel strongly enough about their contributions that we've included everyone who helped make Crucible in our game credits. You can check them out on playcrucible.com on launch day.
Will these content creators be a part of your launch?
CJ: We'll find out soon! We've met so many people along the way. Some have become deeply involved and have invested hundreds of hours in our alpha playtests, and others just spent a few hours hanging out with us at a TwitchCon, PAX, or Dreamhack. I hope if they do check out the game they'll be able to see how their feedback helped shape the game into what it is today.
I hope they find a game that's significantly better than the one we shared with them in the early days, and know that time they spent helping us was worthwhile and resulted in a game that they have a little bit of pride in, too.
What about the characters? We break down Crucible's hunters
You've said that Crucible has gone through several different iterations over the years. Can you elaborate on those, and on why the final product looks so different?
JP: Yes, Crucible has evolved quite a bit since we first announced it in 2016. However, the core gameplay loop – go out and hunt, gather essence to level up, and adapt your strategy as new and unexpected situations arise – has stayed the same. That is because we felt that loop really captured the essence of what we were trying to accomplish in making a competitive game.
There are other reasons why we made the decisions we did; we knew early on that balancing for competitive play and making a very viewer-friendly experience were important to us. The competitive game space is always growing and changing, and we've been really proactive about getting feedback from players. Both of those things have had an impact on how the game has evolved. We like to look at Crucible as an ongoing challenge to keep working with the community and to deliver the most fun competitive experience that we can, so that's what we've done, and what we will continue to do long after launch.
Are there plans for a ranked mode at all? Will there be skill-based matchmaking?
JP: Yes! Ranked mode is an important part of the competitive experience. We plan to introduce ranked mode and other features to support competitive play in the future, and we plan to do so with our community and their feedback in mind. There will be skill-based matchmaking at launch. For quickplay games the matchmaking will be a lot less restrictive than for ranked, because we want that experience to be more about finding games quickly and having fun. Once we introduce ranked play we will take what we have learned from the matchmaking in quickplay and make sure we are placing players into games that are both appropriate and balanced.
From a first glance the game looks and feels a little bit like Overwatch, but it's far more than that. Is there a reason you chose not to have roles similar to OW?
JP: There are a few reasons we went with this more flexible character design plan. The most important reason is we want players to be able to play the characters they are attached to and not feel like their choice is constrained by what their friends or teammates are playing. Whether it's because you love Summer's flamethrowers or Tosca's attitude, we want you to play them without having to worry about whether your team has the right composition.
More like this: Check out the best FPS games on PC
The other big thing we think this accomplishes is that it makes teamwork and combat a lot more fluid. It means that instead of being dependent on a specific teammate to fulfil a role we are more reliant on dynamic teamwork. Earl may be the hunter with the most health, but sometimes he has to back out of a fight to reset and that creates opportunity for the rest of your team to use their abilities to protect him in turn. Being on the frontlines of a fight is fun, but so are flanking and dealing damage, or supporting your allies. We hope that every player gets to experience all that variety in every game of Crucible.
Are you happy with where the meta is at ahead of launch? How will you evolve it over time?
JP: Because of the flexible roles that characters are able to play the most important thing for the meta of the game is that all of the characters are seeing play. Right now we are seeing a very even and consistent spread of all characters in all of our game modes. Of course once we go live our knowledge and the community knowledge of the game will change, so the way we evaluate this changes as well. We'll go from relying on anecdotal evidence and intuition, to having analytics and community feedback to consider as well.
When the game is live we plan to continue supporting it with regular balance updates where we might change numbers, or even how abilities and upgrades work. Over time, we will also add new characters and events, which can change the way the game will be played. During development we found that every time we added a new character, we not only introduced their new playstyle but also new synergies with existing characters, which allows lots of new strategies to emerge and flourish.
What are your hopes for the first three, six, and 12 months post-launch?
CJ: My hopes for all three moments of time are really the same: the game needs to be constantly improving in a way our community perceives as meaningful and impactful. My hope is we have an honest and transparent dialogue with our community, that people see Crucible's future as brighter than its past and think the best is yet to come. That they tell their friends: "you need to play this game!" because they genuinely feel the community and the game is worth recommending. I think in gaming there are few better compliments than that.
If we're able to do all of the above, at three months, six months, and 12 months I'll be extremely proud of our team and the work we've done and the future we have ahead of us.