Nic Cage in Dead by Daylight – a collab I never thought I'd see, but never knew I needed. The legendary actor has meandered his way into the depths of The Fog, and is already taking the horror game by storm because, well, he's Nic Cage. But it's not just his likeness that players are obsessed with, it's his DBD cosmetics, which appear to be inspired by looks he's worn in real life.
Spotted by Dead By Daylight leaker Isaiah 'dvveet,' Cage appears in the promo art for Archives Tome 16 (allegedly called 'Existence'), which shows our dashing hero fleeing from the newest Dead By Daylight killer, The Singularity. While the snapshot of the new Tome is exciting enough, dvveet's eagle-eye has noticed that Cage's outfit is actually one he's worn in real life.
Decked out in a black, spiked leather jacket lined with red that's reminiscent of his iconic Ghost Rider outfit (Johnny Blaze wouldn't be caught dead in leopard print, though), the skin is the exact same as the 2020 number he wore to Color Out of Space premier.
My friends over at The Digital Fix, you should be proud of the amount of digging I had to do to pinpoint this outfit.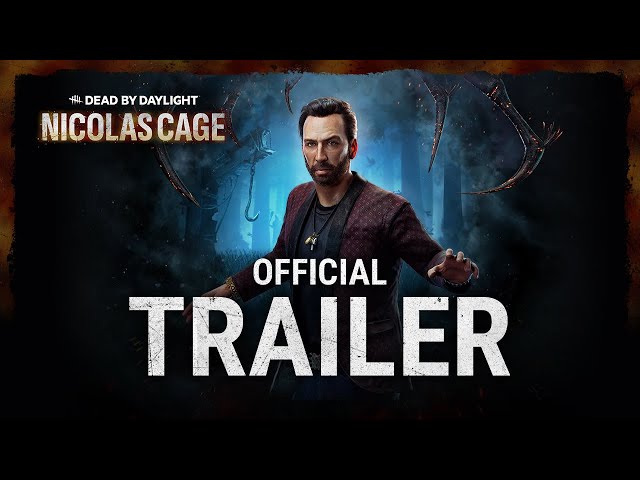 While it may seem like a pretty minor detail, I am stupidly excited by this. Apart from the fact this means we may see both the mint green Summer Games Fest suit and the pink leather jacket make it into DBD (maybe not great for hiding, right enough), it helps make it feel like your'e actually Nic Cage, and honestly, who doesn't want that. After all, he wants to "fuse" with you in DBD – his words, not mine.
Nicolas Cage is currently available to play on the DBD PTB, and his Dead by Daylight release date is set for Tuesday, July 25. He is a paid character, and costs 500 Auric Cells to unlock ($4.99 £5.99) – yes, you can buy Nic Cage for five bucks, kind of cool, isn't it?
But what's a survivor without upgraded abilities? We have a list of all of the active DBD codes for July to help you level up your iteration of Nic Cage, as well as a list of other multiplayer games to tide you over until his release.