Nic Cage is coming to Dead By Daylight – but he's also made his way to the Summer Game Fest stage to speak about his first big videogame role. The beloved actor is playing an in-game version of himself who stumbles into the horror game thinking he's on a movie set. He reveals that the decision to take up the Dead By Daylight role was an easy one, because he's such a big horror fan.
"As a survivor, it's like a bonding experience," he tells Geoff Keighley at Summer Game Fest, "it's a bit like hide and go seek, you have your three other teammates who are survivors with you, and it's teamwork. You're working together to pull through, and I like that."
"Every move you make when you're in the gaming space, it's timed down to the split second – it's a very immersive experience when you're acting out in this space because every move, every grunt, every sigh you make has to be timed perfectly with the gamer's moves," Cage says. "When you're playing the Nic Cage survivor, I want you to know that you're with me, that we're one, that we're fused."
Cage does have another reason for taking on the role, however: "Somebody very important in my family is a Dead By Daylight enthusiast, and that really put the, er… hook in." He laughs. "Dead By Daylight to me was an opportunity to branch out, and I'm always looking for new adventures. It took me nothing but a split-second to say yes."
Nic Cage arrives in Dead By Daylight on Tuesday July 25, 2023, but PC players can get early access to the build on July 5. You can also grab some DBD codes or check out our DBD killers list in anticipation.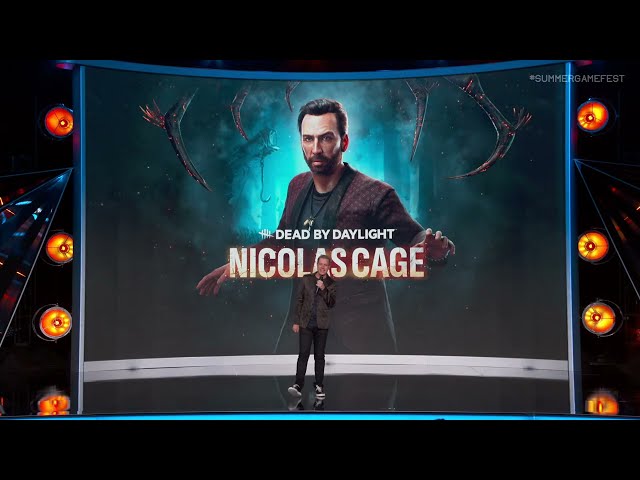 This is a breaking news story as part of PCGamesN's ongoing coverage of the Summer Game Fest showcase on June 8, 2023. We'll continue to update this page as and when additional information becomes available to bring you everything in one place as quickly as we can. Be sure to head over to our news hub for all the latest from the show.
You can also follow PCGamesN on Twitter and Facebook to stay up to date with the latest and greatest developments from this show, along with all the biggest PC gaming updates and more. Take a look at why we think Nic Cage could change DBD forever.