Want to know how to get spectral pages and manifest pages in Destiny 2? The Halloween event is here, and there are plenty of treats that you can get by spending manifested pages at the Book of Forgotten: lore entries, triumphs, and cosmetics. To get manifested pages, you first need as many spectral pages as you can carry.
Typically, you have to grind for hours to get a handful of spectral pages, but thankfully there are a few ways to efficiently farm them, no matter if you're on your own or with a Fireteam of like-minded players. However, some methods are now better than others, and there have been substantial changes since this year's Festival of the Lost update went live.
You can only hold a maximum of 75 spectral pages at any time. That said, each method can be repeated and only takes a few minutes to complete. Here's how to farm Destiny 2 spectral pages as quickly as possible. After farming enough spectral pages, run through the new Destiny 2 Haunted Lost Sectors, and you can convert the spectral pages into manifested pages by defeating Headless Ones.
Destiny 2 spectral pages farming
When the Halloween event dropped, players identified methods to farm spectral pages quickly by completing Wrathborn Hunts, Expunge missions, and the Lake of Shadows Nightfall to farm lots of spectral pages quickly. However, a tweet issued by Bungie explains that these farming methods are now limited. These farming methods now only reward players with either zero or one spectral page for each run.
A change has been deployed to limit Spectral Pages and Candy rewards in Wrathborn Hunts, Expunge missions, and the Lake of Shadows Nightfall. The Nightfall change will be reverted next Tuesday at reset.

— Bungie Help (@BungieHelp) October 15, 2021
So what are the fastest methods after the change? According to Ebontis, the quickest method now is to participate in public events in the EDZ, which are available to all players. Every time you finish a public event, you can fast travel to the next one and help the players out there. You'll get a few spectral pages for completing each one, as well as candy for both finishing the public event and killing enemies, but they are faster to get to and complete than the other methods.
Another way to get spectral pages quickly is to complete Vanguard Strikes. You'll be able to get four to five spectral pages and 350 candy at the end of the Strike, as well as candy for any enemy you kill. These Strikes take anywhere between nine and twelve minutes if you're used to the Strike and have a good Fireteam behind you. Ebontis recommends Fallen Saber and Devil's Lair as they're both more manageable than other Vanguard Strikes.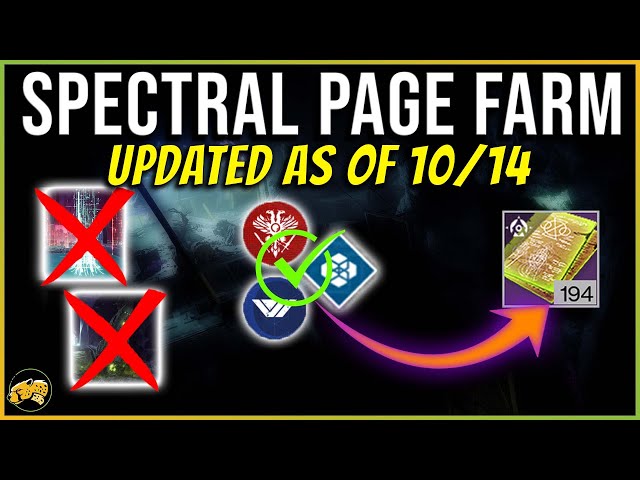 The last method is to participate in The Crucible PvP multiplayer during week one of the event. The Team Scorched game type takes around five minutes to complete, which will give you three spectral pages and 245 candy after finishing the match, as well as a bit of candy whenever you're shooting enemies. Unfortunately, Team Scorched won't be here after the next weekly update, so be sure to make the most of it while you can, as the next game may be less efficient.
Once you've unlocked all of the rewards, you may wish to know what this week's Destiny 2 Nightfall weapons and Destiny 2 Timelost weapons are. You may also want to know what the Destiny 2 Legendary Lost Sector is today.