After a stutter-step the Doom Eternal system requirements have been published. Originally Steam carried the PC specs but they were subsequently removed. Now Bethesda has published not only the Doom Eternal minimum and recommended specs, but also the Ultra Nightmare specs.
For reference that's the hardware you'll need to hit 60fps at 1080p on low quality settings, what PC bits you'll require for 60fps at 1440p high quality settings, and the sort of hella high-spec components required to nail 60fps at 4K on Ultra-Nightmare settings. Or 120fps at 1440p, whichever floats your ocular boat. The Doom Eternal system requirements are a challenge!
We've been hearing for ages that Doom Eternal is being built to squeeze all it can out of modern hardware, even pushing the latest versions of the Xbox One and PlayStation 4 to their limits. Now we know what that means for PCs, as Bethesda and id have unveiled the Doom Eternal system requirements that will make your desktop PC weep, and your wallet empty faster than a good box of wine.
During a question and answer session following the Doom Eternal gameplay reveal at QuakeCon 2018, id Software executive producer Marty Stratton said Doom Eternal is going to use idTech 7 to push current hardware, including the PS4 pro and Xbox One X. "I'm not sure so much that we're taking advantage, as we will abuse them," Stratton said, answering a question about Doom Eternal on the latest consoles.
Doom Eternal system requirements
| | |
| --- | --- |
| | Doom Eternal minimum PC specs |
| CPU | Intel Core i5 @ 3.3GHz+ | AMD Ryzen 3 @ 3.1GHz+ |
| Graphics card | Nvidia GTX 1050 Ti, GTX 1060 (3GB), GTX 1650 | AMD Radeon R9 280, R9 290, RX 470 (4GB) |
| Memory | 8GB RAM |
Minimum PC specs
(60fps | 1080p | Low settings)
Processors
The Doom Eternal minimum CPU specs list either an Intel Core i5 or AMD Ryzen 3 processor. Now realistically that probably means a quad-core chip is a base requirement for the game, despite some modern i5 CPUs being hex-core, but they're pretty cheap anyways.
Graphics card
Hitting 60fps on low quality will only need a 4GB GPU from either Nvidia or AMD. The ubiquitous GTX 1060 or GTX 1050 Ti will see you right, meaning that the more modern GTX 1650 will also work out. On the AMD side the RX 470 is a baseline, which brings the excellent-value RX 570 into view.
Memory
If you don't have 8GB of system memory in your desktop rig right now it's time for an upgrade or a whole new pool of RAM.
| | |
| --- | --- |
| | Doom Eternal recommended PC specs |
| CPU | Intel Core i7 6700K | AMD Ryzen 7 1800X |
| Graphics card (1080p) | Nvidia GTX 1060 (6GB), GTX 970 (4GB), AMD RX 480 (8GB) |
| Graphics card (1440p) | Nvidia GTX 1080, RTX 2060 (8GB) | AMD RX Vega56 |
| Memory | 8GB RAM |
Recommended PC specs
(60fps | 1080p & 1440p | High settings)
Processors
The rec. specs for CPUs demands an Intel Core i7 with four cores and eight threads or an AMD chip with eight cores and 16 threads. Quite a difference, but essentially top processors for a few years back. The modern, resolutely eight-core, eight-thread 9700F is a great gaming chip, if a little pricey, but the AMD Ryzen 7 2700 is a fantastic value option.
Graphics card
This is where it becomes very obvious just how demanding the game is because the Doom Eternal recommended graphics cards feature some pretty hefty GPUs from the last generations if you want to hit 60fps at 1440p on high settings. They also demand an as-yet-unreleased RTX 2060 with 8GB… They're a little more lenient if you want to do the same at 1080p.
60fps | 1080p | High quality
60fps | 1440p | High quality
Memory
I think the main takeaway from this is that Doom Eternal doesn't really give two hoots about your memory so long as you've got at least 8GB. I reckon they only upped the count for Ultra-Nightmare mode to seem cool. Memory's still cool, right?
| | |
| --- | --- |
| | Doom Eternal Ultra Nightmare PC specs |
| CPU | Intel Core i9 9900K | AMD Ryzen 7 3700X |
| Graphics card | Nvidia RTX 2080 Ti (11GB) | AMD Radeon VII (16GB) |
| Memory | 16GB RAM |
Ultra Nightmare PC specs
(60fps | 4K or 120fps | 1440p)
Processors
Bethesda and id aren't messing around with the CPU requirements for the Doom Eternal Ultra-Nightmare mode requirements. You apparently have to have at least 16 threads of high-end PC processing or nothing. Damn.
Graphics card
This isn't just an Ultra-Nightmare in Doom Eternal this an Ultra-Nightmare for your bank balance because the baseline spec for your GPU is either the $1,200 Nvidia Turing beast, or the now essentially obsolete Radeon VII. Basically 4K Doom Eternal needs lots of video memory…
Memory
It's not just video memory that you're going to need a lot of, because Doom Eternal also wants 16GB of system memory to run at 4K. Though I feel like that's a bit arbitrary given that there's no difference between the minimum and recommended RAM specs…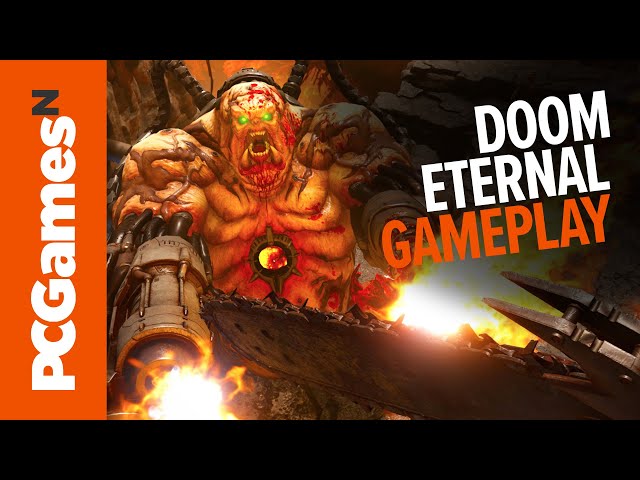 So, now we know why Google Stadia can't run Doom Eternal at its promised 4K settings. If you want to do that you're going to need more graphical grunt at your disposal than Stadia's custom Vega 56 GPU silicon can offer.
The Doom Eternal release date is scheduled for March 20. You can follow that link for much more on everything we know about the game. Check your PC against the Doom Eternal system requirements on PCGameBenchmark and answer the question Can I run Doom Eternal?