Dungeons & Dragons is a global institution for a reason. Thwarting the machinations of a scheming vampire, improvising a filthy shanty to amuse a tavern full of drunken goblins, and of course, slaying a dragon – these are experiences you simply can't get anywhere else, short of hiring a pub full of actors or dabbling in reptile-bat gene-splicing. The fact you create and share these moments with friends just makes them all the sweeter.
We're living in the time of the dragon. And, er, the dungeon. The definitive tabletop role-playing game has been going from strength to strength since the launch of its fifth edition in 2014 – in its current form, 'D&D' has never been more accessible, yet hasn't sacrificed an inch of its depth. Its boom has been mirrored in the digital world – regular readers of PCGamesN will know all about the renaissance of 'classic' RPGs such as Pillars of Eternity and Divinity: Original Sin, a trend which looks set to culminate in spectacular fashion with Baldur's Gate 3, the long-awaited successor to the original D&D-based CRPGs.
You're curious. You're right to be. You want to explore this wonderful world and the lifetime of shared stories it promises, but you're wondering where to start. Or maybe you or a friend have taken those first steps, and you're wondering which path to take next. Or perhaps you just want to buy a gift for the D&D-obsessed loved ones in your life. Well, dear traveller, it would be our honour to help.
This is a list of Dungeons & Dragons products to help you, a friend, or family member take those next steps in the Forgotten Realms, whether or not you've yet taken your first. We've arranged them in ascending order of complexity – the first couple of entries are for those who've never played Dungeons & Dragons before, while the later ones should hopefully interest those with a few sessions under their belt who are now looking either for their next adventure, or for rules to shape new experiences.
Easy mode intro: D&D Starter Set
This is the gentlest, friendliest introduction to Dungeons & Dragons, and offers everything you need to cannonball playfully into the vast ocean that is the world's greatest role-playing game in one convenient and very reasonably priced box. The D&D Starter Set includes a simple rulebook of only 32 pages, an adventure book to help your Dungeon Master guide you through the Lost Mine of Phandelver story, and of course a set of D&D's iconic multi-sided dice.
There are also six pre-made character sheets so you can jump into the adventure right away. While making your own D&D character is, ultimately, a big part of the fun, it does require a bit of extra work, whereas these ready-made characters allow you to dive right into your first game. Pick up the Starter Set, gather a party of four to six players plus a Dungeon Master, and you can be playing a proper D&D adventure in minutes.
Buy your D&D Starter set here.
Normal mode intro: D&D Essentials Kit
This is a new, more fully featured version of the Starter Set, aimed at those who want to skip fewer of the fiddly if rewarding steps veteran players must undertake before starting a new adventure (such as character creation). It's also handy if you fancy playing in a smaller group.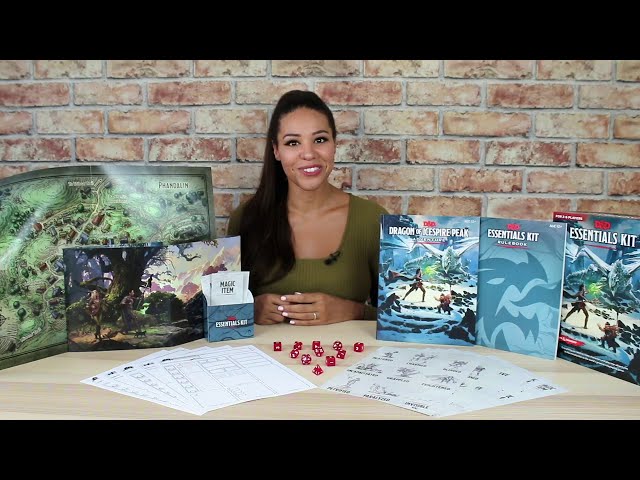 As well as a new adventure book, the Dragon of Icespire Peak, it includes an introductory rulebook with a new 'Sidekicks' system designed to support play with just two people: one Dungeon Master and one other player (though there's nothing stopping you playing with more if you wish). You also get a map, 11 dice, 81 cards for magic items and sidekicks, and six blank character sheets. If you want the easiest, quickest way into D&D, go for the Starter Set, but if you're up for learning a little more before starting play so you can build your own fantasy alter ego, or would benefit from rules to support smaller parties than four, go for this one.
Buy your D&D Essentials Kit here.
Basic supplies: D&D Core rulebook gift set
These three core rulebooks are the real 'essentials' of D&D, especially the Player's Handbook. This is your guide to creating, levelling up, and role-playing any character, with details on race, class, backgrounds and skills, lore, and so much more. You'll consult it dozens of times in the average session, and every D&D player and DM will need to pick up their own copy at some point (also it's just nice to read, sometimes).
If you ever aspire to run your own game as a Dungeon Master, you'll need the other two books too. The Monster Manual is a huge reference of beasts you'll consult whenever a fight occurs (so you know what each monster can do and when they're dead), and the Dungeon Master's guide is a crucial tool to understand the role. This gift set also includes a DM's screen – an iconic tabletop prop providing a place to roll dice and write notes without your players seeing. Remember: the evil cackle, as if an unseen dragon has caught their scent, is mandatory on every unexplained dice roll.
Buy your D&D Core Rulebook Gift Set here.
Next steps: the D&D Wilderness kit
Combat and dungeon crawling are where D&D began, and while fifth edition has been designed not to require such props as miniatures, scenery, and maps, they can be really helpful to visualise a space and create more immersive encounters. Many DMs use dry-erase grids, such as the one in this kit, to draw a dungeon's floor plan and then simply wipe it away when no longer needed. This kit also includes a DM screen with rules for weather, navigation, water needs and so on, for anyone interested in the survival side of adventuring, as well as plenty of handy reference tools for players to track their progress through your campaign. Not essential, sure, but certainly of value to experienced players, and reasonably priced.
Buy your D&D Wilderness Kit here.
Where to go? Some awesome campaigns
The Starter Set and the Essentials Kit both include an adventure for your Dungeon Master to guide you through. But what to do when you've plundered the Lost Mine of Phandelver and slain the Dragon of Icespire Peak? Or say you just bought the core rulebooks, and have no adventure to play at all? Having all the rules is pointless if you don't have a story to tell, and though you're welcome to write your own, it's a pretty daunting challenge. Fortunately, there have been dozens of official D&D adventures published (as well as innumerable hundreds of unofficial ones), and while a comprehensive guide is beyond the scope of this article, we'll gladly present a few highlights to consider.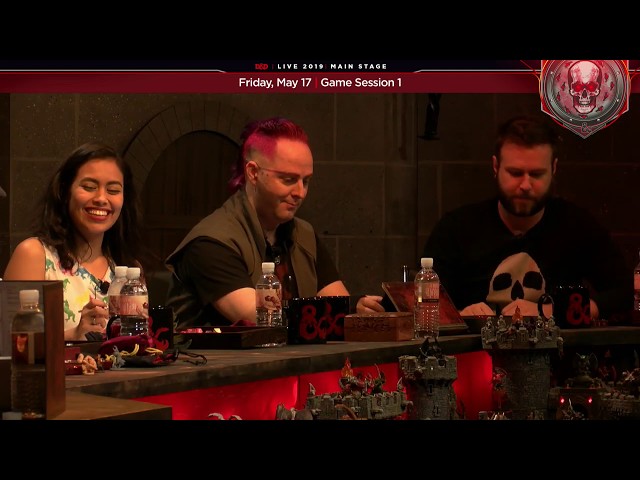 If your interest in D&D has been piqued by the recent talk of Baldur's Gate
III in the videogaming world, you'll want to check out Descent into Avernus. Starting in Baldur's Gate itself, you learn of a terrible plot to pull the city into Avernus, the first of the Nine Hells, after the same fate befalls local rival Elturel. Featuring a new game system to bargain with devils, your journey will take you into Avernus to rescue the two cities from the foul schemes of the Archdevil Zariel. Baldur's Gate III essentially picks up where this campaign leaves off, and its events have already been referenced in BG3's Early Access version.
Storm King's Thunder is a classic – a top-notch fantasy adventure for players of any experience. In the sudden absence of Hekaton, the Storm Giant king tasked with keeping order among his people, giants of all species have emerged to threaten the Sword Coast – where the city of Baldur's Gate is found – as never before. It's up to you to investigate their overnight invasion, harness their powers, and ultimately stand with or against them. Designed for characters of first to 11th level or higher, Storm King's Thunder is ideal for new players to tackle either as their first adventure or after the Starter or Essentials sets, while veterans who haven't tried it will surely enjoy it.
The Curse of Strahd is an extended fifth edition adaptation of perhaps the best-received adventure in D&D history: first edition's Ravenloft. That may make it sound like an instant buy, but it's not to be taken lightly. Inspired by Gothic horror rather than high fantasy, it needs a mindset shift both from players and their DM to fully shine. Don't expect to prevail heroically: rather, expect an emotional rollercoaster of dread and trauma in which your character may well die and your party may well wipe. To draw a digital analogy, if typical D&D is Skyrim, Curse of Strahd is Bloodborne. If you're ready for that, though, expect an adventure of glorious pacing, texture, and excitement. The amazing Revamped Premium Edition includes special reference books, a DM screen, a deck of 'Tarokka' cards and comes in a freaking coffin!
Deep cuts: D&D rules expansions
Dungeons & Dragons' current edition – its fifth – launched in 2014. Since then a number of official supplements have been released which extend the core rules to encompass a thrilling range of new fantasy experiences: new characters to play, new monsters to slay. If you're ready for bigger and better adventures – perhaps you've got a few D&D sessions under your belt now, or are just confident enough to dive into D&D headfirst – you'll want to consider these.
Xanathar's Guide to Everything was the first major rules expansion for D&D 5e, and remains the most essential. It adds over 25 new subclasses for the characters in the Player's Handbook, plus dozens of new spells and the important feats system. Dungeon Masters get new tools to build traps, magic items, and downtime activities. If you're ready to take your next steps into D&D, this should probably be your first purchase.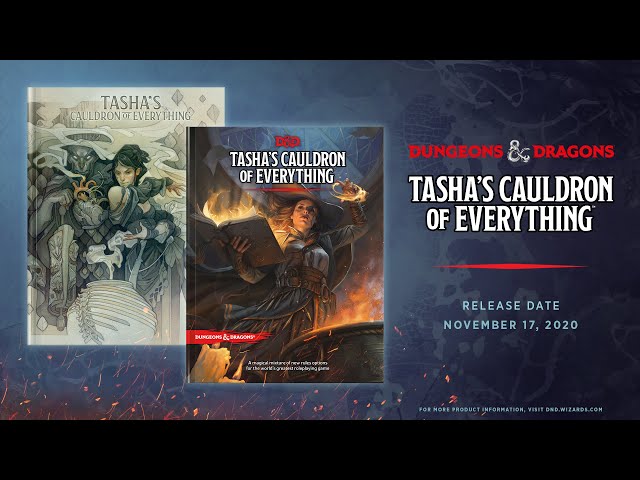 As you can probably tell from the title, Tasha's Cauldron of Everything is an expansion on the same scale as Xanathar's Guide, and will thus be the most important D&D supplement since the big 'X' when it releases on November 17 this year. It will include more character subclasses, feats, origin stories, spells, and magic items, but also entirely new systems such as magic tattoos, patrons for your party's quest (such as criminal syndicates and ancient dragons) and ready-made puzzles for devious DMs.
After the quest: The Great Dalmuti D&D card game
Phew. Hopefully the intro kits should dispel any notion that playing D&D has to be a daunting slog through Byzantine rules, but as the expansions and advanced adventures demonstrate, it certainly can have as much depth as you're ready for. So why not unwind with an award-winning fast-paced card game set in the D&D multiverse, created by arguably the greatest designer of fantasy CCGs alive?
Designed by Richard Garfield – creator of Magic: The Gathering and Valve's digital CCG Artifact – The Great Dalmuti is easy to learn and quick to play, with games taking 15 minutes on average. A perfect way for your party to unwind back in the tavern after a hard day's dungeon-crawling.
So there we have it. You'll be up and running in no time with any or all of the above D&D goodies – now go forth and adventure!