Elden Ring is all about overcoming adversity. Sometimes that adversity can prove too much for you alone though, especially during the back-to-back final bosses FromSoftware throws at you. This is where 'LetMeSoloThem' has been, for what must feel like an eternity, dedicating their time to helping hapless Tarnished as a summon, and they've just reached 5,000 kills.
If you didn't know, Elden Ring has actually had multiple naked pot-wearing warriors helping players out with difficult bosses. 'LetMeSoloHer' started the trend of helping players out with Malenia and subsequently became a legend in the community, while LetMeSoloThem has been helping players with the open-world game's final hurdle: Radagon and the Elden Beast.
Think of Elden Ring's LetMeSoloHer like Batman, with LetMeSoloThem their Nightwing – defeating bad guys in Blüdhaven, or something. While LetMeSoloThem will continue to help out players occasionally, the absolute legend is taking a break after 5,000 final boss kills, and it's incredibly well-deserved.
"Over a year and a half ago, I started wearing a jar helm," LetMeSoloThem writes in a Reddit post. "Going by the name LetMeSoloThem I set a goal to help as many people as I could become Elden Lord."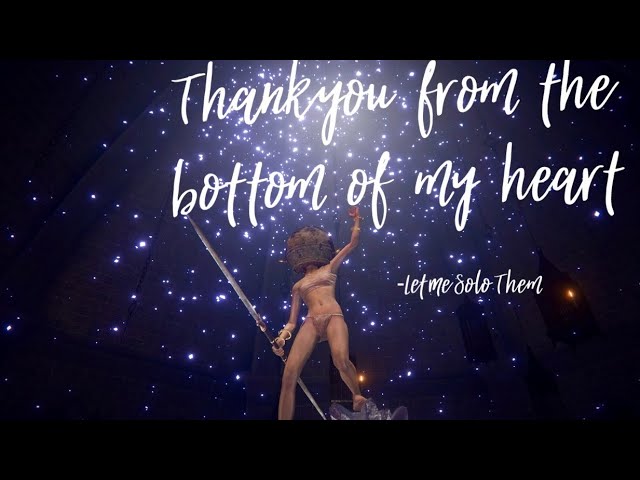 "Today I'm honored to say that I've finally helped 5,000 people defeat the final boss of Elden Ring. It has been one of the most rewarding experiences of my life and I'm sincerely grateful. This marks the end of a chapter but I just want to say, thank you from the bottom of my heart to all the players that summoned me."
People affectionately call these players "Jarnished," and running around The Lands Between is nothing short of awe-inspiring, while it hones in on why FromSoftware's approach to multiplayer is so special. One person started wearing a jar on their head and helping players beat a boss and this inspired another player to do so, who has now done it a staggering 5,000 times.
Sadly LetMeSoloHer and LetMeSoloThem play on PC and Xbox respectively, so until we get Elden Ring crossplay we're not going to see these epic heroes team up. Once the Elden Ring Shadow of the Erdtree release date rolls around I wouldn't be surprised to see another player go by 'LetMeSoloHim' or something like that, and pick up the mantle to help players with a particularly difficult DLC boss.
As you wander The Lands Between we've also got your back, with breakdowns of the best Elden Ring classes, Elden Ring armor sets, and even some great Elden Ring builds for you to try out too.
You can also follow us on Google News for daily PC games news, reviews, and guides.