We've been eagerly awaiting more news of Falling Frontier, the gorgeous space RTS game from Stutter Fox Studios and strategy publisher Hooded Horse, ever since we first laid eyes on it. Thankfully, we're in luck, as a new gameplay trailer shows off a breathtaking ship design from incoming artist Aleksandre Lortkipanidze, who recently joined the studio. The teaser also gives us a glimpse at the game's updated UI and tactical waypoint systems.
The Sukula Mining Barge is Lortkipanidze's first project as the team's new full-time artist, and Stutter Fox promises that it's just "the first of many new and revised ship models that will be deployed in the final build," with the Hano-class destroyer next on the cards. The mining barge we see in the trailer below is used by players to collect resources, as you might expect – but it's just one of many Sukula-class ships that will serve a range of important functions in the full game.
Following the slow, loving reveal of its newest craft, the gameplay trailer also gives us a look at the ship in action, which also serves as a way to show off how Falling Frontier's UI has been updated in recent months, along with the game's new waypointing, obstacle avoidance, and collision mechanics.
Waypoints can be set and adjusted on the fly, allowing you to quickly and easily plot out a course for your ships, and tweak them if needed. Colliding into small space debris will send it scattering gently and satisfyingly out of your path, but when it comes to bigger obstacles such as other ships, they will delicately path carefully around one another so as not to cause a devastating incident.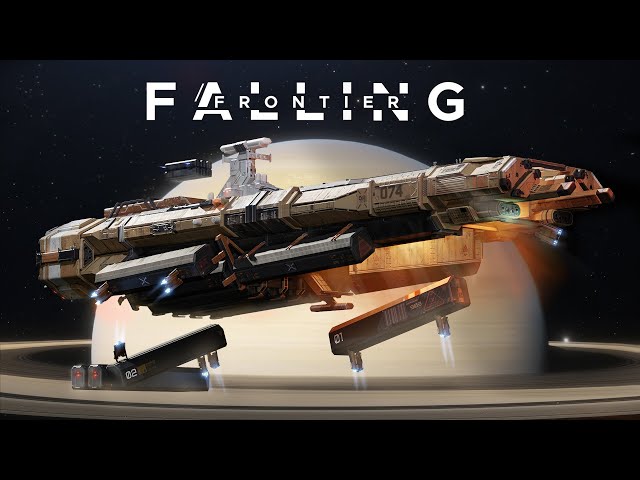 If you're not already familiar with Falling Frontier, it's a systems-heavy RTS with deep mechanics that sees you designing ships and building out shipyards, supply depots, and much more as you explore a procedurally generated star system in search of resources and planets to discover. You'll have to manage intel as well as your named, individual crew members, and engage in tactical ship combat against hostile forces.
The new art design is certainly a welcome addition to what was already a gorgeous-looking game, and we're very eager to hear more news about when we can actually play Falling Frontier, which is currently scheduled to launch via Steam Early Access alongside GOG and the Epic Games Store in 2023.
For now, content yourself with more of the best space games on PC, along with plenty of other great strategy games you should play. Stay tuned to PCGamesN and we'll keep you up to date on this and other big upcoming games on PC in 2023.