What are the Forspoken system requirements? The Square Enix RPG game demands powerful hardware to get running at modern frame rates and resolutions. As such, budget builders may have to pass up on Forspoken unless they fancy upgrading their machines.

You won't need the best gaming PC to meet the Forspoken minimum specs. As a baseline, the developer says you'll need a GPU that's on par with the GTX 1060 or AMD Radeon RX 5500 XT, paired with either an Intel Core i7 3770 or AMD Ryzen 5 1600 CPU. Sounds reasonable, right? Well, sort of, but 16GB RAM serves as a mismatched cheery on top, as budget builds and ageing machines normally pack less memory.
Here are the Forspoken system requirements:
Minimum
Recommended
OS
Windows 10 64-bit
Windows 10 64-bit
CPU
Intel Core i7 3770
AMD Ryzen 5 1600
Intel Core i7 8700
AMD Ryzen 5 3600
RAM
16GB
24GB
GPU
Nvidia GeForce GTX 1060
AMD Radeon RX 5500 XT
Nvidia GeForce RTX 3070
AMD Radeon RX 6700 XT
VRAM
6GB
8GB
Storage
150GB
150GB SSD
If you'd rather avoid turning Square Enix's shiny new adventure into a 2007 demake, aiming for Forspoken recommended specs is a must, but you'll apparently still have to make do with sluggish frame rates. Luminous advises using an AMD Radeon RX 6700 XT or Nvidia GeForce RTX 3070 graphics card, Intel Core i7-7800K CPU, and 24GB RAM to achieve 1440p 30fps.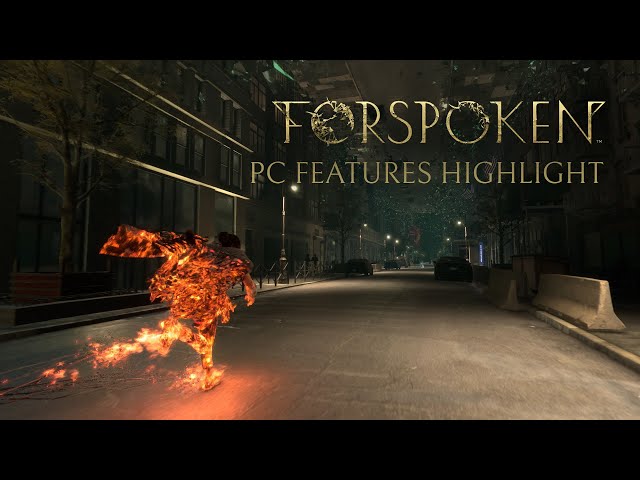 As for Forspoken size requirements, you'll have to free up a whopping 150GB of space, and you might even have to ditch your trusty old mechanical hard disc. The game's recommended requirements suggest you'll need to make the switch to solid-state, with the developer even calling an NVMe drive at higher settings. Picking up the best SSD for gaming will save you from worrying about any of the above, but it could cause a few headaches for anyone using a cheap and cheerful rig.
PC specs should help prevent performance disruption, but we'll need to test it ourselves to figure out the best Forspoken settings on PC. Hopefully, we'll be able to share ways to boost fps without compromising the experience, so check back once Square Enix's latest adventure lands.
Take the Forspoken system requirements test over on PCGameBenchmark to answer the question… Can I run Forspoken?