You'll need to know where all Fortnite Radar Signs are if you want to tick off your Fortnite Week 5 challenges and grind an extra few tiers of the Season 6 Battle Pass. Among the weekly set of three free and four Battle Pass challenges is one that requires you to record a speed of 27 or more on different Radar Signs scattered across the Fortnite map.
Chances are you've already seen these speed check signs while driving around in an ATK, Quadcrasher, or even Shopping Cart. However, you might have noticed that a speed of 27 is faster than most vehicles move in Fortnite. Fortunately, there are some ways to boost your speed to 27 in Fortnite. For example, you can do a handbrake turn in the ATK to activate a boost, travel down a ramp in the Shopping Cart to gain speed, and activate the boost in the Quadcrasher.
So, now that you know how to record a speed of 27 or more on different Radar Signs, all you need to know now is where the ruddy things, which is where we come in with this handy guide.
All Fortnite Radar Signs
The first Fortnite Radar Sign can be found above the southernmost town in the desert region. The Radar Sign is on the main road.
Another Fortnite Radar Sign is located between Paradise Palms and the race track to the north. Keep following the main road north from Paradise Palms and you'll find it.
For your third Radar Sign you'll need to head to the tunnel south of Tomato Temple. The Radar Sign is at the southern entrance to the tunnel.
You can find another Radar Sign between Leaky Lake and Lazy Links, and again it will be to the side of the main road.
A fifth Radar Sign is located between Pleasant Park and and Titled Towers, on the main road just south of the gas station.
A bonus sixth Fortnite Radar Sign sits on the road heading west out of Salty Springs.
Of course we've also made a video guide for this set of challenges, which you can watch below.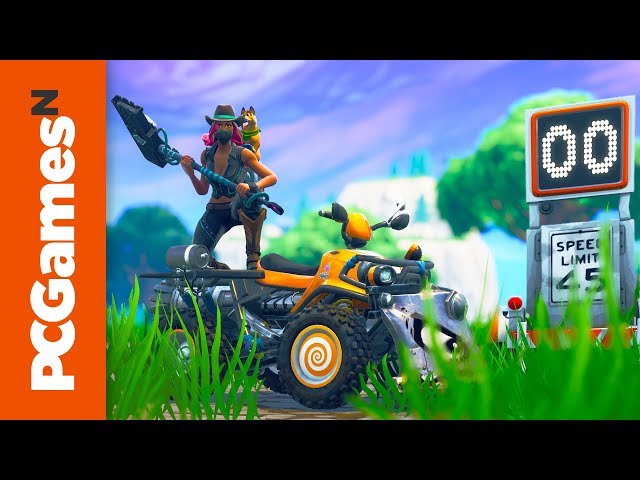 That's it: all Fortnite Radar Signs to help you complete your Fortnite Week 5 challenges. Hopefully you've raced through this one in no time and have unlocked a haul of new Fortnite skins to show off in your next match. Don't forget there are also Fortnitemares challenges like dancing at different Gargoyles across the map, which we can also lend a helping hand with. Unfortunately, it doesn't look like you'll get any bonus rewards for breaking the speed limit of 45 on Radar Signs.