A new Barbenheimer Fortnite map sees the most unlikely pairing of the summer collide, as the nuclear trauma of Oppenheimer and the pink-tinged glitz and glamor of Barbie meet in Fortnite. This Fortnite map capitalizes on the internet's current favorite trend, bringing the bizarre movie duo together in Epic's world-topping battle royale game.
If you've somehow completely dodged the Barbenheimer trend, it all began when Warner Bros. decided to set its long-awaited Barbie movie, starring Margot Robbie and Ryan Gosling, for a July 21 release date, the same day as the Universal Pictures biographical thriller Oppenheimer, which sees Cillian Murphy step into the shoes of the eponymous director of the Manhattan Project.
It was a move that many saw as a direct decision to counterprogram the dark, gritty drama with Barbie's camp, colorful weirdness, following Oppenheimer director Christopher Nolan's decision to move away from Warner Bros. publishing for his films. However, the internet took it in stride, taking the opportunity to plan a 'Barbenheimer' double feature, seeing the two movies back to back – the preposterous delights of Barbie offering the viewer a welcome salve from the existential dread of nuclear war.
Enter Fortnite streamer and creator 'Squatingdog,' who has taken the trend to Fortnite. With their brightly colored Barbenheimer map, you can finally bring the internet's favorite pairing together, so pull on your most glamorous, gaudy fashion – or a drab military look, if you prefer – and jump into the action.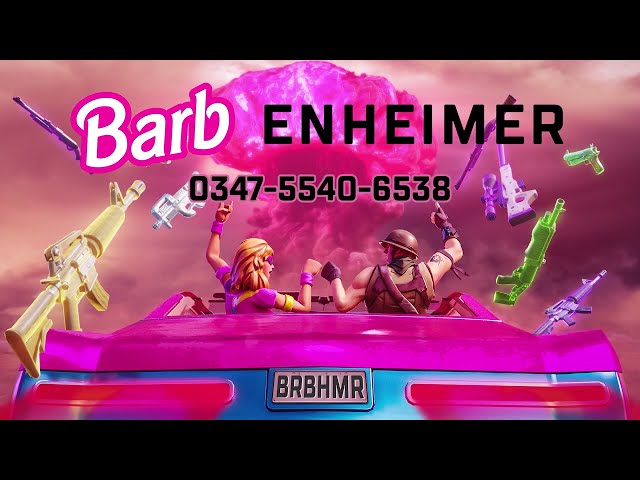 The map itself appears to draw inspiration in part from the famous Nuketown layout from Call of Duty, though that only comprises one chunk of its layout. It's carved neatly in two – half of the map lit up with the garish candyland palette of Barbie, and the other a brown and olive green battlefield. Honestly, I love it.
If you want to check out the Barbenheimer gun game mode, "where gloom meets glam," for yourself, you can check it out using the Fortnite Island Code 0347-5540-6538. Squatingdog notes: "21 killstreak unlocks the NUKE!"
Make sure you're ready to bring home the Victory Royales this summer with all the Fortnite weapons in the latest patch, and check out more of the best free PC games to keep you busy this summer.