Do you want a war or do you want to just give him a gun? A press release issued today has confirmed what Fortnite fans have been hoping (and determinedly data-mining) for in recent weeks – John Wick is now officially in Fortnite. As part of an event to tie into the release of the third John Wick film, Parabellum, Lionsgate and Epic games have collaborated to bring players a raft of cool John Wick content to get their teeth into.
The event introduces a new and unique LTM (Limited Time Mode) called Wick's Bounty, which we first got a look at yesterday after data-miners leaked some of the game files, plus some John Wick challenges giving players the opportunity to go get some free rewards. These include Gold Coin Back Bling, based on the film's Continental bank coins, which we also got a glimpse of yesterday, plus a One Shot Glider, and Boogeyman Wrap.
The Wick's Bounty mode offers some exciting new gameplay: it can be tackled solo, as a duo, or as part of a squad, and is basically all about collecting some cold, hard cash. When you eliminate a player, you are awarded one coin for each of their eliminations, plus the number of bounty points that your victim has to their name.
During the game, the top three coin leaders, called 'Bounty Leaders', get displayed in a HUD scoreboard for all to see, ready for the hunt to begin. At 250 coins, Bounty Leaders get tagged with a gold, silver, or bronze #1, 2, or 3 icon over their heads. At 400 coins, they get even easier to spot, becoming visible on the map and compass when nearby or shooting. At 600 coins, everything starts to heat up: Coin Leaders are visible to all every time they move or shoot, and they start to glow gold, silver, or bronze, depending on their current ranking.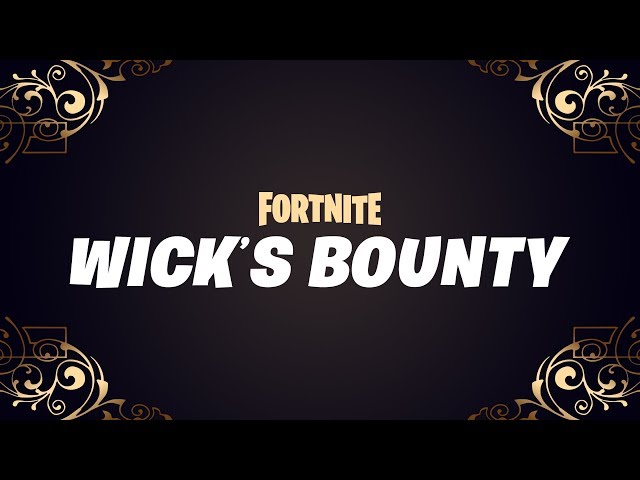 Best of all, once a player has crossed the last points threshold, they will stay visible, and keep the "alt Wick skin" for the remainder of the match, even if they are knocked off the leaderboard.
If you can make it through all of that, and reach 1,000 coins, you're golden – you win the match.
If all of this wasn't enough, also on offer is the John Wick set, containing his signature suit and a Simple Sledge Pickaxe, which players can purchase from the in-game shop. If the pictures of the outfit that emerged yesterday are anything to go by, you're gonna wanna get in on that action.
Ready to play? Check our guide to the best Fortnite skins ranked
With the LTM only on offer for a period of time, and all these John Wick goodies up for grabs, you should head out there and give it your best shot. Are you thinking you're back?