Struggling to complete the Fortnite magnifying glass challenge? Where in all of Fornite's map is the magnifying glass for the week 3 challenge pointing to? It's a question we've been mulling over ourselves ever since we unlocked a particular loading screen once we hit tier 10 of the Season 8 Battle Pass. The loading screen in question features a treasure map with a magnifying glass placed over a specific location. Fortnite challenges often have us searching across the map in hopes of finding a battle star and not being shot to ribbons, and this week's challenge is no different.
If you're new to this whole Fortnite challenges thing, Season 8 of Fortnite's Battle Pass launched just weeks ago and has given us oodles of cosmetics to chase. Some unlock through standard gameplay challenges like dealing damage with specific weapons, but others require you to complete some pretty tricky detective work.
Of course, this is but one challenge of many and weekly challenge veterans will be chomping at the bit to get started with their Fortnite Season 8 week 3 challenges. Finding the spot the Fortnite magnifying glass is hinting at is but one of those challenges. So, without further ado, here's what our own sleuthing has uncovered.
Fortnite magnifying glass challenge
While you take your seat on Fortnite's Battle Bus, you'll want to whip your map out and mark the ice sculptures southwest of Polar Peak. Once you've glided on down to challenge completion town, you should find three ice statues set up in a triangle formation amid a tense face-off. Quite happily, if you peep in the middle of the icey face-off, a battle star will be awaiting you.
And there you go, challenge hunter, a new battle star for your efforts. And, frankly, if you made it there without being filled with lead, then you deserve it. Just to confirm how that looks in-game, here's a screenshot of us grabbing the Battle Pass tier:
You'll probably need to cool off after that, so we'd recommend getting blown into fiery orbit with a Fortnite Volcanic Vent. That ought to do it. While you're up there, you can also touch down in one of the many Fortnite Pirate Camps.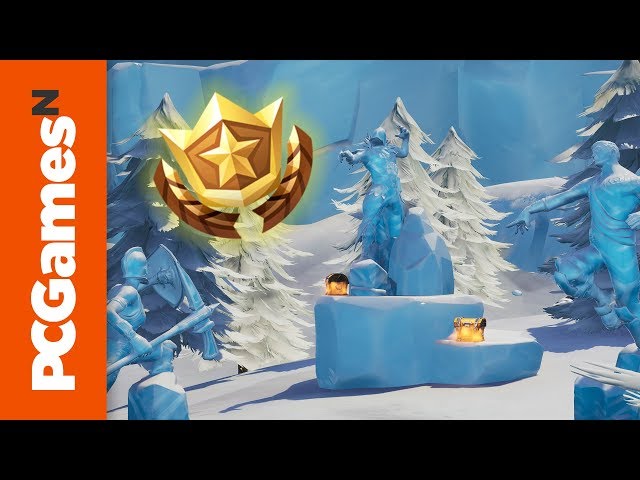 Luckily, there are plenty of Fortnite skins and cosmetics to grab over the coming months, and you don't have to wait to catch them either. If you want a wee look, check out our Season 8 Battle pass video above. But, most importantly of all, make sure to have lots of fun with this new phase of Fortnite.