Looking for some good games like Animal Crossing on PC? Well, wish granted below. Nintendo finally gave Animal Crossing fans what they wanted when it released the next entry in the fantastic village simulation series. Now here we are a few years later, still basking in the aftermath of one of Nintendo's most successful launches. A Nintendo Switch isn't cheap, though. Especially if all you're interested in is Animal Crossing.
Fortunately for PC players, the best games on Animal Crossing don't just appear on the Switch. Grab your shovel for fossil hunting, a net to catch those bugs catching, and a creative attitude for interior decorating, because these are the best PC games when it comes to recreating Animal Crossing's unique approach to relaxation.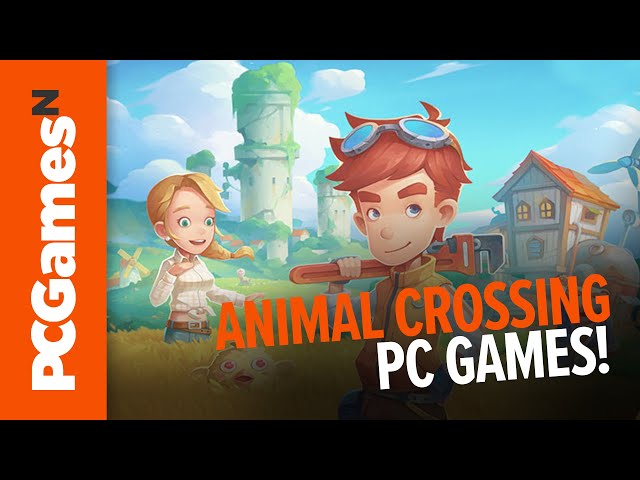 Can you play Animal Crossing on PC?
Unfortunately not yet, but there are lots of alternatives. Here are the best games like Animal Crossing on PC:
Hokko Life
Stop us if you've heard this one before. You step off a train into a new life in a village populated by anthropomorphic animals. You talk to these creatures, decorate a house, and then collect loads of bugs and fish. Yeah, we're not sure of the legal implications, either…
Hokko Life is also the closest you're going to get to Animal Crossing: New Horizons, as you can build your own furniture using crafting materials harvested from the world, and you can redesign the game's existing items to put your personal spin on them, too. It could be as simple as adding throw cushions to a couch, but you can design stuff from scratch if you're particularly creative. It's not exactly like New Horizons, as it's a single-player game, and in-game days don't equate to one actual day, so you're free to play at your own pace without worrying about missing out on key events.
Cozy Grove
Welcome to Cozy Grove! You are a Spirit Scout tasked with aiding the local spirits with their unfinished business, learning about their past lives while ushering them on to the next one. While Cozy Grove's visual style bears a passing resemblance to Don't Starve, you don't have to worry about falling foul of draining status bars. Instead, your success in Cozy Grove is marked by fulfilling the various requests of the island's ursine residents. Spending time with them and solving their problems gradually causes colour to return to the muted, sepia world of Cozy Grove, bringing warmth and vibrancy back to the island.
Like Animal Crossing, Cozy Grove is synced to real-world time. You can expect 30-60 minutes of new quest content a day, alongside a regular schedule of exploration, harvesting, and crafting. There's also a veritable trove of collectables you're tasked with finding and donating to Captain Billweather Snout, including shells, flowers, and critters. The best PC games typically love to demand all of your time, but Cozy Grove encourages you to log off once you've wrapped up all your tasks for the day. That said, don't stay away too long. The island loses colour the longer you go without dropping in to check on your neighbours, encouraging you to return to Cozy Grove again and again.
Stardew Valley
Well, obviously. How could we neglect to mention this? In perhaps the best-known love letter to Harvest Moon – and thus to Animal Crossing – on the PC right now, you inherit your grandfather's farm and abandon the corporate rat race for a life of honest work and a chance at love. Renovate your farm, raise animals, get acclimated to small-town living, and find that special someone.
Eric 'ConcernedApe' Barone's masterpiece of farming and relationship building, Stardew Valley, took Yasuhiro Wada's creation, expanded on every feature, and put the rural sim back on the map when it launched in 2016. Since then new single-player and multiplayer content – not to mention an increasing amount of Stardew Valley mods – has only enriched its quaint simulation of unhurried rural life.
Ooblets
The core framework of Ooblets should be immediately familiar to anyone who's played a game like Animal Crossing or Stardew Valley: there's a farm and a nearby town full of lovely residents, but it's all in a state of disrepair. Ooblets, however, introduces a little bit of Pokemon's monster battles to the equation with its adorable roster of titular creatures.
Instead of catching Ooblets, you grow them, and you'll have to make do with dance battles rather than actual fights – that's the level of innocence and sweetness we're dealing with here. While the mechanics are not particularly deep, it is fun collecting as many Ooblets as you can find and building a strong party of adorable dancers, each with their own powerful signature moves.
And if you're not a huge fan of monster battlers then worry not: this is still a farming game about building relationships with the townsfolk and perfecting your plot of land. The town is packed to bursting with hilarious dialogue and cutesy interactions, pretty much everything in the game goes by a sweetened synonym – think bean juice rather than coffee – and every task and bond you forge results in some kind of prize that you can show off as you steer the community towards brighter days.
Disney Dreamlight Valley
Sure, we've already got Stardew Valley here, but Disney's answer to it has surprised many with how effectively it translates the mechanics to its cartoon multiverse. Once again it's up to you to restore the once-beautiful Dreamlight Valley by helping out famous Disney characters from the classic Mickey cartoons right up to recent stars like Maui and Remy. There are hundreds of Disney Dreamlight Valley recipes to make, realms from the movies to explore, plants to harvest, and furniture to craft and place.
Sure, there's not much revolutionary here, but Disney Dreamlight Valley is probably one of the best Disney games on PC and returning to check on your favourite characters or tidy up their street is an irresistible prospect. If you're ready to dive into all things Disney, be sure to check out what you can expect from the next Dreamlight Valley update.
Doraemon Story of Seasons
Since Marvelous split from Natsume we've been waiting to see what the studio would do next. The answer is a mashup between adored Japanese manga Doraemon and Story of Seasons, which is a farming simulation series that's been going since the new millennium.
The draw for Animal Crossing fans extends beyond the obvious farming activities, as you can also help improve the town, take part in activities with its denizens, fish and collect insects, and spend hours agonising over your home decorations.
Harvest Moon: Light of Hope
The original rural life simulator game was 1996's Harvest Moon, created by Yasuhiro Wada of Marvelous Interactive. Sadly, the series hasn't been the same since Marvelous split from its publisher Natsume, meaning that the new Harvest Moon games haven't been developed by the same studio.
Despite all this drama, you can still check out Natsume's most recent effort in the series that still bears the original name. Many would say it has been surpassed, but Harvest Moon: Light of Hope still packs a lot of nostalgia.
My Time at Sandrock
My Time at Sandrock is the sequel to My Time at Portia, and while it's still in early access, it's already set to surpass its predecessor in both content and quality. Your contract as Sandrock's new builder takes you from the green pastures of Portia to a wild desert homestead with plenty of land to cultivate. You can farm, fish, and befriend villagers, but the building takes centre stage. Your workshop is your base of operations, where you can process materials and craft machines to increase production. From there, you can strike out into the ruins for relics, or head to the heart of Sandrock to get to know your neighbours.
My Time at Sandrock is a fun amalgam of Rune Factory, Stardew Valley, and Animal Crossing. Tucked alongside this city-building simulator are in-depth relationship mechanics with minigames, marriage, and even dungeon-crawling combat, yet despite its gameplay density, it rarely feels overwhelming. What's more, multiplayer mode is set to make a return, with divergent quests to make playing with a friend a whole new experience. No matter how you prefer to play, My Time at Sandrock is guaranteed to have something for you.
Staxel
While Staxel's visuals feel more like Minecraft, with their sharp edges and blocky aesthetic, it's very much a relaxing experience in the vein of Animal Crossing. The core gameplay loop focuses on expanding the village so that more characters can move in, though once again, you're given a neglected farm to restore. Boasting a voxel-based sandbox world, you can alter your surroundings as you like. You'll interact with NPCs, gather resources, build, and explore, while listening to a nifty little soundtrack.
Staxel came out of Early Access earlier this year, so it's had plenty of community-driven updates at this stage as developer Plukit pursues its vision. Its 'Hideaway Hollow' update adds a huge amount of new stuff, giving those who haven't played it in a while something new to do.
Garden Paws
Garden Paws is an Animal Crossing imitator in which you are the animal. Not a wild animal, per se, but a very cute one which also happens to have inherited a grandparent's farm. Playable critters include foxes, rabbits, badgers and even a dragon – all painfully adorable. The loop in Garden Paws is a bit simpler than some others on this list: in order to expand the nearby village, you'll need to open up a shop, explore the world to collect various wares, and then earn money to reinvest into the local community.
Created by Bitten Toast Games, Garden Paws was a Kickstarter title that raised almost three times its goal (nearly $60,000 out of a $20,000).
Castaway Paradise
If you're looking for a more direct homage to Nintendo's series, Castaway Paradise takes many of the systems of its inspiration and simplifies them. Villagers, exploration, changing cosmetics, and even bug collecting – they all happen just like they would in Wild World or New Leaf. Amusingly enough, it now looks like Nintendo is looking to developer Stolen Couch Games for inspiration, with Animal Crossing: New Horizons 'borrowing' Castaway Paradise's setting of a desert island. This is a good game to play with the young 'uns.
That's everything we have for the best games like Animal Crossing. If you're still looking for a game to capture your imagination without triggering your fight-or-flight response, our guide to the best relaxing games on PC is the one for you.