Want to know more about the Genshin Impact Ayato banner? Kamisato Ayato is the Yashiro Commissioner and he's Ayaka older brother. When Ayaka and Ayato's parents passed away, Ayaka became the forefront of the Kamisato Clan, while Ayato worked within the government. He also leads the Shuumatsuban, the ninja organisation that Sayu belongs to.
The Genshin Impact 3.3 update has revealed that Ayato is making a return to the anime game this December. In case you didn't pick Ayato up last time he was available which was back in March, now is a good time to add the sword Hydro users to your roster. Here's everything you need to know about Ayato banner release date.
Genshin Impact Ayato banner release date
The Ayato banner rerun release date is December 27 on the second phase of the Genshin Impact 3.3 update. Genshin Impact Raiden Shogun banner is also coming to the free PC game in the second part of the update.
Genshin Impact Ayato Abilities
Here are all of Ayato's abilities in Genshin Impact:
Normal Attack: Kamisato Art – Korobi
Normal attack: Perform up to five rapid strikes
Charged attack: Consume some stamina to dash ahead and perform an iai (counter attack)
Plunging attack: Attack while in mid-air to strike the ground below, damaging any enemies in your path and dealing area of effect damage upon impact
Elemental Skill: Kamisato Art – Kyouka
Ayato summons a water clone of himself and immediately enters Soukai Kanka state. Ayato's watery illusion taunts enemies and is set to explode if enough time has elapsed or if it receives damage. The explosion deals area of effect Hydro damage to nearby enemies. While Ayato is in the Soukai Kanka state, damage from his normal attacks switches from physical damage to area of effect Hydro damage.
Ayato uses his Shunsuiken, a special blade made of water, allowing him to attack enemies using lightning fast strikes. Whenever Ayato lands a blow to an enemy using his Shunsuiken, he gains a Wash Flash stack, increasing his damage based on his maximum health points. Wave Flash stacks up to four times, and you can gain a stack by attacking enemies every 0.1 seconds.
Holding Wave Flash stacks also increases Ayato's resistance to interruption. Ayato is unable to perform charged or plunging attacks while in the Soukai Kanka state. You can decrease the cooldown of Kyouka by attacking enemies with your party members specifically using normal attacks.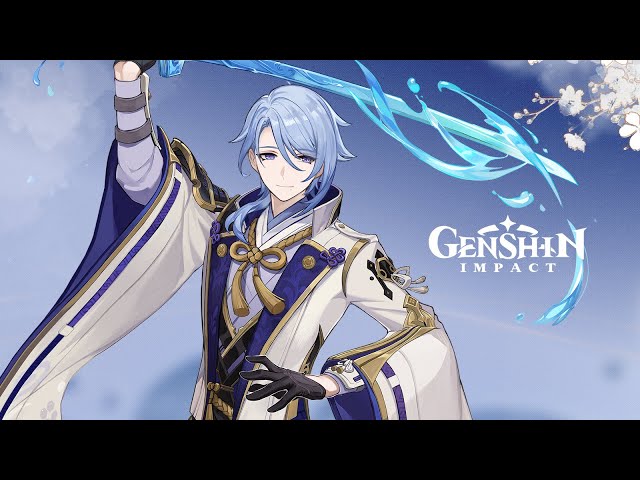 Elemental Burst: Kamisato Art – Suiyuu
Upon activation, a large blue circle appears on the ground, damaging enemies standing inside the area with Bloomwater Blades. These blades deal Hydro damage, and they continuously rain down while the circle is active. Ayato's party members also benefit from this elemental burst by increasing their attack speed while standing in this area, but the effect doesn't apply to Ayato himself.
Ayato Passive Talents
Kamisato Art: Daily Cooking – When Ayato cooks a dish perfectly, there's an 18% chance that he receives an additional 'suspicious' dish of the same variety
Kamisato Art: Kiyotaki Jouhou – Kamisato Art: Kyouka has the following properties

After it's used, Ayato gains two Wave Flash stacks
When Ayato's water illusion explodes after receiving damage, he gains a Wash Flash equal to the maximum number of stacks possible

Kamisato Art: Katsusui Senkoku – Kamisato Art: Suiyuu's damage is increased based on 3% of Ayato's maximum health points
Ayato Constellations
Kyouka Fushi – Shunsuiken damage is increased by 30% against enemies with less than 50% health
World Source – Wave Flash's maximum stack count is increased to five. When Ayato has at least three Wave Flash stacks, his maximum health is increased by 40%
Gensui Ichiro – Increase the level of Kamisato Art: Suiyuu by three. Maximum upgrade level raises to 15.
Endless Flow – After using Kamisato Art: Suiyuu, all nearby party members deal 20% increased normal attack damage for 10 seconds
To Admire the Flowers – Increases the level of Kamisato Art: Kyouka by three. Maximum upgrade level raises to 15.
Boundless Origin – After using Kamisato Art: Kyouka, Ayato's next Shunsuiken attack creates two extra Shunsuiken strikes when they hit enemies, each one dealing 300% of Ayato's overall attack as damage. These attacks are not affected by Wave Flash stacks.
Razer Iskur X – Genshin Impact Edition Razer Iskur X – Genshin Impact Edition Razer $499.00 Buy Now Network N earns affiliate commission from qualifying sales.
That's everything we know about Ayato's rerun banner in Genshin Impact. For more, here's the best Ayato build in Genshin Impact for the five-star character.