When is the Yun Jin banner release date? This long-rumoured character is finally coming to the anime game tomorrow, and we've got all the details on her abilities, banner, and more.
Yun Jin's name has popped up several times already in Genshin Impact. Back in January 2021, dataminer Lumie shared a render of the character on Twitter. She has also appeared in the game, albeit scarcely. We caught a glimpse of her during a recent cutscene for the Moonchase Festival, and several existing characters mention her by name in their voice lines.
Mihoyo finally revealed Yun Jin in a tweet back in November 2021, and has since released a lot more information via a full character reveal, as well as a Yun Jin character demo. She's a four-star Geo polearm user, the director of the Yun-Han Opera Troupe, and a famous figure in Liyue Harbor's opera scene. She was originally unveiled alongside Shenhe, another polearm user with Geo abilities.
Genshin Impact Yun jin banner release date
The Genshin Impact Yun Jin banner release date is January 5, 2022. This coincides with the launch Genshin Impact 2.4, and will end on January 25, 2022. After that she will be available as a potential reward during the 'Fleeting Colors in Flight' event, which starts on January 25 and lasts until February 12. As per the event notes:
"During the event, complete all the conditions for "The Moon's Comely Brow" to obtain Ningguang's outfit 'Orchid's Evening Gown.' Complete four themed challenge quests to obtain Affluence Talismans, Immaculate Talismans, and Conquest Talismans. You can exchange them at Prosperous Partnerships to obtain a 4-star Liyue character of your choice."
Yun Jin will also be available via two seperate banners, The Transcendent One Returns and Invitation to Mundane Life, both of which start on January 25 alongside the new event.
Finally, it has been confirmed that Yun Jin will be added to the standard 'Wonderlust Invocation' wish banner as part of the 2.5 update.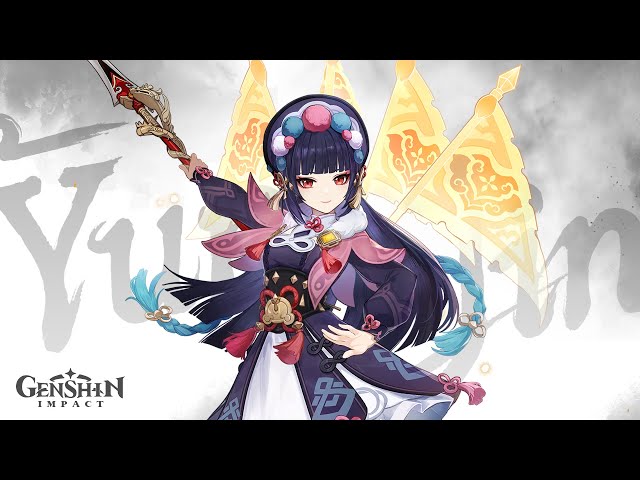 Genshin Impact Yun Jin abilities
Yun Jin is a four-star Geo polearm user. Here are all of Yun Jin's abilities, skills, constellations, and passives. The full move set comes from Honey Hunter World.
Normal attack: Cloud-Grazing Strike
Normal attack: Perform up to five consecutive polearm strikes
Charged attack: Lunge forward after consuming stamina, dealing damage to opponents along the way
Plunging attack: Plunge from mid-air to hit the ground below, dealing damage to opponents on the way and AoE damage when landing to enemies around her
Elemental skill: Whirling Opener
Press: Yun Jin flourishes her spear in the 'Cloud-Grazing' form, dealing Geo damage
Hold: Yun Jin takes up the 'Whirling Opener' stance and charges up, forming a shield that absorbs elemental damage and physical damage 150% more effectively. Damage absorption is based on Yun Jin's maximum HP. This lasts until the duration ends, the shield breaks, or you manually release the button to unleash the skill. When unleashed, Yun Jin deals Geo damage based on the energy absorbed, either resulting in a charge level 1 or charge level 2 attack
Elemental burst: Cliffbreaker's Banner
Yun Jin deals AoE damage and grants all nearby party members a Flying Cloud Flag Formation.
Flying Cloud Flag Formation
Whenever a party member deals normal attack damage to opponents, bonus damage is inflicted based on Yun Jin's current defence stat. The effects of this skill clear after a set duration or it consumes all its stacks. It consumes stacks per opponent hit if a normal attack hits multiple enemies at the same time. Each party member has these effects and stacks are counted independently.
Yun Jin passive talents
Light Nourishment: When you achieve perfect cooking on Food with Adventure related effects, you have a 12% chance to obtain double the cooked item
True to Oneself: Whenever you use Whirling Opener at the moment that Yun Jin is about to get hit by an attack, she will unleash its level 2 hold charged form
No Mere Traditionalist: The normal attack damage bonus granted by Flying Cloud Flag Formation further increases by 2.5%/5%/7.5%/11.5% of Yun Jin's defence when the party has characters of one/two/three/four elemental types
Yun Jin constellations
Stylised Equestrianism: Whirling Opener's CD decreases by 18%
Myriad Mise-En-Scène: Characters under the effects of Flying Cloud Flag Formation deal an additional 2% normal attack damage after their normal attacks hit opponents. This effect triggers once every 0.3 seconds and can be stacked ten times. This effect lasts until Flying Cloud Flag Formation's effects clear or reset
Seafaring General: Increases the level of Yun Jin's Cliffbreaker's Banner by three. The maximum upgrade level is 15
Ascend, Cloud-Hanger: When Yun Jin triggers the Crystalise Reaction, her defence increases by 20% for 12 seconds
Famed Throughout the Land: Increases the level of Yun Jin's Whirling Opener by three. The maximum upgrade level is 15
Decorous Harmony: Characters under the effects of Flying Cloud Flag Formation get an additional 12% normal attack speed
That's everything we know about Yun Jin in Genshin Impact. If you're curious about what other Genshin Impact new characters are on the way, we've rounded up everything from rumours to confirmations from the developer. If it's Genshin Impact codes you're looking for, we've got those, too.