At this year's Ubisoft E3 conference we got brief look at intriguing new storybook adventure Gods & Monsters. We already know that the game is steeped in the world of Ancient Greek mythology – it sees you take on some of its biggest baddies, like Typhon, Gorgons, Cyclopes, and Hydras. On top of this something equally cool will feature in the game – it will be narrated by Homer.
First things first, that's Homer the legendary Ancient Greek poet and (supposed) author of The Iliad and The Odyssey – not Homer Simpson. Ubisoft has revealed in a blog post on its website that Fenyx, "a forgotten hero" tasked with saving the Greek Gods from Typhon by Zeus, "springs from the magical storytelling lyre of the legendary poet Homer, who narrates the story of Gods & Monsters as a campfire tale for his grandchildren". This is a pretty exciting spin on the tale, giving it an even greater sense of ties with its Ancient Greek lore roots.
From what we've seen and heard of the game so far from its reveal trailer at E3, Homer as narrator seems a really good fit for the tale. It looks to combine some pretty serious-looking foes with sweet Zelda-like character and environment art design – reflecting the humour and lightness than can be found in his (truly) epic poems.
The game's creative director Jonathan Dumont says in the post "it is lighthearted. Homer is telling this story, but his grand kids are interrupting and asking questions along the way. Mythology has a good sense of humour, oftentimes, so there are certain instances where we like to poke fun at things." He sounds like just the right guy for the job, then.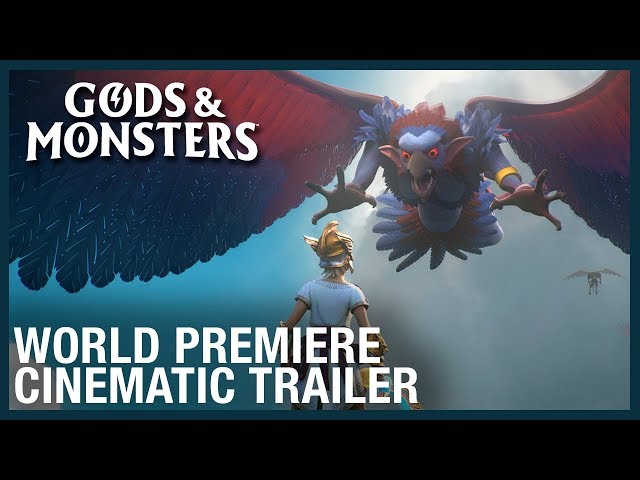 The game's Ancient Greek inspiration follows Ubisoft's similarly-themed Assassin's Creed Odyssey of last year. The game has you become one of Spartan king Leonidas I's descendants – Alexios or Kassandra – and fight as a mercenary during the Peloponnesian War. Though a fictional story in itself, the game draws strong inspiration from Greece's history – where Gods & Monsters draws on its mythology.
The game will offer something distinctly its own, however – the blog post says "you can expect a different approach for how the story is told, but a similar tone to what we've done in the past". Homer acting as your adventure's narrator is surely one of the special things we can expect from the game.
Related: Check out the best adventure games on PC
Gods & Monsters is expected to drop February 25, 2020, but fingers crossed we'll get to hear lots more about the title before then. In the meantime, keep an eye out for the Steam summer sale – it looks like it'll start next week, so you'll be able to grab some games to get your teeth into while you wait.