Ubisoft's E3 presentation at this year's E3 was pretty spectacular. We got our first good look at some high-octane Watch Dogs Legion gameplay, Jon Bernthal turned up on-stage to talk about Ghost Recon Breakpoint with a dog – and finishing up the conference, we saw the studio's announcement of their upcoming "storybook adventure" game Gods & Monsters. Best of all – it looks like the game will get you to take on some of Greek mythology's most fearsome beasts.
Perhaps galvanised by its other Ancient Greece-inspired title Assassin's Creed Odyssey, Ubisoft has turned to Greek mythology in Gods & Monsters, with its E3 reveal trailer showing a lone hero who we hear is pretty important: "when heroes need help, they turn to the gods. When gods need help, they turn to you". Said hero is charged with saving the Greek gods from the monsters that have overpowered them – so, it only follows that he's going to have to take on things at least equal to the gods' mightiness.
The chief of these, and the orchestrator of the gods' trouble, is Typhon – who is described as a "a monstrous serpentine giant and one of the most deadly creatures in Greek mythology" on his Wikipedia page. Pretty scary stuff. The trailer also seems to show one of the biggest, baddest baddies it looks like your hero will tackle – a kind of harpy-type creature. It's not confirmed this is what it is – but, boy, it sure looks angry.
Following this, the Gods & Monsters site says you'll face off against some of Greek myths' other beasts – including Gorgons (creatures with snakes for hair that can turn you to stone if you look at them), Hydras (multi-headed serpentine monsters that regenerate heads as you lop them off), plus Cyclopes – giants with single eyes in their foreheads. Gulp.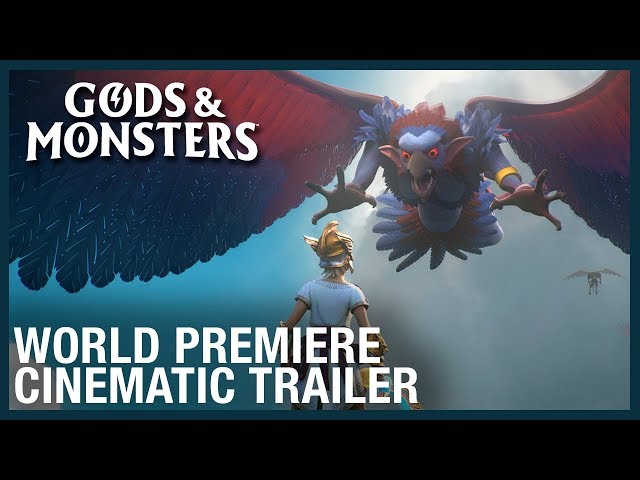 It looks then like the "painterly" and visually pretty world Ubisoft has created in the game may be a little at odds with the scary things you'll find occupying it. However, take these beasts on successfully, and you'll be the hero of all Olympus. There'll definitely be some kind of hard-earned reward for that, right?
Related: Check out the best adventure games on PC
Gods & Monsters will release February 25, 2020. Better get that sword sharpened now.