Larry Lawton isn't your typical YouTuber. For years, people have filmed themselves reacting to pop culture. Some use their professions as vocal coaches to rate popular music artists, while others capture the moment they saw a surprise reveal. Few of them, however, share Lawton's past life as a jewel thief.
Over the course of seven years, Lawton tells me, he swiped between $15 to $18 million from 20 stores – he served 12 years in federal prison as a result. After getting out in 2007, he started the Reality Check Programme to help younger people turn away from crime by sharing what he just went through in jail. It wasn't until he was asked to review heist scenes from Ocean's 11 and Heat for Vanity Fair, however, that he discovered the reach YouTube has to younger audiences.
It's unsurprising, then, that glancing at Lawton's own YouTube page reveals an embrace of his past and an acknowledgement of modern influencer trends. Some of his videos involve him sharing details of prison life through reading chapters from his book Gangsters Redemption. Others see him reacting to pop culture's portrayal of heists. Just recently he ran the rule over The Office's The Convict episode. As he has now branched out to games, including Grand Theft Auto V, we feel inclined to ask – what does Larry Lawton think of GTA V's Jewel Heist?
"I would give the [heist] a six, but I could make it a ten," Lawton tells me. "I got a kick out of it. I think it's cool that you could change the characters' looks and appearances. There are so many ways I can make that game better, and I'm not just saying that. I lived that life. I can tell you the intricacies of it."
Dead set: We ask a police officer and a paramedic just how realistic Resident Evil 2 Remake is
One of Lawton's main bugbears is the crew itself. When preparing for the GTA heist, Michael de Santa and Lester Crest gather a smattering of talented strangers to form their team. That is their first mistake. "That's all bullshit," Lawton explains. "You'd have to know these people like you know the back of your hand. Because you don't want to trust your life with somebody who has no idea."
Lawton also reckons that the heist doesn't get across the need for good planning. His pitch for improving that involves a points-based system that judges how you case the store. Theoretically, you'd get points by avoiding attention when studying your mark. "Make it a lot more thinkable, make the man think," he tells me. "Listen, people get caught because they don't prepare. People get caught because they get careless, don't prepare, or don't have the brains."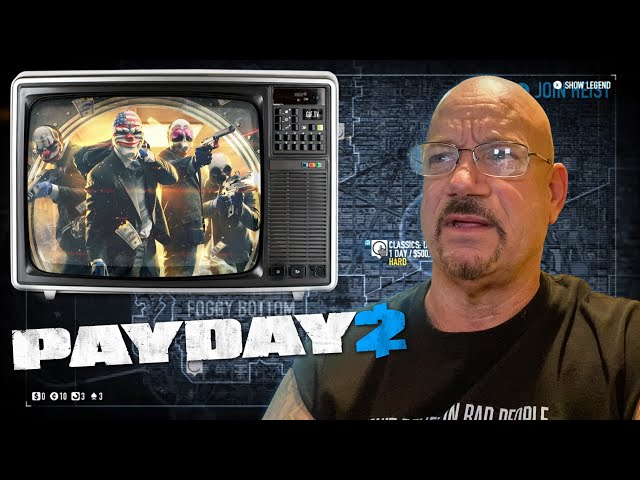 It's not all bad news for Rockstar, though, as Lawton goes on to praise the heist's getaway. "The worst thing you can do in a robbery is not have a planned getaway," he tells me. "When you do a robbery you do it backwards. You first think about getting out and 'can I get away with it?' [de Santa] did that right because he had the getaway planned.
"In real life, if he went under [the overpass and into the tunnel] with multiple ways to get out, then no way the police would have been waiting for them when they got out. He had a backup – we call that a crash car, and that is a very good thing. The crash car was the truck that followed the motorcycles."
As I continue to chat with Lawton I also find out that he's the first ex-prisoner in American history to be sworn in as an honorary police officer. That happened back in 2013 when the Missouri Police Department swore him for his crime prevention work since leaving prison. Clearly, there's only one question someone should ask in a moment like this. Could he catch Michael de Santa?
"Oh, in about 24 to 30 hours. Yeah, absolutely, I could catch him," he assures me. Lawton goes on to explain that the key is de Santa and Crest's wealth of insider information. You see, the more people you call upon for information, the higher the chance that one of them may rat you out. As GTA V is based in a large city, it's likely that cops will have oodles of snitches to call upon, too. Lawton then illustrates his point by telling me how police caught the culprits behind a $5 million robbery in New York.
Related: RDR2 players recreate GTA San Andreas' Hot Coffee mod
"They got caught because the cops had the snitches on the streets," Lawton explains. "The cops found out these guys didn't have a fence and that they sold a ring up in Harlem, New York. So it was linked back to the robbery and they got caught. Everybody got caught. So obviously cops play their game, and the criminals have to play their game."
My curiosity gets the best of me, and I ask Lawton how he got caught. Rather than anyone snitching, it came down to clever police work. "They ended up getting a plate number when I was casing another store. Not even the store I robbed. I robbed between $15 and $18 million from over 20 stores, and I'm still known as the biggest jewel robber in the United States. So the FBI wanted to catch me. I didn't know that they wanted me so bad, but they did. I didn't [physically] hurt people in the robberies, but you do hurt people. You put fear into people, you scare them, and that's not right."
It's clear that Lawton's time in prison has had a telling impact on his life. It shows when he tells me that he doesn't believe people deserve the harsh realities of what happens in America's jails. Even if they have made a mistake that could lead them there.
"The system didn't change me," Lawton says. "I want to get that straight. The prison system breaks most people and makes them a lot worse. I happened to educate myself on the law in prison – I ended up getting my paralegal degree there. People got killed in the prisons I was in by the prison. And my goal was to expose that. And then when I got out, it was to educate young people not to go in there."
While Lawton acknowledges that there's both good and bad to America's police force, he doesn't believe that things will get better until America's cops learn to police themselves. "You can't tell me they don't know who the bad cops are," Lawton says, "When you have a bad cop, and you're not policing him, how can you expect to get respect from the community you serve? You can't.
"There's no way you can tell me you [don't] know the cops that are aggressive or beat on people or do what they do. And until you fix that, I think there's going to be problems in law enforcement for years to come."
Lawton also explains that part of preventing younger people from going to jail is fighting the positive perception of criminality they have. "You know, they see all the glamour," he says. "'I'm cool, I'm in prison,' and it's absolutely nothing like that. It's the biggest negative in anybody's life.
"Nobody that goes to prison says, 'Oh, that was great. I'll go back.' You know? They do go back and people have a bad problem with that, and that's part of the problem. We have a high recidivism rate. My goal is to prevent people from going to prison and then, when they do get out, show hope. I hope that my story shows people that no matter how bad you were, no matter what you did, you can change your life and turn it around. And I really hope that happens."
Over the years Grand Theft Auto has been included in numerous case studies that explore the links between children, deviancy, and games. Whether or not games cause children to be violent or more susceptible to criminality is inconsistent from report to report. It hasn't, however, stopped the likes of Donald Trump linking them to several mass shootings. As Lawton has turned away from a life of crime to help younger people, is the thought that games cause violence and criminality in youths something he agrees?
"I disagree," Lawton says. "It all comes down to parenting and what you let [them do], at what age, and how realistic and active you are as a parent who understands. The young people have to understand what this is – it's a game and they need to have people like myself really tell the truth."
"If you start blaming GTA, or any game for that matter, you're on a very slippery slope of what censorship is. And I'm not [even] a man of censorship, I'm a man of responsibility to the family."
Mod men: The best GTA 5 mods on PC
So how does all of this link back to reacting to pop culture's portrayal of heists on YouTube? For Lawton, he's playing the influencer game in a bid to take the infamy that comes with it and use it for some good.
"My goal is to be the biggest, if you can call it that," he explains to me. "My goal is to get to ten million subscribers. It used to be a million, but we're a quarter way there already. My goal now is to get as big as I can, and then use that platform to institute change – true change."