The GTA Online weekly update for November 9-15 is here, and Rockstar Games has two big community events starting this week in its GTA 5 multiplayer mode. With the whole world awaiting our first official look at GTA 6 in December, many of you may be eager to jump back into Rockstar's online world to get back in the swing of all things Grand Theft Auto, and it's a great week to do so with this pair of community challenges and some huge discounts.
The GTA Online update for the week of November 9 kicks off two new challenges – the return of Sprunk and eCola, albeit in a different form from last year's drinks war, and Simeon's Employee of the Month challenge. If you're jumping into the multiplayer game in light of the news of the first GTA 6 trailer, we've got everything you need to know about what's going on in GTA 5 this week ahead of Rockstar's official update, so read on for all the details.
The first challenge is 'Sprunk and eCola,' which celebrates the leading drinks brands of the Grand Theft Auto universe. Rather than competing like last year, the pair have teamed up to challenge players to drink a collective 100 million cans of the soft drinks. Should the community manage to do so before Wednesday November 29, everyone will unlock new themed license plates, a bodysuit, and livery for the Mammoth F-160 Raiju as a reward.
Simeon's Employee of the Month challenge runs just this week, and tasks players with earning a collective $15 billion in GTA Online cash from Simeon's vehicle export service by Wednesday November 15. Succeed and everyone will get access to a special livery for a new, unannounced vehicle. The good news is that there's also triple payout and reputation rewards from the export requests this week, which should help us to hit that lofty goal.
The GTA Online podium car this week is the Ocelot Penetrator. Get lucky enough spinning the Diamond Casino's prize wheel and you'll save the $880,000 asking price for this spin on the real-life Jaguar XJ220 supercar. The GTA Online prize ride is the Dewbauchee Rapid GT Classic; typically priced at $885,000, this Rockstar take on the iconic Aston Martin V8 is yours for the simple task of placing top six in an LS Car Meet race for two days in a row.
Ever fancied being a Taxi driver? This week you'll earn a whopping five times the usual payout for doing so, making it a great time to pick up some fares. There's also half price on a huge number of cars, along with both Executive Offices and Vehicle Warehouses, so it's a fantastic week to spend some of that hard-earned cash. You'll find the full range of details down below.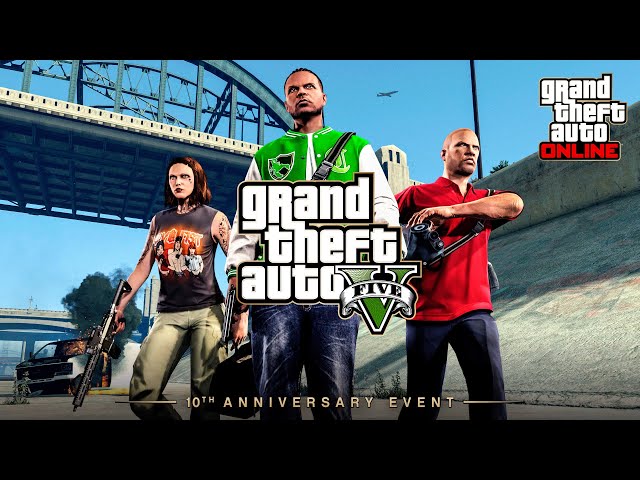 GTA Online weekly update – November 9 to November 16, 2023
Here's everything included in the GTA Online update for Thursday November 9 to Thursday November 16, 2023:
New Events
Sprunk and eCola challenge: Drink a collective 100 million cans of Sprunk and eCola combined by Wednesday November 29.

Reward: Themed license plates, bodysuit, and Mammoth F-160 Raiju livery.

Simeon's Employee of the Month challenge: Earn a collective $15 billion through Simeon's export requests by Wednesday November 15.

Reward: Special livery for new (unannounced) vehicle.
Dealership Cars
Luxury Autos
Grotti Itali GTO Stinger
Truffade Adder
Simeon's Auto Shop
Bravado Banshee
Grotti Cheetah
Ocelot Locust
Pegassi Infernus
Vysser Neo
Free Gifts
GTA Online podium car: Ocelot Penetrator
GTA Online prize ride: Dewbauchee Rapid GT Classic
GTA Online bonus rewards
5x GTA$ rewards from Taxi Work
3x GTA$ and RP rewards from Simeon's Export requests
3x GTA$ and RP rewards from VIP Work and challenges
3x GTA$ and RP rewards from Kill Quota adversary mode
2x GTA$ and RP rewards from Import/Export sell missions
GTA Online discounts
50% off
Executive Offices
Vehicle Warehouses
HSW Conversions
Grotti Cheetah
Pegassi Infernus
BF Weevil Custom
Grotti Brioso 300 Widebody
Obey 10F Widebody
Übermacht Sentinel Classic Widebody
40% off
Grotti Itali GTO Stinger TT
Obey 9F Cabrio
Ocelot Locust
Pfister 811
Progen GP1
Vysser Neo
20% off
While we probably won't get an exact GTA 6 release date with the upcoming trailer, we'll certainly be eager to find out more. In the meantime, you can spice your game up with the best GTA 5 mods, or get out of trouble with all GTA 5 cheats. Want to keep up to date with all the latest? Follow us on Google News for daily PC games news, reviews, and guides.