Immortals of Aveum developer Ascendant Studios has laid off nearly half of its staff as the recently released magical FPS game struggles to find an audience. Ascendant Studios CEO Brett Robbins confirms that "about 45%" of its team has left the studio, less than a month after the launch of Immortals of Aveum.
Founded in 2018 by Robbins, previously a creative director on both Dead Space and Call of Duty, Ascendant Studios started out with a team of former Electronic Arts veterans, who were later joined by a large percentage of the developers from narrative experts Telltale Games when that studio went bankrupt in 2018. Immortals of Aveum, its first release, was released August 22, published under the EA Originals program.
Sadly, despite a pretty original setting and a stylish world packed with flashy visuals built in Unreal Engine 5, Immortals of Aveum landed to a somewhat lukewarm critical response, and the game's struggles to run smoothly on all but the most high-end systems meant it left a bad impression with many of those who did try it. Tracking site SteamDB reports a mere 67 concurrent players on Steam at the time of writing.
In a post to Twitter (now X), Robbins calls the move "a painfully difficult but necessary decision that was not made lightly." He reassures that the team is "supporting those affected in every way we can, including comprehensive severance packages and job placement assistance, as well as support services for those who remain." He encourages other studios looking for "proven UE5 artists and engineers" to reach out to the team to make connections.
"I am so proud of what our independent development team has accomplished with Immortals of Aveum," Robbins continues. "Together we've created a new AAA studio, a new IP, on new technology, during an era of our industry when that is exceedingly rare. We've poured our passion into Immortals, while wearing our hearts on our sleeves."
Robbins says the remaining team "will continue to work that way as we support the development of this game and our Immortals IP moving forward with future updates and offers." He closes with a message of thanks to his team "from the bottom of my heart for your invaluable contributions to Ascendant's culture and your tremendous impact on bringing Immortals of Aveum to life."
It always hurts to see studios have to resort to layoffs, especially so soon after committing to a brand-new IP. I'm particularly sad to see this one, because I've actually been playing Immortals of Aveum, and I'm really enjoying it. Between the performance issues and some corny early dialogue, its opening hours don't make the best impression – but 17 hours deep, I'm genuinely invested in its world and characters, and having a decent time with its combat arenas and exploration, which feel very heavily inspired by the modern Doom games.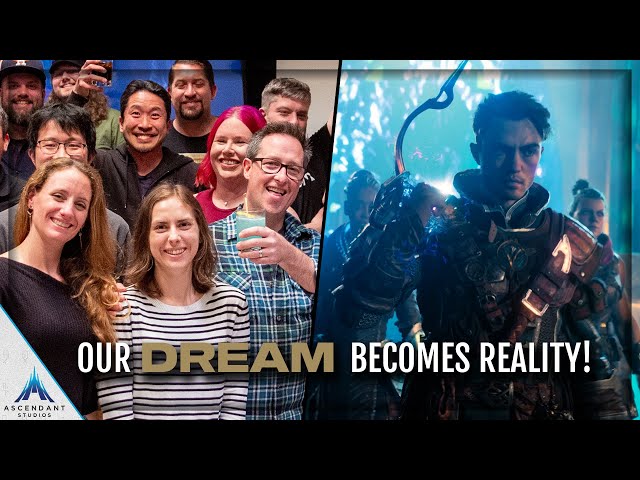 Past that shaky opening, the writing and characters have mostly landed for me – nailing a humorous tone that doesn't detract from your belief in the world, and delivering a charming cast who actually feel like they have tangible history with one another. With the demanding system requirements and its full-priced launch, Immortals of Aveum is a little tough to wholeheartedly recommend, but I can certainly say I've been having much more fun with it than I have with Starfield so far, for example.
Hopefully the remaining team is able to continue to support it as they hope – if you enjoy Doom-style FPS games and you're able to grab it in a sale when the technical troubles have been more comprehensively ironed out (which the team has already made some solid strides towards), I do think Immortals is worth your time. It's just a shame it failed to make a splash amid an incredibly stacked calendar of massive, impressive, and highly anticipated releases.
If you're looking for more wonderful worlds to escape into, you can't beat the best fantasy games to do just that. We've also got just the ticket for those of you looking to dive into the best single-player games out right now.