I love K-pop almost as much as I love League of Legends, so when I heard that the 2023 World Championships would be taking place in Seoul this year, my heart skipped a beat. Did this herald the long-awaited return of KDA, League's fan-favorite K-Pop band? The edge of my seat was well and truly worn away.
Unfortunately, the answer to that question is no – behemoth NewJeans will actually take center stage at League of Legends Worlds 2023. While they may lend their voices to Ahri, Akali, Evelynn, and Kai'Sa in spirit, on the surface it looks like the MOBA's idol queens won't be returning this time around. Where they are dominating, though, is TikTok, where a fanmade KDA anthem has us lamenting what could have been.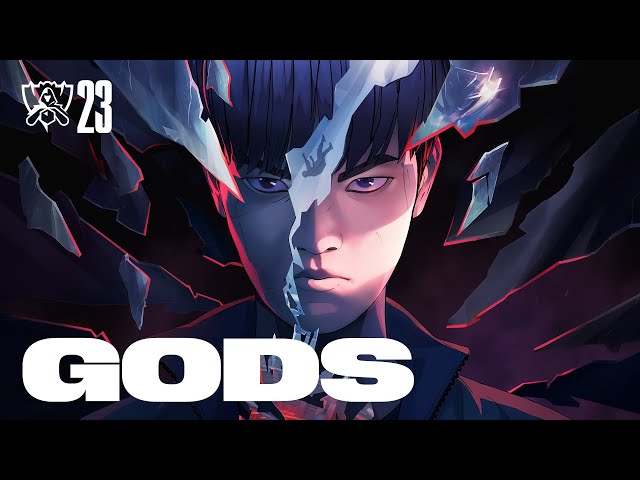 Titled "All Eyes On Us'" a la Jisoo's "All Eyes on Me," the track is the brainchild of Simon Rosenfeld (the creator of last year's viral track 'Heroes') and TikTok artist Myla, with lyrics from multi-platinum musician Linda Quero.
While we've only seen a teaser so far (the full song drops today) All Eyes On Us has already accrued over 200k views on TikTok, sitting at 200 comments, too.
"Out of nowhere one of our posts started to blow up," the team tells PCGamesN. "We felt excited, but also relieved. We had been working on this song since late 2022 and involved way more people than we usually do, and it felt like our efforts were being rewarded and that the song truly resonated with other KDA fans."
Channeling some of the thumping bass of League's other band, True Damage, with the playful, melodic vocals of Ahri (or G-IDLE's Miyeon), there's a lot to love about All Eyes On Us. "'All Out' has been one of our go-to references when it comes to quality of sound design and vocal production in many of our projects," they tell me, and you can hear its essence interwoven through the team's latest endeavour.
While I adore NewJeans, a part of me does lament not having a KDA-focused Worlds this year. One of my first ever interviews in this industry was for KDA All Out and the release of Seraphine, so the group really does have a special place in my heart.
I'm not ruling their involvement out entirely, though, simply for the reason that we got a surprise banger from Jackson Wang last year ahead of Lil Nas X's now-iconic Star Walkin', so who knows what's in store for this 2023. I'm manifesting KDA Code Pink okay, let me have my moment.
If you're looking forward to Worlds, though, then I suggest taking a glance at our list of all of the upcoming League of Legends skins – Worlds 2023 Renekton is looking fire. We also have a rundown of League of Legends patch 13.19 – the one the tournament will be played on – so that you can try and guess which champ's getting permabanned.