Of all League of Legends' numerous musical maestros, K/DA remain my favorites. As someone who adores Blackpink, BTS, and all of those other K-Pop bands you've heard about in passing, my brain literally exploded when Richy 'RichyDraws', doni 'yoomyoom', and emre 'emriikun' dropped their stunning K/DA Code Pink League of Legends cosmetic concepts, and I'm genuinely so upset they won't actually be added to the MOBA.
In the immortal words of Arianna Grande: I see it, I like it, I want it, I got it – well, sort of. You've seen those K/DA Code Pink skins, and you want them just as much as I do. The bad news is, they are not official League of Legends skins, so they won't actually be added to the game. The good news is, though, that they make a gorgeous wallpaper for your laptop (guilty, as charged).
Featuring now-iconic K-Pop stars Ahri, Akali, Evelynn, and Kai'Sa the team's breathtaking designs have captured the imaginations of players from across Summoner's Rift. Channelling Blackpink, LoL's K-Pop princesses are decked out in silver, black, and, of course, pink, with the collection featuring four absolutely stunning splash arts, a cute little emote, icons, and even a ward skin.
There's an animated trailer, too, and a full video showcasing all the different cosmetics and how they'd look in game, which you can find below. Blackpink in your area? More like Code Pink – How You Like That?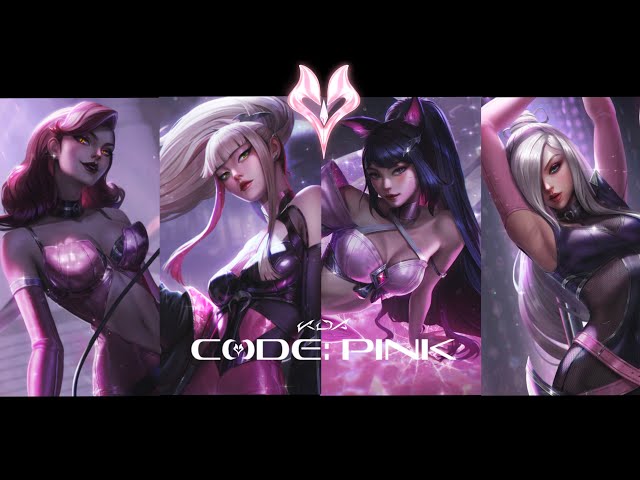 Every little detail has been accounted for: there's Evelynn's Demon Shade form, and a look for Akali when she dips into her Twilight Shroud. It's all honestly just absolute perfection, and I really can't say that enough.
With over 58k likes on Twitter and hordes of fans begging for Riot to release something similar, now would be the perfect time. There's already rumors that K/DA will return to the stage in Seoul to celebrate Worlds, and boy if they showed up in those looks it would be a Shut Down (I'm not sorry – oh wait, that was another reference, oops).
I'll reiterate that, much to my dismay, these skins won't be coming to LoL, but there are a bunch of upcoming League of Legends skins to look forward to instead. Or, if skins aren't your thing, there's the new Arena mode to dive into, and we've got a LoL Arena tier list to help you out.