Queer identity isn't just confined to 30 days of the year; it's the lifeblood of so many communities, all across the globe. To celebrate that queerness, we've got a list of the best LGBT+ games on PC to come out in recent years. Spanning a wide range of genres and sexualities, our collection is guaranteed to have something for everyone, whether you're a dating sim traditionalist or a platforming aficionado.
Some of the best PC games offer you the chance to romance characters of the same gender, but we've opted to focus on games that position queerness at the center of their design. We've also curated this list in a way that celebrates the entire spectrum of the LGBTQIA+ community – and while many of our picks incorporate the struggles and anxieties that surround the queer experience, they're ultimately defined by hope rather than tragedy.
The best LGBT+ games are:
Super Lesbian Animal RPG
True to its name, Super Lesbian Animal RPG is a traditional turn-based RPG game that's utterly suffused with queerness. Our hero of the hour is Melody, a trans, bisexual fox who aspires to be a paladin in order to better support Allison, her scrappy punk-rock enthusiast girlfriend. They are joined by their friends Claire and Jodie, to form a party of anthropomorphic adventurers on a quest to save their hometown.
Pretty standard fare for a fantasy RPG, right? It quickly becomes apparent that our troupe of adventurers are also embarking on a journey of self-exploration. Melody is kind-hearted but crippled by her own lack of identity, and so she attempts to define herself through Allison. Meanwhile, Allison's own aspirations are clouded by anxiety as she strives to live up to the reputation of her mother, a renowned and celebrated adventurer in her own right.
With all this interpersonal drama on the boil, you'd be forgiven for thinking that Super Lesbian Animal RPG's combat might be an afterthought. However, it presents a surprising degree of depth, complete with an elemental magic system and spellbooks to expand your party's abilities. Melody and Allison also boost each other's stats by kissing during combat, which is by far and away the best way to bestow a buff upon your girlfriend in a turn-based game – the number of kisses is even recorded on your save file.
Super Lesbian Animal RPG doesn't take itself too seriously, but it also doesn't slip into irreverence, resulting in an LGBTQIA+ fantasy balanced with clever humor, emotional resonance, and a heart worn on its sleeve.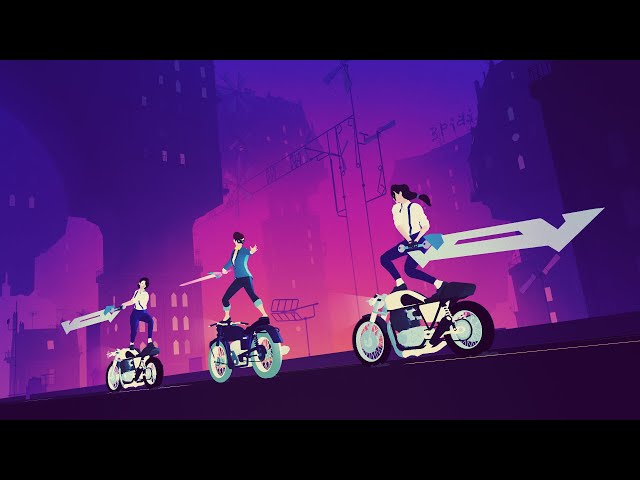 Sayonara Wild Hearts
Sayonara Wild Hearts sits at the intersection of auto-runner and rhythm game. Legendary hip-hop pioneer Queen Latifah narrates its premise with the gentle tones of a bedtime story: a young woman is isekai'd from her bed to restore balance to an arcane world by taking on the mantle of The Fool, a masked heroine born from the shards of a broken heart.
After your impromptu magical girl transformation, you're catapulted into a surreal world suffused with the colors of the bisexual flag. Electric pinks, neon blues, and deep purples coalesce into a dynamic sensory experience as you parkour, fly, and skate your way through each stage of healing heartbreak. The Fool moves ceaselessly through the world as the trials and tribulations of love unfold before you in a kaleidoscope of heart-shaped collectibles and rhythm-based boss battles. The accompanying soundtrack is both poppy and unapologetically feminine, inspired by the likes of Sia, Chvrches, and Carly Rae Jepson – which accounts for at least half of any modern queer Spotify playlist.
While incited by heartbreak, The Fool's journey is undeniably one of healing. It's as much about finding oneself as it is about learning how to love again; it's no surprise that Sayonara Wild Hearts resonates with the trans community. Our protagonist's metamorphosis into The Fool tips her masc-leaning androgyny into the decidedly feminine, and forms the basis of her empowerment.
As per our review, Sayonara Wild Hearts may be short, but it's undeniably sweet and utterly transcendental. It also includes a lesbian swordfight from the back of motorbike on a collapsing superhighway, which is exactly as cool as it sounds.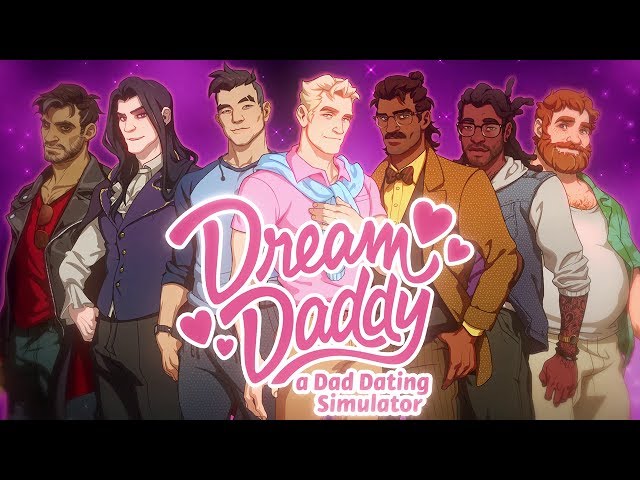 Dream Daddy: A Dad Dating Simulator
Dream Daddy's seven dateable dads are a veritable rainbow of identities within gay culture. There's the leather-clad bad boy, the vampiric dandy, the gentle bear, and even the 'cool' youth minister next door. All of them are archetypes but have their own degrees of complexity. The bad boy is scared of commitment; the youth minister is inexplicably married; the dandy reads spicy Naruto fanfiction. Dream Daddy effortlessly unpacks the tropes of queer romance to present earnest storylines wrapped in a traditional dating sim package.
It's also imperative that you bond with the offspring of your suitors, from the slouchy teenagers to the wide-eyed, chubby toddlers. Naturally, you can engage in Pokemon-style brag battles with other dads, where you both sing the praises of your respective children until one of you taps out. These incongruous minigames extend to the dates themselves, and choosing the correct dialogue option causes a flurry of aubergines, sweat drops, and heart emojis to emanate from your date – truly, the language of romance. Once a date has concluded, you're graded on the number of Dad and Daddy Points you accrue. We'll leave you to figure out the difference.
Of course, Dream Daddy isn't just a game about wholesome hook-ups with fellow fathers; it's also about fatherhood itself, and the experience of being a queer, single dad raising a precocious teenage daughter. The daughter in question, Amanda, is a self-professed twee hipster with normcore leanings, your pride and joy, and on the cusp of flying the nest. In the meantime, you must help her navigate the choppy waters of teen drama with advice, cake, and dad jokes. So many dad jokes.
I Was a Teenage Exocolonist
I Was a Teenage Exocolonist exists in multitudes – it is a life game, RPG, deckbuilder, and dating sim all rolled up into one. This multiplicity extends to its protagonist, Sol. Born aboard Earth's first colony ship, Sol is just a ten-year-old child when the Stratospheric passes through a wormhole to crash land on another world. What follows is a decade of Sol's life, charting the awkward course of puberty alongside the exocolony's development upon Vertumna IV.
I Was a Teenage Exocolonist shines as speculative fiction for trans youth. It explores the intersection of the romantic and the physical, allowing you to shape Sol's gender identity and body to your exact specifications. It also offers a utopic glimpse of a future in which trans individuals are free to transition at an early age, liberating them from the developmental trauma of puberty. Depending on the preferences you've chosen, Sol may be given 'the talk,' and may even experience menarche or wet dreams; equally, they may have no genitalia and identify as aromantic and asexual.
Sol's fellow classmates grow up alongside them, studying, exploring, and playing together. It's a delight to watch them go from wide-eyed precocious kids to fully-formed adults on this strange new world. While you can eventually pursue all of them romantically, I Was a Teenage Exocolonist manages to deftly avoid falling into the trap of 'playersexuality' by allowing your peers to enter into romantic relationships with each other, imbuing them with more depth than cardboard cut-outs for you to 'win'.
I Was a Teenage Exocolonist is inherently a coming-of-age story, but it will certainly resonate with LGBTQIA+ adults who were forced to endure the turbulence of teenhood. It has blue hair and pronouns, and it's proud of it.
Celeste
Celeste is a deviously challenging precision platform game, and overcoming its titular mountain combines one of the oldest challenges in videogames with one of the oldest metaphors for life itself. As our own feature outlines, protagonist Madeline isn't on a journey of conquest over the mountain, but rather her own fears and anxieties. In a sense, platforming becomes an interwoven allegory for the trans experience: searching to find a safe space to occupy in an effort to survive a passively hostile environment.
Madeline's voyage up the mountain is full of setbacks: the manifestations of her depression and anxiety, dysphoria, and trauma, all of which she must overcome in order to reach Celeste's summit and achieve a state of euphoria. Coming to terms with the self, and the moment of awareness of the closet that surrounds you, is a pain point for many LGBTQIA+ folks, but a necessary step on the path to self-acceptance – the most important acceptance for any queer individual to achieve happiness.
After much speculation following the inclusion of gay and trans pride flags appearing in Celeste's Farewell DLC, creator Maddy Thorson confirmed that Madeline herself is trans with a brusque, "well, yeah, of course she is". Thorson was only confirming what trans players already knew, but the added context of her own self-discovery as a closeted trans woman while creating Celeste is an important reminder that queer games aren't just important for LGBTQIA+ players, but also the devs that create them.
Celeste's portrayal of struggle and perseverance is undeniably universal, but it's impossible to divorce it from trans lives. However, as much as it focuses on hardship, the arduous challenges and countless setbacks on Madeline's climb all coalesce into one simple, reassuring refrain: 'you can do this.'
Queer experiences are human, universal experiences, and our favorite queer games all aptly demonstrate that LGBTQIA+ communities are more than the flags that represent them. This Pride Month and beyond, explore the complexities of queerness across the full spectrum of sexuality and gender with our picks. Sayonara, and stay proud!