It can be difficult to quantify the value of ray tracing. On the one hand, realistic lighting paints a scene with an entirely different brush, colouring our gaming experiences with brooding realism and nuanced detail only paralleled in the real-world. But on the other hand there's a $1,200 RTX 2080 Ti giving your bank account the eye.
And that's potentially why attaching a price tag to every shadow or reflection in-game is so darn tough – they just aren't all that obvious and often underwhelming. How valuable is seeing a building in Battlefield V shattering into pieces through the reflection in the canals of Rotterdam? What's one giant leap for rendering tech can become only a slight change in a player's overall experience, with a litany of stopgap solutions, workarounds, and clever environments doing a hearty job of mimicking the real thing with near-enough imperceptible accuracy.
Perhaps that's also why ray tracing has received its fair share of animosity. Not because it isn't the "holy grail of rendering," but because it's intrinsically expensive – both in its efficacy and monetarily. The difference between 'holy grail' and good enough can be measured in hundreds of dollars and tens of frames. And we're all still waiting for that killer ray-traced game to swoop in and convince us all that money spent on the best graphics card around was worth it.
You'd not be in the minority if you thought Cyberpunk 2077 would be the game to convince ray tracing non-believers they're missing out. From a studio with a prestigious history of gorgeous games, groundbreaking expanses, and a Cyberpunk 2077 RTX demo that looks absolutely stunning even in its early stages, the game certainly has looks that can kill. But my guess is quite the opposite.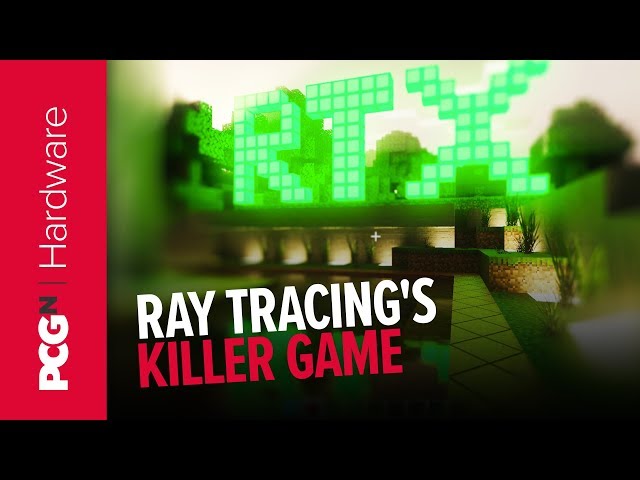 It's Minecraft RTX. I know it doesn't sound like it should be, but it is. I've now witnessed both titles with my own eyes, and one had me scouring the screen for ray-traced effects and the other was there, clear as day, in full resplendent majesty.
Minecraft is a game so unusual in art style, so peculiar and fantastic, that the full suite of ray tracing effects has a profound impact on the cuboid world you inhabit. Where ray tracing was once resigned to tiny cracks and the odd puddle, humble Minecraft offers up a radiant scene reimagined courtesy of ray tracing.
RTX off
RTX on
From the late-afternoon sunlight painted on the valley, obscured by the branches on the trees littering the ridge, to the flicker of a lantern dancing across a glacial wall, Minecraft RTX is dazzling. Without totally revamping the textures – a task Mojang has been hesitant to do in the past – or dramatically updating the engine, Minecraft has been transformed into something deserving of a remaster.
Vines hang from the openings of tunnel systems, partially concealing the caverns within and painting the scene with tangled and dynamic shadows. These shift as the sunshine wanes or another light source enters the frame. Dig even deeper, and the shadows created by objects will dance with the light emitted from burning hot lava at your feet. And that, in turn, makes the heat emanating from this smouldering rock feel very palpable to the user – odd for a game so often associated with simplistic building blocks.
Outside water comes visibly flowing down into the ravine, and the blocks surrounding it are refracted and reflected as the current shimmers in the light. Fog meanders overland, tempering the light over the world into a hazy, warming glow made possible by volumetric lighting and driven by real-world physics.
RTX off
RTX on
The new and improved water flowing through the world is perhaps a little too translucent – relying almost entirely on that refraction for it to be visible whatsoever. But we're told Mojang is aware and working on a fix.
But it's not until we reach world two that things really start to get wild. World two is a pre-built house stuffed haphazardly (the demo is still in its early stages) with objects ripe for ray tracing. It's the Minecraft representation of what, I can only assume, Jen-Hsun Huang's house is like. Perhaps just a little smaller than the big man's actual abode.
Throughout the house there are various stations pre-prepared to show off RTX. On one side of the building is a large bay window, on the table in front of it three glass blocks: one red, one blue, and one green. Each one is refracting the scene around it accurately, a ray bouncing off the object to other surrounding objects, and from there collecting information on light sources and reflective surfaces – and eventually zapping back to me, the player.
RTX off
RTX on
Minecraft utilises path tracing, a form of ray tracing we're yet to see outside of Quake II RTX. Ray tracing poses a problem when attempting to replicate light bouncing off of many objects, reflective surfaces, and light sources in a scene. One ray can become 10, 100, 1,000, and so on and so forth until your GPU is just a puddle of wet sand. After a while you hit a point of diminishing returns anyways, when the computational load is too great and the benefit too little. That's instead where path tracing comes in.
Path tracing is a unified algorithm to simulate light in all forms – a single technique to rule them all – bringing lighting, shadows, reflections, and refraction all under one umbrella. Instead of multiplying rays dispersing on every bounce, it utilises a random sampling algorithm. While potentially noisy – path tracing works on the basis that every pixel receives a different piece of the puzzle required to generate accurate lighting for the entire scene – Minecraft's simplistic cuboid world isn't all that susceptive to its shortfalls.
With just one key press I was returned to the gaudy (by comparison) world that I once spent hundreds of hours in. A sudden reminder of the flat, rasterised world I'd left behind – the Minecraft that over a 100 million players enjoy every month. But once you've turned on RTX in-game, it's not easy to return – at least until the update's release sometime in 2020 we can replicate some of that magic with Minecraft mods.
RTX off
RTX on
Minecraft is a fitting subject for ray tracing, perhaps more so than the light touch we've seen in Cyberpunk 2077 – a game that, by traditional standards and using the latest lighting trickery and clever design, is already as beautiful as they come. In as much as any game needs ray tracing, Cyberpunk 2077 hasn't shown much need for it in order to stand out and look incredible. At least from what we've seen of the game prior to Cyberpunk 2077's release date on April 16, 2020.
Strange as it is, it's the unrealistic game worlds that benefit the most from realistic, real-world mimicking ray tracing. And it's the growing pool of indie developers harnessing ray tracing plug-ins for Unreal and Unity (which Nvidia assures me is happening right now) that excites me for the future of RTX, and ray tracing as a whole, the most. Because it's in the weird and wonderful titles that shirk ray tracing's hyper-realism and instead use this new and dynamic tool to spur on artistic expression that it will shine brightest.
So while there's a place for ray tracing in the most graphically-challenging titles to add never-before-seen depth, if you remain unconvinced that the "holy grail" of rendering tech is anything more than a gimmick or newfangled tactic to get you to part with your money, Minecraft RTX might just change your mind.