Looking for the Minecraft ray tracing shader? Real-time lighting effects are a highlight of high-fidelity games like Battlefield V and Metro Exodus, but they're also available in the chunky world of Minecraft. A modder has created a ray tracing shader for use in the classic building game.
Okay, so it's not ray tracing, exactly – technically, the rendering method modder Sonic Ether uses to create real-time global illumination in Minecraft is called path tracing. The difference is that path tracing uses rays that bounce many times throughout a scene, but the effect is similar to that of ray tracing: gorgeously-lit and shadowed scenes, even in something as simple-looking as Minecraft.
The results are pretty astonishing: beautiful beams of sunlight angle through a glass ceiling onto a shiny reflective floor, and a torch gives off a realistic warm glow in the second. You almost forget that you're looking at Minecraft. Here's what you can expect from Sonic Ether's shader and how to get Minecraft ray tracing through this impressive pack, and what we know so far about the version of the mod that doesn't require an RTX graphics card.
Minecraft ray tracing
To make ray tracing work in Minecraft, you can download Sonic Ether's Unbelievable Shaders (SEUS) Renewed. The shader is currently in version 1.0.1, updated in February, 2020. Here's the description, "SEUS Renewed is a reinvention of the legacy versions of SEUS that brings you quality visuals at a reasonable performance using traditional rasterization-based rendering methods. There are some unreleased development versions of SEUS Renewed, but most of my development time lately goes into developing SEUS PTGI."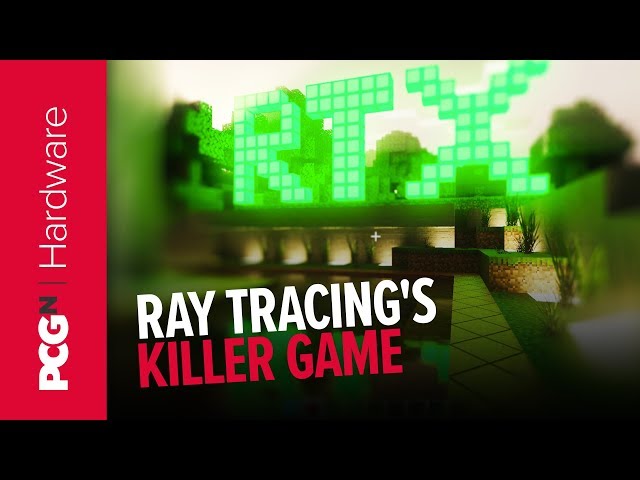 Minecraft Ray tracing without an RTX graphics card
There is another version of SEUS in development called SEUS PTGI, with PTGI standing for 'Path Traced Global Illumination'. The idea here is to bring a custom software implementation of ray tracing without the need for an RTX card to run it. It will need an Nvidia graphics card to run, though AMD compatibility is apparently being worked on. There's no announcement of when a version of SEUS PTGI will be in a downloadable state.
Minecraft With RTX
The Windows 10 version of Minecraft now features Nvidia's RTX capabilities, though there are some limitations. First off, you're going to need a powerful computer with an Nvidia RTX GPU or a support AMD GPU. Head on over to Nvidia's website to find out how to access this version of Minecraft for yourself.
Once you manage to set up Minecraft with RTX, there are plenty of creations that have been handpicked by Mojang to explore. These worlds have been placed on the Minecraft Marketplace, though they shouldn't cost you any additional money. The raytracing effect is very difficult to run without an RTX 2000 series card or higher, so don't feel too bad if you can't maintain a stable frame rate.
If you think that's neat, check out other Minecraft shaders to optimise your graphics, add texture to the many biomes, or tweak the lighting. There's also a plethora of unique Minecraft mods to enhance your Minecraft experience. Can you run Minecraft? Use PCGameBenchmark to check the Minecraft system requirements 2021. You can also check out our guides on the latest features in the Minecraft 1.18 update and details on how to join the Minecraft beta snapshot versions.