Overwatch 2 patch notes for Season 6 are here, delivering plenty of changes to some of your favorites as the long-awaited Overwatch 2 story missions make their appearance in the Blizzard multiplayer game. Alongside the arrival of the game's newest support hero and its new PvE missions, this Overwatch 2 update changes a lot of its roster, with the much-discussed Mercy damage boost nerf leading the charge.
New Overwatch 2 hero Illari is of course the focus of the update from a hero balance perspective, but many other supports have seen changes too, along with most of the game's tank roster and a number of damage heroes. It's good news for the likes of Lifeweaver, Lucio, Bastion, Torbjörn, Winston, and Orisa, but bad news if you're a fan of Soldier: 76, Sombra, Ana, or of course Mercy.
For the full list of changes, you can read on below for the full list of Overwatch 2 patch changes. It's also worth noting that, with the arrival of both story missions and event missions, there will now be unique hero balance changes exclusive to co-op modes, which also include the removal of passive ultimate charge gain and increased overall ult costs.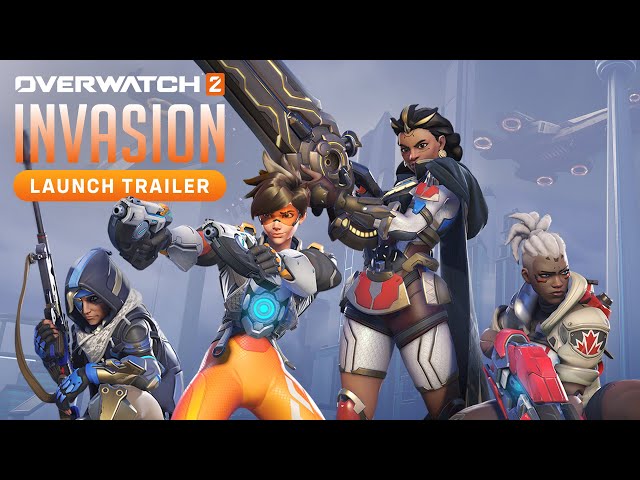 Overwatch 2 Season 6 patch notes – Thursday August 10, 2023
Here are the Overwatch 2 patch notes for August 10, 2023:
Overwatch 2 Invasion
Overwatch 2: Invasion is now available, with new Invasion story missions, all-new skins and cosmetic rewards in the Invasion Battle Pass, the new core PvP game mode Flashpoint, and the new support hero Illari.
New support hero: Illari
Using solar threading augmentation, Illari strikes down her enemies by harnessing the power of the sun.
Weapon: Solar Rifle
Primary fire: Long range auto-charging rifle
Secondary fire: Medium range healing beam that consumes solar energy
Ability 1: Outburst
Launches you in the direction you are moving, knocking back enemies. Hold jump to go higher.
Ability 2: Healing Pylon
Deploy a pylon that heals allies.
Ultimate: Captive Sun
Fire an explosive ball of solar energy. Enemies hit are slowed, and explode after taking significant damage.
New game mode: Flashpoint
Flashpoint is a new core game mode available on two new maps: Suravasa and New Junk City.
Gameplay begins with both teams pursuing a central objective called a Flashpoint, aiming to capture it before the opposing team does.
Capture progress for Flashpoint is like the Control game mode, but plays out faster.
A point is captured by a team once a Flashpoint reaches 100% capture progress.
If the Flashpoint is being contested by a member of the opposite team currently not in control when the capture progress reaches 99%, Overtime will activate until either the team in control can remove all remaining opponents off, or until the contesting team can retake control of the Flashpoint.
A point is scored when a Flashpoint is fully captured by a team; however, gameplay continues with a new Flashpoint located somewhere else on the map.
The team to be the first to successfully capture three of the five flashpoints wins the match.
Flashpoint is available now in Unranked modes and will be available for Competitive Play later this season.
New Invasion story missions
Players who purchase the Invasion Bundle from the in-game shop can play in all-new Story Missions with their friends or others in queue.
These massive co-op experiences will have players face against the invading forces of Null Sector, who have launched an all-out global offensive. Play through all of them and unlock the Overwatch 2 hero Sojourn, along with her new Vigilante Legendary skin.
Players can access the Story Missions can be accessed through Winston's Desk in the Missions card in the play menu.
With the introduction of Overwatch 2: Invasion Story Missions, we will have specific hero balance changes for multiple heroes to ensure players have a continuous challenge when playing in co-op modes like story missions and event missions.

Heroes no longer passively gain ultimate charge over time.
Ultimate costs increased in co-op game modes.
New limited-time event: King's Row Underworld
Stop Null Sector from taking over the Omnic Underworld in this new co-op event that's free to play for everyone!
Every week, we'll be adding new challenges and ways to play this new co-op event. The King's Row Underworld event runs from August 10 to September 5.
General Updates
Firing Range
Train your aim with an all-new addition to the Practice Range! Use targets large and small, stationary and mobile, to perfect your crosshair tracking skills. Rack up points and strive to set the high score!
Challenges
Added a new Weekly challenge: Making Progress – Earn 8 Progression Levels. Instead of rewarding additional Battle Pass XP, this challenge rewards 150 Overwatch Credits to buy items from the Hero Gallery.
Weekly Overwatch Coins reward requirements are updated from 4/8/11 to 4/9/12.
Added a new set of challenges for the Invasion story missions. They can be found under the Lifetime tab.
Added Player Progression challenges for all 38 heroes. Player Icons can now be earned through these challenges.
Added Gold player title rewards to Competitive challenges.
On Fire
Increased minimum Blazing time to 10 seconds.
Added a 3-second cooldown to Blazing to prevent the sound effect from playing too frequently.
The visual effects for Blazing have been enhanced.
Ping system
Changed Symmetra's personal Teleporter pings to work like Illari's personal Healing Pylon pings so that the waypoint UI is removed when these objects are pinged.
Fixed Lifeweaver pinging enemy Petal Platforms as if they belong to him.
Health Packs are now pingable.
Text chat
The 'Unfiltered' setting for all text chat channels has been removed. Players will have a choice on their chat settings between Friendly and Mature. Players that had previously set Text Profanity Filters to Unfiltered will now have applicable filters set to Mature.
Regardless of text chat filter settings, please continue to report those using inappropriate chat using the in-game report tool.
Competitive play
Top 500 leaderboards
The number of wins required to appear on the Top 500 Leaderboard has been increased from 25 to 50 for consistency with our other Competitive game modes.
Hero balance updates
Tank
D.Va
Boosters: Cooldown reduced from 4 to 3.5 seconds.
Eject Mech: Pilot is now damage immune for 0.4 seconds while ejecting.
Doomfist
Seismic Slam: Cooldown reduced from 7 to 6 seconds.
Power Block: Now reduces damage from stuck projectiles.
Orisa
Fusion Driver: Damage falloff range increased from 15 to 20 meters.
Fortify: Fortify health bonus increased from 75 to 125.
Ramattra
Nemesis – Block: Block now reduces damage from stuck projectiles.
Annihilation: Ultimate cost increased 12%. Block now reduces damage from stuck projectiles.
Sigma
Base movement ground deceleration increased to match standard heroes movement.
Winston
Tesla Cannon: Secondary fire charge time reduced from 1.2 to 1 second. Secondary fire recovery time increased from 0.5 to 0.75 seconds.
Damage
Bastion
A-36 Tactical Grenade: Maximum explosion damage falloff reduced from 70% to 50%. Detonation time reduced from 0.5 to 0.35 seconds. Recoil adjusted to recover more quickly. Projectile size increased from 0.2 to 0.25. Impact damage increased from 15 to 30.
Configuration Recon: Reload time reduced from 1.5 to 1.2 seconds.
Configuration Assault: Transforming into Configuration Assault now repairs 50 armor health.
Configuration Artillery: Targeting state movement speed increased from 20 to 25 meters per second.
Cassidy
Base health increased from 200 to 225.
Peacekeeper: Peacekeeper damage falloff range rescaled from 25-45 meters to 25-35 meters.
Magnetic Grenade: Projectile now has a maximum travel time of 1.5 seconds. Slow amount reduced from 30 to 25%.
Hanzo
Storm Bow: Arrow draw progress is no longer preserved while wall climbing.
Sombra
EMP: Ultimate cost increased 15%. No longer destroys Lifeweaver's Tree of Life.
Soldier: 76
Helix Rocket: Explosion damage reduced from 90 to 80.
Tactical Visor: Ultimate cost increased 10%.
Torbjörn
Weapon swap time reduced from 0.5 to 0.4 seconds.
Rivet Gun: Primary fire recovery time reduced from 0.55 to 0.48 seconds.
Forge Hammer: Swing recovery time reduced from 0.75 to 0.6 seconds.
Support
Ana
Biotic Rifle: Damage and healing per projectile reduced from 75 to 70. Unscoped projectile size increased from 0 to 0.1.
Brigitte
Barrier Shield: Barrier Shield health reduced from 300 to 250.
Rally: Ultimate cost increased 6%.
Kiriko
Protection Suzu: Knockback removed. Healing reduced from 50 to 40. Now heals for an additional 30 health when cleansing a negative effect.
Kunai: Damage increased from 40 to 45. Recovery time reduced from 0.55 to 0.5 seconds. Critical damage multiplier reduced from 3 to 2.5x.
Lifeweaver
Base health reduced from 200 to 175.
Base shield health increased from 0 to 50.
Thorn Volley: Reduced spread for one of the two Thorn Volley projectiles fired per shot by 25%.
Rejuvenating Dash: Healing increased from 25 to 50.
Life Grip: Mobility lockout duration increased from 0.45 to 0.75 seconds.
Tree of Life: 50% of Tree of Life's overhealing is now converted into Overhealth – up to 100 maximum Overhealth.
Lúcio
Crossfade: Self-healing penalty is now reduced from 60 to 0% for the duration of Amp It Up.
Mercy
Caduceus Staff: Secondary fire damage boost reduced from 30 to 25%.
Note as mentioned above that specific balance changes have been made for co-op modes such as story missions and event missions. For these individual changes and additional bug fixes, you can check the extended patch notes courtesy of Blizzard.
Take a look through our Overwatch 2 tier list to see who's most heavily affected by these changes, and turn on the best Overwatch 2 settings to make sure you're running optimally in Invasion.