Videogames and rock music, who'd have thought 30 years ago that they'd become such close friends one day? They have, though, and German party metal outfit Eskimo Callboy has a new single out, Supernova, that's come with a Rage 2-themed music video.
The video follows a young woman who is standing near a burn barrel along with some fellow rough-living types, and as she leaves, she's jostled by a stranger walking by. Miffed at first, she notices the stranger has dropped a coin emblazoned with the anarchy 'A' – the one you see in all of Rage 2's branding.
She drops the coin into a slot on a nearby wall, and a garage door rolls up. Inside she finds none other than Eskimo Callboy, who kick into Supernova amid patterns of neon lights and some frozen folks who look like they just walked out of Rage 2.
The song is melodic vocals over a raw guitar riff, with a driving 4/4 rhythm behind it. Keyboards join in to build into a symphonic wall as the chorus kicks in.
In short, it's a pretty kickass track. Here's the video.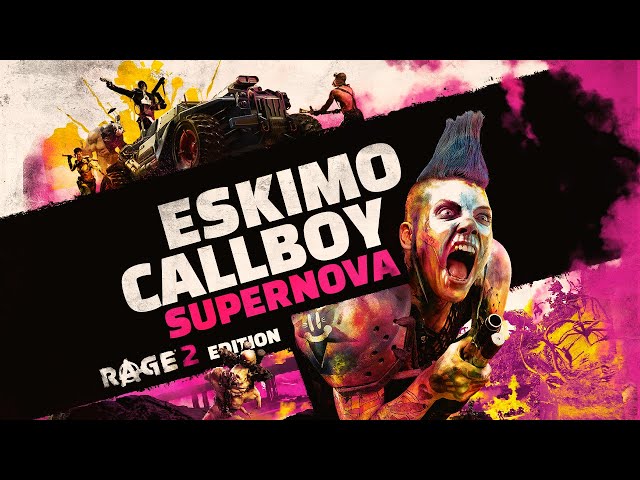 Honestly, I'm not entirely convinced that Supernova quite fits the Rage 2 aesthetic. It just seems a little to clean and produced, and maybe a little too emo, to match the grime and freakiness of the wasteland.
Hurry, reload: The best FPS games on PC
But also, I don't really care? It's a damn catchy song, and I enjoyed the intercut footage of the game with the live-action video they've put together here. And Eskimo Callboy seems pleased with the results as well.
"Music will never be boring if you're brave enough to break new grounds," they said collectively in a press release. "We totally love the combination of super organic brass sounds and heavy guitar riffings. Once you listen to it, it won't let go of you anymore."
Supernova is the first single from an as-yet-untitled Eskimo Callboy album that's due for release sometime this year. Rage 2 will be out May 14.