Looking for all the latest news on the Rainbow Six Quarantine release date? Fans of Rainbow Six Siege were stunned when Ubisoft released the Outbreak event to the game for a limited time frame and promised it would never return to Siege again, but it appears the effort wasn't in vain as Ubisoft has unveiled Rainbow Six Quarantine. Like Outbreak, Quarantine is a co-op, PvE tactical FPS where three players face off against an alien threat, but Ubisoft promise a much more deadly parasite this time around.
The announcement wasn't met with universal anticipation, however, as many fans of the older Rainbow Six game had their fingers crossed for a return to good ol' fashioned Team Rainbow vs. terrorists single-player experience. Still, you can't please everyone, and a fully-fledged version of Quarantine with a storyline, heaps of operators, new monsters, maps, and some of its own bespoke mechanics has the potential to fill a void in games that's not had fresh blood since Left 4 Dead 2.
With only a few pieces of information to go on, we've picked through everything we know about Siege, the Rainbow universe, and all the available details about this new game to round up everything we know about Rainbow Six Quarantine.
Rainbow Six Quarantine release date
The Rainbow Six Quarantine release date has been pushed back from its early 2020 window alongside several other Ubisoft titles. The decision was made following the poor performance of Ghost Recon Breakpoint and was announced during a post-results conference call. All of the delayed Ubisoft games should still be out in 2020, so the latest Rainbow Six Quarantine release date is simply 2020.
Rainbow Six Quarantine gameplay details
In terms of concrete details, there really isn't much we can say for sure about the Rainbow Six Quarantine gameplay. However, there are some hefty hints in the store description of the game as well as what we already know about Outbreak, so we have a rough idea of how this new Rainbow Six zombie game might work.
Firstly, we know that Quarantine is a tactical FPS where you face off against a variety of alien monsters as a team of three. In the trailer you can see two operators from Rainbow Six Siege – Ela and Vigil – helping the main character up, so we know there will be some crossover with Siege, even if the timelines of the two games are totally separate. The choice of Vigil and Ela is curious, too, as neither of their gadgets would be especially helpful against mutated aliens – this could suggest that gadgets will not play a primary role in operator loadouts, or that operators won't be the core focus of the game. It's worth noting, however, that both Ela and Vigil appear to carry the same primary weapons as they do in Siege.
The trailer also shows a black, inky substance coursing through the main character's arm with a beeping timer attached to their wrist – this part's a mystery, but it certainly doesn't remind us of Outbreak.
Onto the store description, which says that Rainbow Six Quarantine is set a few years in the future from the Rainbow Six universe and features a deadly new breed of mutated alien parasite that infects human hosts as well as their surroundings. There are a few nods to potential roguelike mechanics and possibly even procedurally generated levels, with the description warning us to "prepare to launch into tense, chaotic and totally unpredictable missions as you and your squad risk everything, every time you step into Quarantine."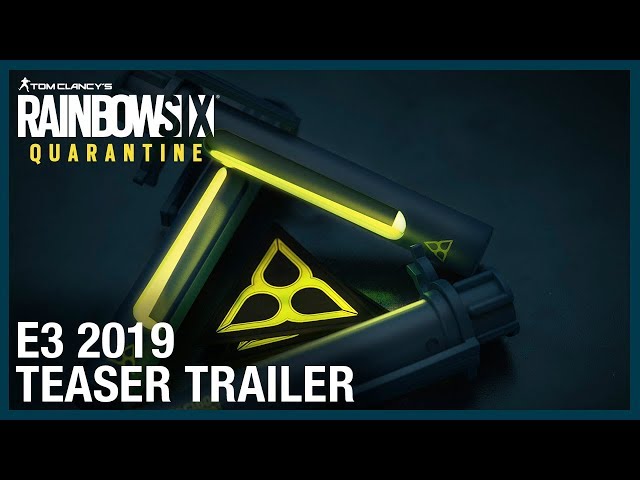 Rainbow Six Quarantine beta
While it's not being called a beta officially, Ubisoft has said there will be a chance to play Rainbow Six Quarantine early, which sounds a lot like a Quarantine beta to us. Here's where you can find the register button.
Rainbow Six Quarantine trailer
So far we have two official videos from Ubisoft, the first is the E3 2019 teaser trailer for Rainbow Six Quarantine (it's posted above), while the second is a short explanation of the teaser by two of the Quarantine developers.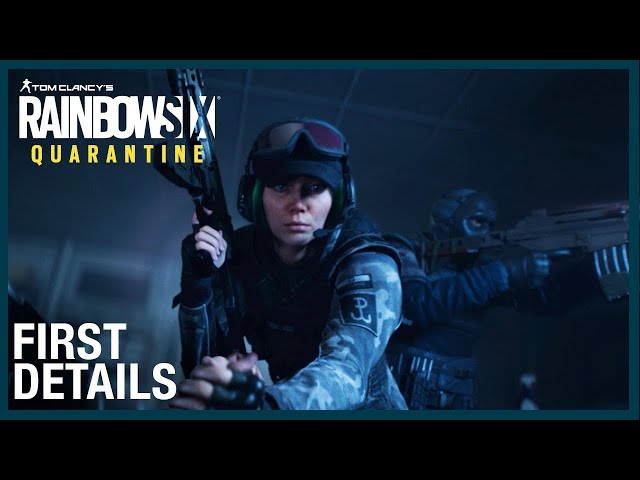 As you can see, the team is keeping pretty tight-lipped on the game, but they have said that the Outbreak event was a test case for Quarantine, which tells us a lot about what the final game may look like.
Sadly, that's everything we know so far, but it's not a bad haul considering Ubisoft only showed Quarantine for little over a minute during their E3 2019 press conference.