A Ratchet and Clank Rift Apart PC port is on the way to Steam and the Epic Games Store, as one of the PS5's best games is the next PlayStation classic to get the port treatment. As a massive fan of classic platform games like Spyro, Crash Bandicoot, and Jak and Daxter, to say the surprise announcement of Ratch and Clank Rift Apart put a smile on my face would be an understatement.
Everyone's favorite Lombax and bucket of bolts come to Steam and the Epic Games Store on July 26, as PlayStation port master Nixxes Software heads up yet another Insomniac Games console port after Spider-Man.
Fans of any and all videogames that feature two delightful little guys running about are in for a treat, as Ratchet and Clank Rift Apart is an all-timer, and reason enough to invest in a PS5, but now it's coming to PC. Also, what do you know, as soon as PlayStation says it's going to stick with its two to three year wait to bring PS5 games to PC, the two-year-old Rift Apart gets revealed.
There are plenty of PC-specific features here too, alongside some neat little bonuses built right into the experience. From ray-traced reflections to in-game unlocks, there's a lot here.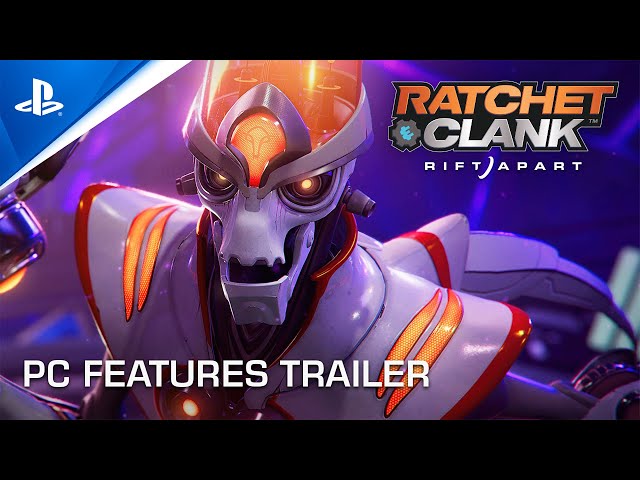 Ratchet and Clank Rift Apart PC features
Ray-traced reflections and shadows
Ultrawide 21:9, 32:9, and 48:9 monitor support with adjusted gameplay and cinematics
Unlocked framerates
Nvidia DLSS 3, AMD FSR 2, and Intel XeSS upscaling support
Mouse and keyboard support and button mapping
Haptic feedback on a plugged-in PS5 DualSense controller
The Ratchet and Clank Rift Apart PC port also includes the five armors from the PS5 Digital Deluxe Edition, alongside another five armors inspired by previous Ratchet and Clank games. If you pre-order you'll also gain instant access to the Carbonox armor and Pixelizer weapon, but both of these are available through story progression as well.
You can also get 25 Raritanium – the currency used to upgrade weapons in Rift Apart – for linking your Steam and PlayStation accounts (not the Epic Games Store), so keep that in mind when deciding your storefront.
While a PC port of Ratchet and Clank Rift Apart was bound to happen with Uncharted, The Last of Us, and Spider-Man already available from the PlayStation library, this is still excellent news. Ratchet and Clank are industry icons and Rift Apart is a brilliant visual showcase with tight gameplay and a lot of heart, so it's perfect for anyone with a penchant for platformers.
In the meantime, you can check out the very best story games you can find on PC right now, alongside some great RPG games as well.