Razer has revealed the Blackshark V2 Hyperspeed gaming headset as a mid-range option for those who aren't ready to make the jump to the BlackShark V2 Pro. Better yet, it's available right now!
While it seems like the objective here is to strip back features in order to make it more affordable, in reality, Razer has instead created a product that could easily have sat alongside the V2 Pro as a flagship release.
We reviewed the BlackShark V2 Pro and found it to be among the best wireless gaming headsets you will find on the market. With the BlackShark Hyperspeed, Razer wants to retain as much quality as possible, while also making it more affordable given the V2 Pro retails for $199.99.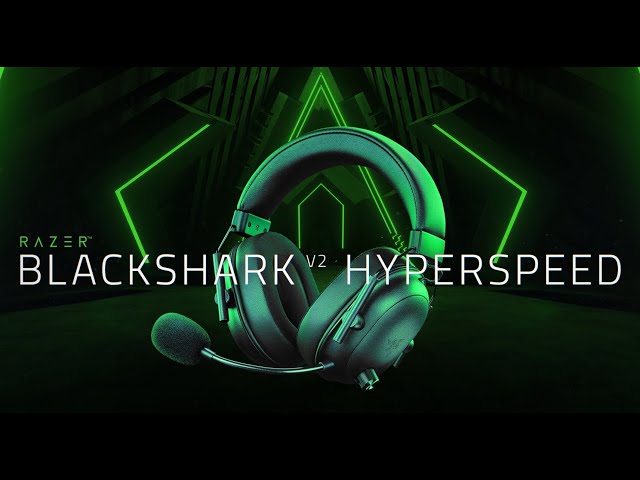 We know that the headset will still be quite light, at just 280g, meaning long sessions shouldn't cause any comfort problems with your head or neck. Its battery life also still boasts 70 hours of use.
The V2 Pro can also be used while charging, but is otherwise an entirely wireless device. This has been changed for the Razer BlackShark V2 Hyperspeed and we see it as a huge win. When using the Hyperspeed headset wirelessly, it uses 5.2 Bluetooth. THX spatial audio is retained from the V2 Pro too, meaning you have access to advanced 7.1 surround sound allowing for greater positional accuracy, key in games like CS2 and Fortnite.
Where compromises have been made is with the RGB lights on the ear cups. This is likely to do wonders for the long term battery life although you can simply turn them off on the V2 Pro. Beyond this, there are so few differences, such as the material of the ear cups, meaning the BlackShark V2 Hyperspeed could be the preferred option for most gamers, as its price has fallen compared to the V2 Pro.
Razer BlackShark V2 Hyperspeed price
The Razer BlackShark V2 Hyperspeed will cost $129.99 at release. This is $70 cheaper than the V2 Pro, making it a much more affordable alternative if budget is an issue.
This places the BlackShark V2 Hyperspeed right between the V2 Pro and the budget BlackShark X gaming headsets.
For more on the latest Razer gear, you can check out our Razer Blade 16 review, and Razer Blackwidow V4 Pro review.