It seems the Sekrio modding community has gone from the Trump cut to entirely bald. Thanks to huckleberrypie, the brilliant mind behind the Woody mod, you can play through the game as Krillin.
As a simple 3D model switch, players won't be able to fire up a Kamehameha, but he at least looks somewhat at home with a samurai sword. As a bonus, seeing Krillin's shiny dome bobbing around in the world is quite hilarious.
Credit for the model goes not to huckleberrypie, but Spike Chunsoft, the devs behind Dragon Ball Z: Budokai Tenkaichi. It's from there it was originally ripped before arriving in GTA via mrandres555. Curiously, huckleberrypie says he can't take the credit for the idea. Rather, it was a community request.
"Done as per a request from ShadyMurderous at the Nexus forums. I have no idea why Voldemort's long-lost cousin somehow wound up in Sengoku-era Japan, and I don't know why Goku [isn't] with him on his journey," reads the Nexus page.
Getting Krillin into your game will require a little work, namely the installation of the Sekiro Mod Engine. After installation, users can copy the parts directory to their mods folder and play as normal. Well, as normal as playing as a bright orange Z fighter can get.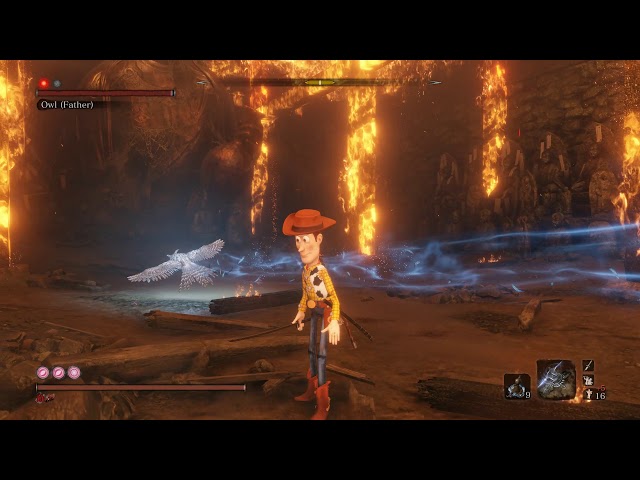 We're yet to see any videos of Krillin in action, but if Woody is anything to go by, full animation support for slashing, blocking, and dodging should be there. There's little stopping other Dragon Ball characters coming the game, though we're unlikely to see special abilities any time soon.
That said, with some further creative model switching, we could see various characters from the series as enemies. After all, Sekiro's Great Serpent has already been replaced by Thomas the Tank Engine. The wacky possibilities are basically endless.
Top image credit: Huckleberrypie/Nexus Mods