One of the best running gags in the PC modding community has to be swapping out terrifying enemies with Thomas the Tank Engine. It's to the point now that whenever I hear that distinctive whistle, I get a bit twitchy and nervous. We've seen him replace Skyrim's dragons, he's appeared in Fallout 4, and more recently he's filled in for Resident Evil 2's Mr. X. Now, the Really Useful blue engine is playing the role of the Great Serpent in Sekiro: Shadows Die Twice.
Beware, some mild spoilers for Sekiro follow.
'Thomas the Snake Engine' by katalash does exactly what it says on the tin: Sekiro's Great Serpent, a boss that you meet several times over the course of the game, is replaced by a gigantic version of good old Thomas. The mod includes Thomas' whistle, which toots as he floats around searching for the One-Armed Wolf.
It's unnerving to have Thomas' frozen grin floating above you, unblinking and ready to strike, but perhaps the most disturbing thing about this mod is what happens when you manage to land a deathblow. Thomas reels back and starts flailing about, something trains aren't really supposed to be able to do. And his whistles in pain are somehow extremely disturbing.
You can watch for yourself: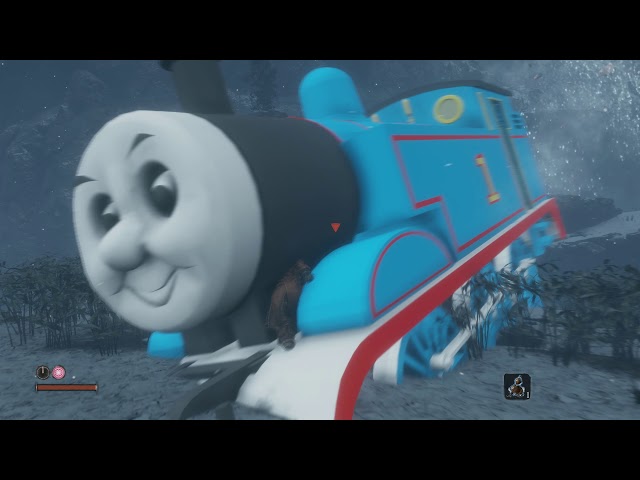 To install the mod, first make sure you have the Sekiro mod engine installed, which you can find here. Then, head over to the Thomas the Snake Engine mod page at NexusMods, and download it. You'll want to extract the file and copy the /chr and /sound directories to your mods folder.
Read more: Here's our guide to beating Sekiro bosses
That done, you can face Thomas the Really Useful Snake in Ashina Outskirts, toward the end of the level. There are several encounters with the Great Serpent (or rather, the Great Engine) throughout Sekiro, so you'll have a few chances to see him in action. Just remember, in Ashina Outskirts, train spots you.