"This is about being a Jedi," said Respawn boss Vince Zampella, introducing the Star Wars celebration panel on Jedi: Fallen Order. Respawn showed off Fallen Order's first trailer during the trailer, which introduces the game's story and its protagonist, Cal Kestis.
Before rolling the trailer, Respawn's team briefly discussed some of the development of Jedi: Fallen Order. Beginning in 2014, Respawn piggybacked off the success of the first Titanfall and began building a team from scratch. That eventually included veterans of series like Uncharted, Arkham, Bioshock, and Metal Gear, and they worked with LucasFilm on developing brand new planets and characters to introduce to the Star Wars universe.
Respawn was also joined by actor Cameron Monaghan, who portrays Cal in the game and has had prominent roles in Gotham and Shameless. Monaghan described himself as a "huge gamer" and says he always wanted to know how it would feel to really swing a lightsaber. He says he's impressed with Fallen Order.
"It kicks ass," he said.
The trailer doesn't show any raw gameplay, and focuses on setting up Fallen Order's narrative. But Respawn says it's rendered fully in-engine using assets you'll eventually see in the game.
Without further ado, here it is: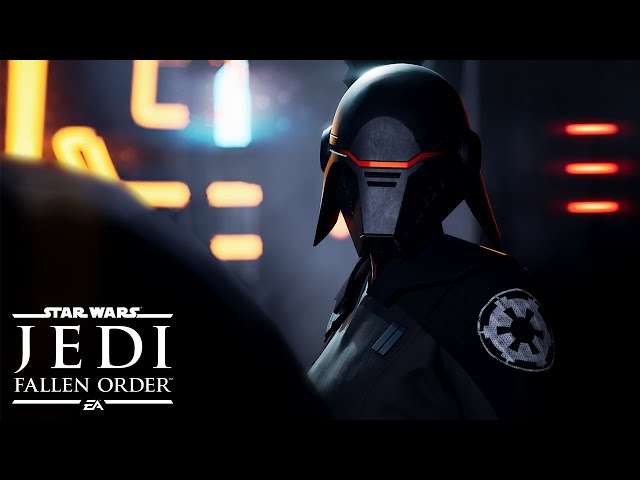 Jedi: Fallen Order takes place following Episode III and the institution of Order 66, which mandated the extermination of the Jedi. Cal, a Padawan in training, goes into hiding and ends up working with a clan of scrappers, who salvage valuable materials from decommissioned capital ships.
Kal lives by three rules: Don't stand out, accept the past, and trust no one.
We get a peek at a couple additional characters, including a former Jedi Knight played by Debra Wilson, who you may recognize from her appearances in Far Cry: New Dawn and Wolfenstein II: The New Colossus. There's also an appearance by what appears to be game's antagonist, the black-masked Second Sister Inquisitor. She's joined by new Purge Troopers, Inquisitorium soldiers specially-trained to fight and kill Jedi.
Don't get cocky: The best Star Wars games on PC
There's also a couple hints at some of those classic Respawn game mechanics, with a shot of Cal wall-running across an open cliff face – presumably using some of his innate Force powers.
Zampella confirmed the the Jedi: Fallen Order release date is set for November 15. But the panel wouldn't provide any more details on the mysterious lightsaber from the teaser released earlier this week, saying that the story behind its singular look is intimately tied with the game's narrative, so we'll have to find out about it for ourselves.