Star Wars Outlaws will see Ubisoft's open-world game design brought to a galaxy far, far away next year, and a brand new behind-the-scenes look at the game has been shared during San Diego Comic-Con. With developer interviews, snippets of gameplay, concept art, and extra details, this Star Wars Outlaws video is the perfect way to keep you in the loop ahead of the Star Wars Outlaws release date.
We got some pretty comprehensive Star Wars Outlaws gameplay from Ubisoft after the game's initial reveal, and now we've put together all the biggest snippets from the new BTS video.
According to associate art director Marthe Jonkers, the Ubisoft Massive team has been "diving into the LucasFilm archives and really bringing [the iconic locations] alive in a new but very genuine way."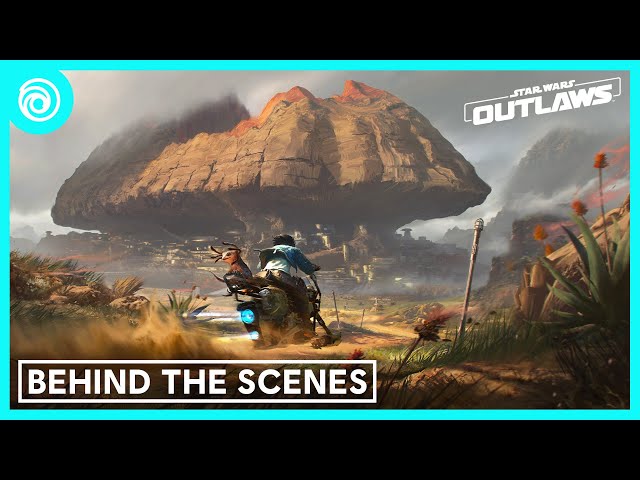 The most famous location getting this treatment is undoubtedly Tatooine, which Ubisoft says will include new points of interest outside of Mos Eisley and the moisture farms. There's even the entirely new location of Toshara, which has been built "from the ground up with the scoundrel fantasy at its beating heart" according to LucasFilm's Steve Blank.
Ubisoft says it's also been going back to Ralph McQuarrie's iconic Star Wars concept art and Joe Johnstone's storyboards to create a lived-in galaxy. Toshara is made up of Star Wars DNA, despite being a new location for the universe, which is something Ubisoft says it wants to carry throughout the entire game.
A previous Ubisoft video also revealed that Star Wars Outlaws has a GTA-style wanted system, which will see more and more Empire forces come down on you the more havoc and chaos you cause.
It's also unclear right now if Ubisoft will be bringing both Star Wars Outlaws and Avatar Frontiers of Pandora to Valve's Steam platform, with Star Wars only listed for Ubisoft Connect on PC at present.
With Star Wars Outlaws still a while off, we've put together the best single-player games currently available on PC to keep you busy, alongside all the essential Star Wars games you should play before Outlaws arrives.