Star Wars Outlaws is one of the most highly anticipated RPGs of this year, due in part to the fact that it will stand as the Star Wars series' first open-world game. While Ubisoft's upcoming title has already amassed quite a fan following, there is still much to learn about what makes Star Wars Outlaws unique. Massive Entertainment's creative director Julian Gerighty took part in a recent interview on the pre-launch game, discussing a bit of everything from the main characters to the gameplay features and how they'll work.
When asked about Star Wars Outlaws behind-the-scenes and why it works so well as an open-world experience, Gerighty said that it offers players a chance to "step into those locations both new and iconic, and really discover and direct the experience that they want." In other words, it gives fans the chance to play through the game however they want to. If that means proceeding through the main story in a more linear fashion, so be it. If it means becoming distracted by curiosity, that's just as valid.
Gerighty went on to talk about the main characters of the game, including Kay Vess, Nix, and ND-5. On Vess, he said that the developers "built her to be somebody who was a rookie thief, so just starting in the scoundrel lifestyle, if you will, but has dreams of exploring the whole of the galaxy." He described Vess as a "fish out of water on a planet that's really a hive of scum and villainy," which sets her character off.
As for Nix, Gerighty said the devs "think of Kay and Nix together as a whole." Nix is meant to be her "trusty companion," but more than just a pet. "This is the only person that you really trust as Kay Vess," said Gerighty on their relationship. Nix is a new creature created for the game itself, inspired by "a lot of references from animals on Earth that have been mashed together." In the end, what the devs got was a "beautiful, lovable, but incredibly aggressive merqaal that we call Nix, that's become a huge favorite on the team."
ND-5 on the other hand was described by the director as "a character that you meet a little bit later on in the adventure and, he joins as a minder, a bodyguard, but an observer, as well." Interestingly enough, he also calls ND-5 "a droid with a very complicated past," saying that the character will become "a huge fan favorite."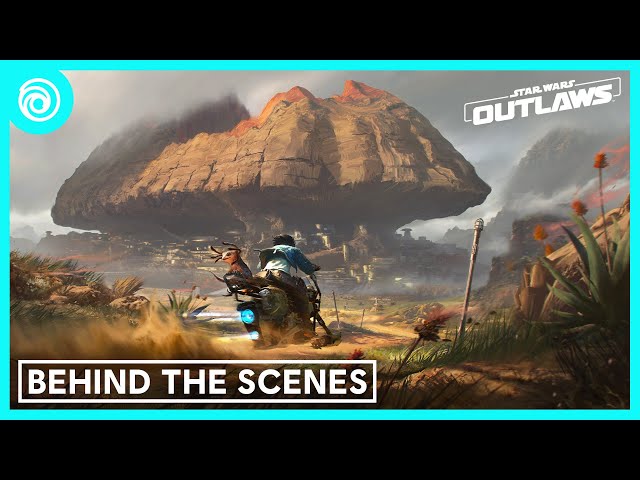 When asked about Star Wars Outlaw's planetary system and how the devs worked to make new areas unique, Gerighty replied that players would feel at home even in undiscovered locations. "I'm in something that is undiscovered, that feels relatable because it has elements that you know, but really takes you out of the familiarity with that little twist," he said, saying that many "simple, but really, really refined little elements make something that is completely fresh, but still relatable."
"There's so much craftsmanship that goes into building any one of the planets that we've seen," Gerighty stated when considering Star Wars' worlds and the work that goes into creating them. To make fans appreciate Star Wars as a whole while also understanding what sets Outlaws apart, the devs took familiar lore such as the droids but made them stand out. For instance, Gerighty cites ND-5 as an example. "He is a BX commando droid with a coat, but just that coat and the posture and the animation and the voice brings a real personality to him."
On the time period chosen for Star Wars Outlaws, Gerighty referred to it as "perfect." The devs pitched the idea and were told, "Okay, this is the ideal period — this one-year period between Empire Strikes Back and Return of the Jedi, because the criminal syndicates are so active, because there's so much chaos out there in the universe."
Gerighty also stated that he wants "to stress that idea of being able to step into Star Wars and to experience Star Wars on your terms, as a scoundrel in the underworld." The director closed the interview off by reassuring players, "You are going to decide where you go, how you get there, who you're going to work with, who you're not going to work with, how you're going to make those credits, and how you're going to get away from the bounty on your head."
If you can't wait to play the game when it comes out, be sure to browse through some of our other favorite Star Wars games for more space-themed action. You can also check out a few of the coolest RPG games out there right now if you want a more decision-based experience regardless of its universe.