The Sims 4 is my long-standing favorite simulation game, and it has a lot to do with its constant stream of new content. EA releases regular new packs for the game steadily, whether those be in the form of smaller kits or bigger expansions with new worlds and more. The latest pack revealed by EA is none other than a cooking-themed stuff pack for The Sims 4. It brings a little bit of everything to help your Sims live out their wildest chef-related dreams with it, from new kitchen decorations to recipes.
With Home Chef Hustle, your Sims can become food stand owners and set up shop to sell some of their culinary creations. You can customize your Sims' stand, too, and change its name or products sold. A variety of new recipes are there for your Sims to test, from oven-baked cupcakes to authentic focaccia. Since cooking can be messy, the pack also adds "kitchen-ready hairstyles, matching food-themed accessories, and aprons for the whole family."
Have your Sims try out the new countertop pizza oven, stand mixer, or waffle maker for all sorts of other European-inspired dishes. Do your Sims fancy a heart-shaped waffle with salmon? No problem. You can buy The Sims 4 Home Chef Hustle Stuff Pack for EA's usual price of $9.99 / £8.99 on its official site, and play it when it releases on Thursday, September 28 to check its yummy dishes out yourself.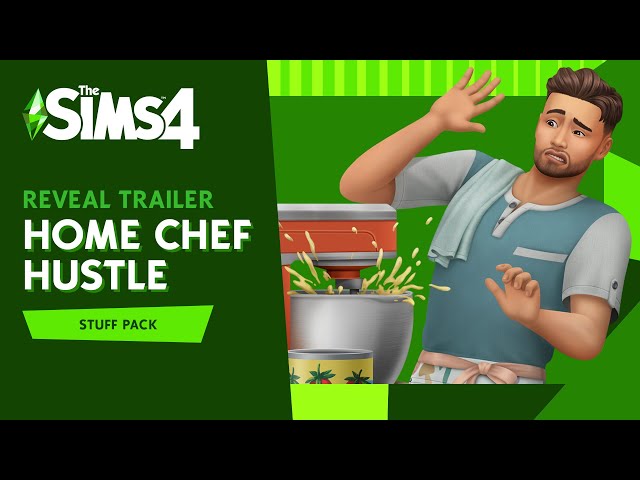 Tangible items and cooking recipes aren't the only additions coming with Home Chef Hustle. If you've ever searched through your in-game menu trying to find a specific dish to cook, you're not alone. To make the ever-growing variety of recipes easier to sift through, EA is adding a new filter "so you can find the meal you are looking for in a fraction of the time."
The convenient menu feature will accompany the release of the new pack, but it'll be free on its own along with a big base game update. I don't know about you guys, but I'm ready to make some dough with my Sims without using Motherlode while I wait for The Sims 5. Home Chef Hustle seems like the stuff pack of all my culinary dreams.
If you're looking for ways to spice up your base game ahead of the new cooking content, check out some of our favorite Sims 4 mods for fresh fan-created features. Alternatively, you can browse through a few of these other great life games if you're in search of a new yet familiar experience.