Total War Warhammer 3 is without question one of the most ambitious strategy games we've ever seen on PC, and it just got even better. A Total War Warhammer 3 update includes several long-awaited features for its mammoth Immortal Empires campaign mode, along with ways to more directly influence the difficulty of enemy AI during battles and a range of new landmark buildings.
In its latest developer blog, the team at Creative Assembly details the next updates coming to Total War Warhammer 3. Firstly and perhaps most excitingly is the arrival of achievements for Immortal Empires. With just how vast the all-encompassing mode can, which brings together all three Total War Warhammer games into one singular, mammoth campaign, achievements are a fantastic way to keep track of your progress.
Every playable race from Total War Warhammer 1 and 2, along with the recently added Chaos Dwarfs, will now get a pair of achievements – one that you'll get for completing the Immortal Empires campaign on any difficulty setting, and one for beating it on Legendary. You'll just need to meet your race's Long Victory conditions to nab them.
If you're fairly new to Immortal Empires and a little overwhelmed by how much is going on, you're also in luck. "The first few turns of Immortal Empires campaigns felt a little bit barebones," Creative Assembly admits. "Players are dropped in without much context and can often be a little directionless."
To fix this, there will now be tutorial missions at the beginning of each campaign that will guide you through the opening turns, having you attack enemy forces and capture a settlement to learn the basics. "Currently they are mostly shared across all factions," CA says, "but over time we can make them more bespoke, adding in narrative and even specific tutorials for unique faction features when necessary."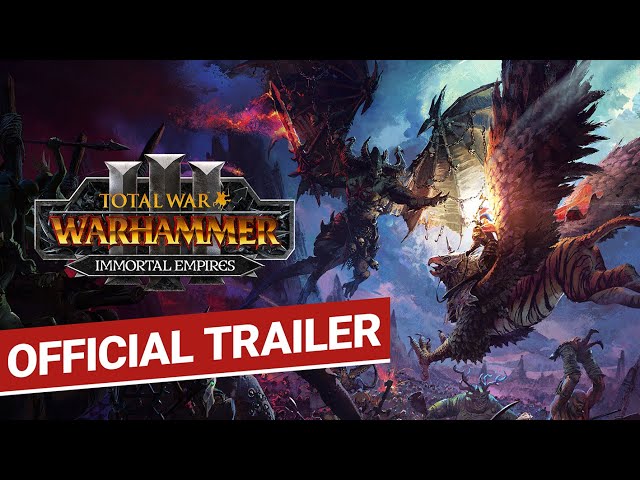 Elsewhere, CA has added an additional slider to its battle difficulty settings. These will let you control the bonuses received by the AI for specific stats, and can be adjusted separately from your chosen difficulty. "We've received a lot of feedback about how the battle AI can be seen as cheating on higher difficulty levels, as they get a lot of bonuses to specific stats," CA explains.
"This gives the player a much finer degree of control over the AI that they fight against, and allows for a more customizable, nuanced experience." These settings can be applied to both battles in the campaign and custom battles, affording you a greater deal of control over exactly what you'll be going up against.
In closing, CA says it's in the final stages of fine tuning "several new landmark buildings across the campaign map." The blog post includes a brief glimpse at what we can expect, with the likes of the 'Pillar of Bone,' 'Agrammon's Menagerie,' the 'Monolith of the Bloody Hand,' 'the Palace of Scrolls,' the 'Great Dragon Fleet Port,' and the 'Hall of Rebirth' among the names teased.
That should be plenty to keep us all entertained, then. Remember that you now get complete access to the full Immortal Empires map even if you only own Total War Warhammer 3, without needing the previous two games. With CA's most recent entry part of Microsoft's PC Game Pass library, subscribers can get in and try out one of the most ambitious projects in all of gaming at no additional cost.
Be sure to check out all the Total War Warhammer 3 races to see what you're in store for if you're starting for the first time, or browse our top picks of all the best Total War Warhammer 3 DLC to see what else you can add to your experience.