Valheim, the Norse survival game, has sent millions of Viking warriors into the wilderness in search of glory in battle – and the equally noble quest that is building the coolest mead hall. Or perhaps taming a squadron of wolves to follow you around and munch on those pesky greylings, so you can focus on mining and building in Valheim. The game is currently in early access, and while there's already plenty of content to sink your teeth into, players are eagerly awaiting the upcoming Valheim updates.
Hearth and Home will be the first major update to Valheim, as revealed in Iron Gate's Valheim roadmap. They've also got updates two through four lined up; namely, Cult of the Wolf, Ships and the Sea, and Mistlands.
Developers have been hard at work ironing out some of the hitches with multiplayer, particularly how Valheim dedicated servers run – and balancing the game to make Valheim bosses a little more challenging.
Valheim Hearth and Home release date
The Valheim Hearth and Home release date is September 16, 2021. Iron Gate revealed more of what's to come in a new trailer on the opening night of Gamescom.
Valheim Hearth and Home new content
Hearth and Home will focus on the base building and cooking side of Valheim. This is excellent news for the creative Viking builders out there, who will hopefully have lots of brand new building pieces to play with.
As any Valheim veteran will tell you, preparing several hearty meals before setting out on an adventure is vital – but trekking around picking up berries and bloodbags gets a little tiring. To say nothing of the emotional toll of taming Valheim boar for the sole purpose of eating them.
New cooking stations are coming to Valheim including a spice rack, butcher table, and pots and pans. Alongside a new food system, which focuses on creating meals to boost health and stamina, and choosing meals based on your preferred playstyle – such as a tanky Viking eating health based meals to mitigate damage.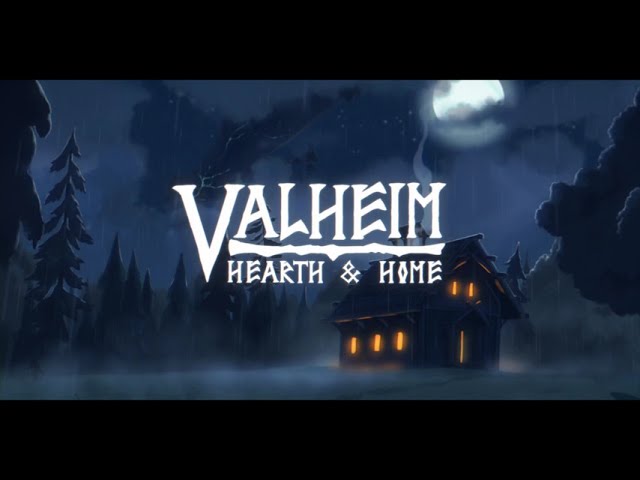 You'll be able to rustle up new recipes on the new and improved cooking stations such as Eyescream and Shocklate smoothie – you can also use wolf meat for recipes, as well as new home-grown onions.
The Hearth and Home update will add new gold and treasure features to Valheim including coin stacks and coin piles, as well as treasure chests and iron grates to keep your new treasure piles safe. If like us, you have chests brimming with coins, you'll soon be able to make a feature of your wealth.
The developers have shared a few teasers with us, too. There's a sneak peak of a mysterious statue, and a few heavily cropped screenshots. We're not sure what these screenshots depict, but according to the devs, the last one shows something that will be "a pretty big part of the update", with "many new items" that relate to it.
That's everything we know about the Valheim Hearth and Home update at the moment. Time to craft the best Valheim armour and Valheim weapons so you can venture into the scariest biomes to collect ingredients.